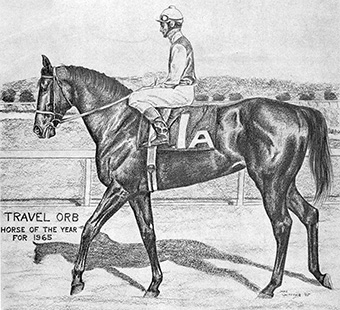 Breeder: Mr. & Mrs. Robert E. Sumner
Record: 56-18-16-7
Earnings: $202,830
Foaled on April 17, 1962, the small gelding – he would only get to around 900 pounds – was raised in a backyard in Orillia (a former community on the border between Kent, Tukwila and Renton) by his breeders Mr. and Mrs. Robert Summers.
Travel Orb won his second start – a $5,000 maiden claiming race at Longacres on August 28, 1964 – in what would be the first of many partnerships with rider Jim Prouty – for the Summers. After his three-quarter length victory he was sold to Renton haberdasher Floyd Hughes Sr. for $2,500 and sent to Fresno, where he was runner-up in two $7,500 claiming sprints.
When he made his first outing as a three-year-old, George Dimick, at whose Eastern Oregon ranch Travel Orb had spent the winter, had purchased half-ownership in the runner who was then turned over to trainer N. E. "Nub" Norton. Travel Orb took a March allowance at Portland Meadows and followed with three more wins at the Rose City oval.
On June 26, 1965, Travel Orb won the first of what would become a six-race winning streak which ended with victories in the Spokane and Governor's handicaps and the $11,500 Longacres Derby. The champion sophomore runner next finished only a head behind Blue Surge in the closing day Seattle Handicap. His impressive record earned him his first Washington horse of the year title with ten wins and four seconds from 16 outings.
Sent to Santa Anita for his four-year-old bow, Travel Orb ran a competitively in allowance tests before finishing second in five races, including the first division of the San Francisco Mile at Golden Gate.
On June 4, Travel Orb became the third Washington-bred to win a $100,000 race when the then Leonard Dorfman trainee defeated *Make Money and Sledge, with the great California-bred Native Diver running last, in the now Grade 2 Californian Stakes at Hollywood Park. Eight of the same runners and four new rivals next met in the $50,000 American Handicap on July 4 with Travel Orb finishing on top in the nine furlong race, three-quarters of a length the better of frontrunner Native Diver with Real Good Deal in the show spot. In their third meeting Native Diver won the ten-panel Hollywood Gold Cup with Travel Orb in third, only a neck behind second place *O'Hara in the $127,800 race.
On the 1966 national Free Handicap for older male runners, Travel Orb – who earned his second Washington horse of the year title – received 114 pounds.
Due to an injury sustained in the Gold Cup, Travel Orb was unraced at five and returned to the races in early January 1968, now under the tutelage of noted "leg man" Wayne Branch. Travel Orb's first win was in a July classified allowance at Del Mar. More California classified allowance placings followed before he won two consecutive races at Bay Meadows, led by a tally in the Monterey Peninsula Handicap. Travel Orb ended the year with seconds in both the Bay Meadows and Children's Hospital handicaps.
The Hughes-Dimick colorbearer won one of two starts in 1969 – with that tally coming in a June allowance race at Longacres. The champion then spent the 1970 season sidelined. Though never out of the top five, the best among the nine-year-old's eight finishes in 1971 were seconds at Centennial Park and Turf Paradise and a third at Ak-Sar-Ben.
In his 56 starts over six seasons, Washington's small town hero retired with a record off 18-16-7, earnings of $202,830 and a third place ranking on the list of all-time Washington-bred earners behind fellow Californian Stakes victors Biggs and Mustard Plater.
The son of *Perambulator—Ay Say, by Valdina Way, lived out his final days at the Beaverton, Oregon, farm of rider Jim Prouty's brother where the gelding died at age 21.
Read the expanded profile in the WASHINGTON THOROUGHBRED MAGAZINE, Fall 2020, page 144.