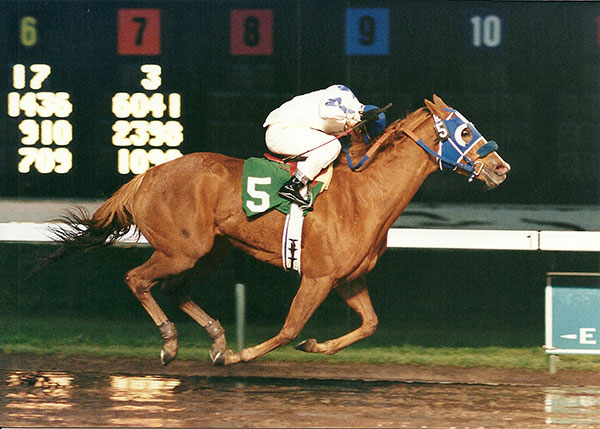 Ropersandwranglers was a California-bred with a Golden State pedigree, but her prowess at Emerald Downs earned her a spot in the Washington Racing Hall of Fame in 2015. She became the first horse to break the out-of-state barrier, racing her way into the Washington record books with ten victories in 12 tries at Emerald Downs and five track titles.
A Good Buy
Himself a 2005 Hall of Fame inductee, trainer Bud Klokstad only had to spend $2,000 to buy Ropersandwranglers at the California Thoroughbred Sales September Mixed Sale. The chestnut filly sold just seven months after her February 16, 1993, foaling date. She sported a young and intriguing pedigree, being out of the third crop of California Derby (G3) winner Endow and the first foal out of Silent Surprise.
A foal of 1986, Endow won six of his 14 starts and earned $479,959 while scoring in five stakes and placing in another three, including the Grade 2 Illinois Derby and Swaps Stakes, while running at two and three. Among those juvenile victories, most appropriately, was a win in the B. J. Ridder Stakes at Santa Anita. Ridder had campaigned Endow's sire, Flying Paster, California's 1979 horse of the year, a three-time Grade 1 winner and the state's leading sire five times with 48 stakes winners.
Ropersandwranglers' dam, Silent Surprise, had placed twice in her 12 starts while running in California and Tijuana, Mexico. Her sire, Silent Screen, by Prince John, had been voted the nation's champion two-year-old in 1969 and later finished third in the Preakness Stakes. He was known for his precocious brilliance and being a bright chestnut, both traits that Ropersandwranglers inherited.
Silent Surprise would later produce two more stakes winners: four-time Arapahoe Park and Turf Paradise stakes winner Whats the Hush, a daughter of Calumar who earned $137,885, and 2011 Rio Grande Senor Futurity winner Desert Road, a son of prominent New Mexico sire Desert God.
Interestingly, Ropersandwranglers was inbred 4S x 5D to Nearctic, but in neither case was it due to that Canadian stallion's most significant son, Northern Dancer.
Bill G. Michael bred Ropersandwranglers and the star filly was campaigned by Klokstad's wife Billie.
Bud Klokstad, who passed away in 2012, had quite a reputation as a leader in the ranks of two-year-old racing. He saddled a staggering eight Washington-bred champion juvenile colts and fillies. He was also responsible for nurturing the first two seasons of the career of Washington-bred great Chinook Pass, the 1983 Eclipse Award champion sprinter.
Fast Out of the Gate
Ropersandwranglers debuted on May 4, 1995, at Golden Gate Fields under a leading apprentice rider named Victor Espinoza. Espinoza would go on to become one of the top jockeys in the country with classic-winning mounts such as American Pharoah, California Chrome and War Emblem. Ropersandwranglers flashed some of her own brilliance in that first outing, rolling to the lead and never stopping to win the
4 1/2-furlong contest by 6 1/2 lengths.
That opening race was so impressive that Ropersandwranglers went favored in her next start, the June 17, $58,350 Moraga Stakes over 5 1/2-furlongs. She and Espinoza won that as well, driving home by three lengths. Klokstad's reputation for having young horses fit and ready certainly rang true in the case of the speedy California-bred miss.
Sore shins would plague Ropersandwranglers during her racing career, and this led the Endow filly to a ten-month layoff after her first two starts.
In her April 1996 return, Ropersandwranglers finished third, beaten 2 1/4 lengths in a Golden Gate allowance race. She ran back in May and won, this time under multiple Hall of Fame rider Russell Baze, blitzing a six-furlong allowance race by 4 1/2 lengths.
North to Emerald Downs
Klokstad shipped Ropersandwranglers north for the inaugural season at the new Emerald Downs racetrack in Auburn. In her first outing at the Western Washington oval she started in a six-furlong allowance and proved much the best, defeating future three-time Washington champion Cocktails Anyone by three lengths.
The trainer then tried stretching Ropers-andwranglers out to 1 1/16 miles in the $64,500 Washington Oaks, but the prized filly had to steady late in the race and ultimately lost the lead to winner Ever Lasting.
Lest anyone forget her dominance sprinting, Ropersandwranglers won the $30,000 Hastings Park Handicap over older fillies and mares by seven lengths and then won the then-open $50,000 Belle Roberts Handicap. On that occasion, Ropersandwranglers defeated Pleas Write, a mare that had been knocking heads with the colts over the summer, by 2 1/2 lengths.
At the conclusion of the 1996 racing season, Ropersandwranglers was named the top sprinter and three-year-old filly at Emerald Downs.
Home Again in California
Ropersandwranglers did start once more that year, where back at Golden Gate trying two turns again in the sloppy, off-the-turf $125,000 Moment to Buy Handicap, she finished sixth in what would be the worst performance of her career.
The Klokstad filly came back just nine days later to kick off the 1997 season with a third place effort in the $36,120 Sonoma Handicap. She lost by only two necks that day in a driving, blanket finish.
Ropersandwranglers then ran twice at Bay Meadows, finishing fifth both times, before making a triumphant return to Emerald Downs.
Three for Three
Ropersandwranglers was only able to get in three Washington starts before sore shins sent her back to the Klokstads' farm in Maple Valley, but the chestnut filly made them count. She won the $35,000 Auburn Handicap by a neck under Justin Vitek, then thrilled fans when winning the $30,000 Boeing Handicap by seven widening lengths. The $29,000 Ingenue Handicap served as her season curtain call, but Ropersandwranglers won it by 3 1/2 lengths, despite being forced wide at the top of the stretch. She was once again named the racetrack's top sprinter.
At Five
Rather than do battle in Northern California again, Klokstad had Ropersandwranglers primed for her 1998 debut at the start of the Emerald Downs meet. The mare picked up where she had left off, thrashing the field of six other distaffers in the $25,000 Mountain View Stakes by three lengths, despite being blocked around the turn. Among her defeated foes were Washington sprint champions Spite and Malice and Cocktails Anyone. She then successfully defended her title in the Auburn Handicap, scoring by a length. Each of her wins came under the guidance of Frank Gonsalves.
Ropersandwranglers lost for only the second time at Emerald Downs in the $35,000 King County Handicap, missing by a neck to Shay over a one-mile distance. Shay would go on to produce $384,050-earning multiple stakes-placed Getback Time, dam of Canadian champion, Grade 1 winner and $3.8-million earner Shaman Ghost.
Ropersandwranglers then defeated that rival when winning her second Boeing Handicap, again with Gonsalves in the irons, earning her third and final top sprinter title, as well as the honor of being named the meet's best older filly or mare.
1999
Now a five-time Emerald champion, Ropersandwranglers entered the 1999 season with high hopes, but she was only able to make a single start. She won the Mountain View Stakes, by 1 1/4 lengths, for the second consecutive year, capping her career at 13 wins, two seconds and two thirds from 20 starts and a 7.34 SSI. Ropersandwranglers had parlayed the Klokstads' $2,000 investment to a $260,575 total.
Motherhood Beckons
Unfortunately, Ropersandwranglers proved to be a disappointment as a broodmare. Her first foal, bred by the Klokstads, was Valley Roper, a son of In Excess (Ire), who managed to only place once in his four starts.
Sold to multiple leading state breeder Jerre Paxton, she produced the winning Bertrando filly Seize the Moment for his Northwest Farms in 2001. Ropersandwranglers' Northwest Farms-bred colts by Fusaichi Pegasus and Thunder Gulch remained unnamed and died young. Another colt, Cascade Cool, by Awesome Again, did manage to place five times in his seven starts, but earned only $6,230.
After producing a filly by Mineshaft in 2007, the unraced Iron Margaret, Paxton consigned Ropersandwranglers to the 2007 Keeneland November Breeding Stock Sale where David Lavoie purchased the then 14-year-old mare, bred to El Corredor, for $16,000. Two months later she brought a bid of $20,000 from 4M Ranch at the January Ocala Breeders' Sales Company Winter Mixed Sale. Unfortunately, the filly she was carrying died before she became a yearling and Ropersandwranglers was sent through the December 2008 Fasig-Tipton Texas Winter Mixed Sale. Listed as not pregnant, she failed to reach the $1,000 minimum bid. In 2011 Ropersandwranglers produced a filly named C'Mon Cowgirl, by C'Mon Tiger, for JEH Stallion Stallion, Oklahoma, which never raced. The multiple Emerald Downs champion's final foal was a 2012 filly by Dance Master whose registration was never completed.
Ropersandwranglers' daughter Seize the Moment, whose two wins had come in claiming races at Emerald Downs when she was a four-year-old, has produced six named foals (through 2015) and had four winners, led by $107,508 earner Grasp. A 2007 daughter of Souvenir Copy, there is hope that Grasp will keep Ropersandwranglers' female line alive, as her 2015 daughter Our Bold Princess, by Bold Chieftain, is a winner of $124,376, and her third foal is the 2018 filly Wonderfulwonderful, by Big Bad Leroybrown. Her second foal, Our Bold Prince, also by Bold Chieftain, earned $113,136. Grasp is also the dam of a 2020 filly by Temple City and a 2021 filly by Pepper Crown.
Ropersandwranglers' daughter Iron Margaret is her only other daughter in production, but neither of her two fillies has won, including the 2016 Soldat-sired Oriental Tale. She produced a colt by Klimt in 2021.
On the track, Ropersandwranglers proved herself a starlet, winning all nine of her sprint starts at Emerald Downs and at one point riding a five-race win streak. She is thought to be Bud Klokstad's favorite among his numerous stakes winners. Her accomplishments make her a deserved entrant into Washington's racing hall of champions.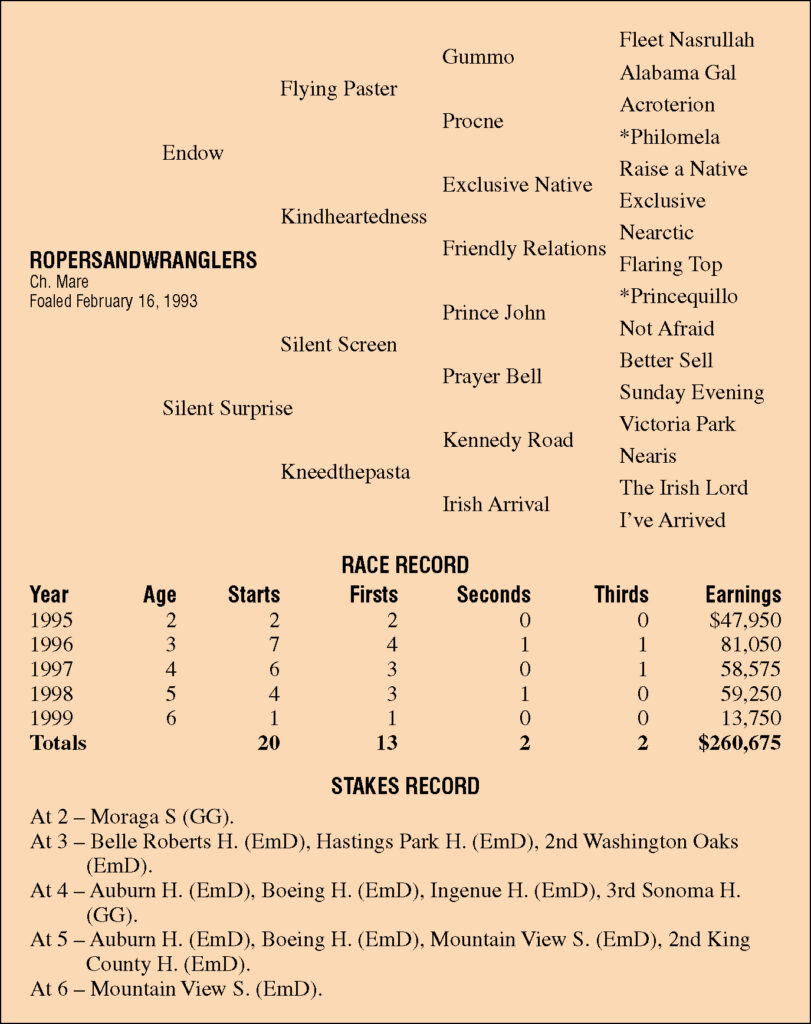 ---
Emily Shields is a freelance writer based in Southern California. She has been covering horse racing since 2006.