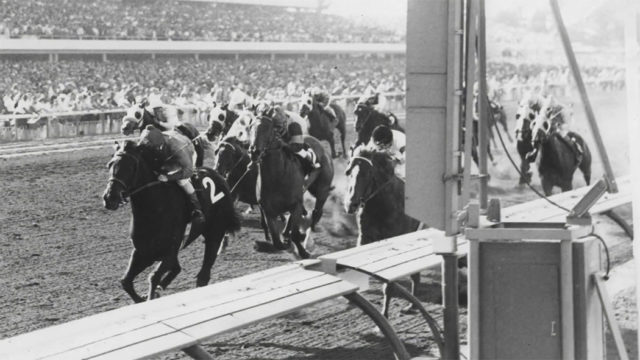 Travel Orb's remarkable feat of winning three stakes in three weeks is something that would astound modern race fans. The fact that the Washington-bred was able to take his brilliance on the road and defeat top tier horses in Southern California only added to his legacy. In 2015, fifty years after his phenomenal summer run at Longacres and first of his two Washington horse of the year titles, Travel Orb finally secured his place in the Washington Racing Hall of Fame.
Travel Orb was born in the small community of Orillia (near Renton) on April 17, 1962. The dark bay son of *Perambulator hailed from the *Valdina Way mare Ay-Say, who raced but never won. Travel Orb was her second foal and first winner; although she did go on to produce four more winners, including multiple stakes victor Good Hunting.
Mr. and Mrs. Robert Sumner bred Travel Orb and raised him in their backyard. The much beloved gelding ran five times as a two-year-old, breaking his maiden for a $5,000 price in his second start and placing twice. Travel Orb was sold after his first victory to Renton haberdasher Floyd Hughes Sr. for a mere $2,500. Eastern Oregon rancher George Dimick became half-owner when the year turned over.
Pacific Northwest Racing Star
The 1965 season was a special one for Travel Orb and his connections, including new trainer N. E. "Nub" Norton. The gelding won four times at Portland Meadows between March and the end of May, and then went on a tear at Longacres, eventually racking up a six-race winning streak. He won consecutive allowance races in June and July, added a handicap sprint on July 16, and then prepared for one of the great feats of the era.
On August 8, Travel Orb and regular pilot Jim Prouty went to the post for the Spokane Handicap, a one-mile contest for sophomores. Travel Orb won by a head. He was wheeled back seven days later in the Governor's Handicap against older horses. The 6 1/2-furlong sprint regularly drew some of the fleetest runners in the area, including favored Lak Nak, who had already won three stakes at the Longacres meet. Cutting back in distance and facing older horses just a week after his previous victory, Travel Orb was dismissed at eight-to-one. The gritty runner dropped well behind early, then rallied to score by a half-length with Lak Nak fading to third.
Norton then went for an ambitious triple, entering Travel Orb back for the Longacres Derby just seven days later on August 22. Travel Orb was stretching out to nine furlongs just days after defeating sprinters, and he responded by winning yet again with his patented late rally. Although he ultimately lost the Seattle Handicap by a head to rival Blue Surge, Travel Orb's exploits earned him the title as Washington's horse of the year and top three-year-old with ten wins and four seconds from 16 starts.
Washington native and Santa Anita morning line odds-maker Jon White, who became the youngest racing steward in state history at the age of 24 in 1979, recalled Travel Orb's accomplishments: "What he did in 1965 was special even back then, when horses ran more often. He wasn't beating soft fields; Blue Surge was a stakes winner at Hollywood Park by many lengths."
Meeting Native Diver
It seemed inconceivable that Travel Orb's 1965 season could be topped. He was shipped to Santa Anita to prepare for a 1966 campaign, and transferred to the barn of Leonard Dorfman. Daily Racing Form columnist and chart caller Jay Woodward famously told Dorfman that he had the best horse on the grounds, with a wary Dorfman jokingly asking if Native Diver had been brought to his barn.
Native Diver was a California staple. The fleet, dark runner became the first California-bred millionaire and had already won a Hollywood Gold Cup amongst his 27 stakes victories to that point. The two would meet for the first time in the Californian Stakes, where Native Diver was heavily favored to add yet another stakes to his résumé, while Travel Orb had been running well in allowance company over the winter and finished second in the San Francisco Mile.
Travel Orb stunned the public in the June 4 Californian, a race that made him the second of three Washington-breds (all Hall of Fame inductees) to capture the $100,000 race during the 1964-67 period. Bettors collected a $54.20 payout, while Native Diver ran last, a surprising performance that many thought was a fluke.
The two met again in the prestigious American Handicap, a $50,000 contest on July 4 that also drew Hollywood and California derbies winner Real Good Deal. Travel Orb, in a "superlative effort," won once again, and on even terms, with Native Dancer less than a length behind second and Real Good Deal running third. Dorfman commented after the holiday race: "This was an even greater effort for him today than when he won the Californian. It was a terrific performance for him to catch that black horse (Native Dancer) once he got the lead. And we can thank Bill Harmatz for a fantastic job of riding."
According to an article in the August 1966 Thoroughbred of California "Harmatz did, indeed, guide Travel Orb with the hands and the head of a wizard."
"That showed he was not a fluke winner," White later added.
In their third meeting, the Hollywood Gold Cup, Native Diver won his second of three consecutive titles in that race, with Travel Orb third, beaten a neck for second place. Native Diver would go on to win 34 stakes in his career, while Travel Orb returned to Washington after that effort, having earned his second horse of the year honor with three wins and four seconds in ten starts.
Travel Orb was ranked at 114 pounds on the 1966 Free Handicap for four and up horses and geldings with Native Diver at 125 ranking second by a pound behind co-highweights Bold Bidder and Lucky Debonair.
Later Campaigns
Due to an injury suffered in the Gold Cup, Travel Orb did not start in 1967. He returned to the races in January 1968 under new conditioner and future Washington Hall of Famer Wayne Branch to win three times in 1968, including an allowance race at Del Mar and the Monterey Peninsula Handicap at Bay Meadows, with four seconds and four thirds. The aging warrior won one of his two starts in 1969, and then had another lengthy layoff before having a winless season in 1971. He was ultimately retired with 18 wins, 16 seconds and seven thirds in 56 starts and earnings of $202,830, ranking third on the Washington leading earners list behind fellow Californian Stakes winners Biggs and Mustard Plaster. Travel Orb's SSI was 10.43.
"He had a checkered career past 1966, but he never disgraced himself," White said.
Travel Orb lived out his retirement at rider Prouty's brother's Beaverton, Oregon, farm, and died at age 21 in 1983.
"I always felt he was deserving of the Hall of Fame," White said, "because he epitomizes the ideal Hall of Fame horse for the state of Washington. He accomplished a lot inside the state, but also outside the state, which is not something you can say for all the members. When you combine his credentials in 1965 and 1966, he is really very deserving of the Hall of Fame."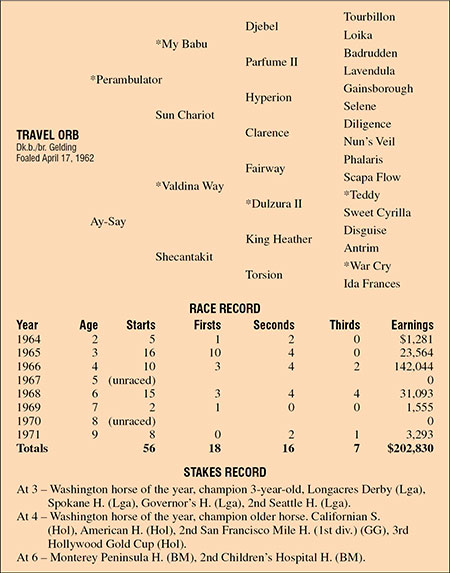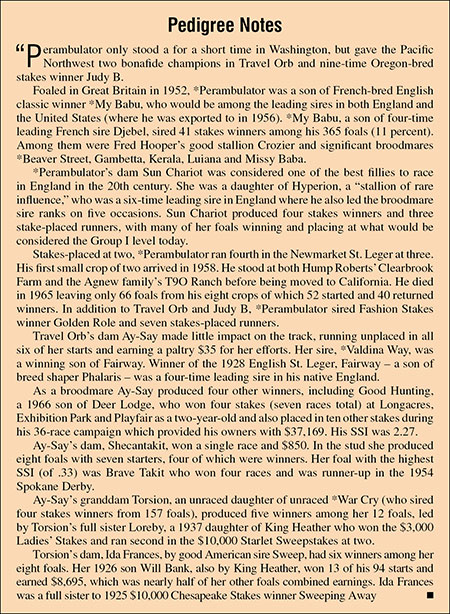 Emily Shields is a freelance writer based in Southern California. She has been covering horse racing since 2006.