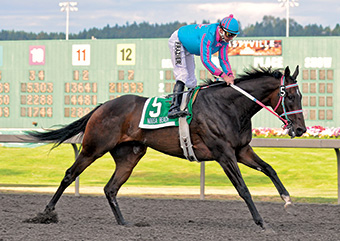 Trainer: Doris Harwood
Owner: Jeff Harwood
Breeder: Jeffery O. Harwood & Doris A. Harwood
Record: 22-14-4-2
Earnings: $524,472
Noosa Beach became the 24th runner to be chosen for the honor, and in the first year of his eligibility. The first of three Washington champions produced from the Harbor the Gold—Julia Rose cross, Noosa Beach was bred by trainer Doris Harwood and her husband Jeff Harwood, who raced the talented runner during his five-year campaign.
The dark bay colt was from the first crop of Oregon-based Bar C Racing Stables Inc.'s Harbor the Gold and would become the first of the stallion's so far 18 state champions.
After winning the Captain Condo Stakes at two and placing in two other Emerald Downs stakes, including a second in the Gottstein Futurity, two-year-old champion Noosa Beach just kept getting better with age.
A second championship season followed at three after he won two stakes and placed in two others around the Auburn oval.
During a simply brilliant season at four, which saw him victorious in the Longacres Mile (G3) (by 1 1/2 lengths over future Grade 1 winner Jersey Town) and annex four other stakes for older runners, Noosa Beach brought home his richest payload, $225,930, and earned his first Horse of the Year title.
As a five-year-old Noosa Beach came back strong to take three Emerald stakes, the George Royal Stakes at Hastings Racecourse, finish second in the 2011 Mile and was again named best Washington-bred of the year.
Noosa Beach is one of nine winners from nine foals out of 2013 Washington broodmare of the year Julia Rose, a 1997 daughter of Basket Weave. Her talented offspring won a total of 36 races, including 19 stakes. Of their $947,101 total, Noosa Beach earned over 55 percent ($524,472).
The now 11-year-old Noosa Beach continues to reign supreme in retirement at the Harwoods' farm in Kent.
Read the expanded profile in the WASHINGTON THOROUGHBRED MAGAZINE, Spring 2021, page 26.