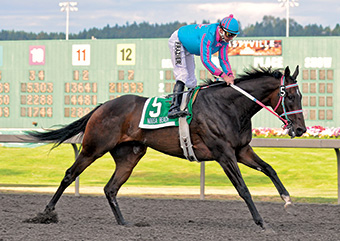 Both bullish and brilliant, Noosa Beach went from a gangly competitor notorious for throwing his riders to the darling of Pacific Northwest. He raced his way right into the Washington Racing Hall of Fame, bringing with him an impressive résumé of victories earned over his first four seasons during which he was honored as a Washington champion a record seven times. Along the way he helped his dam earn honors as broodmare of the year and brought endless joy to his human connections.
An Auspicious Claim
Long before the oversized gelding was blazing over the track, breeder Jeff Harwood claimed a Cure the Blues filly named Cure My Blue's out of a $2,500 contest at Yakima Meadows. "Jeff had a dream that he was going to shake for her, and that she had won the race," said wife Doris, "and I'll be darned that that's exactly what happened."
"A week later a bloodstock agent wanted to give us $25,000 for her," Jeff recalled. "Doris told him that he would have to take me too."
The race would provide the final win of seven in her 24 starts. Cure My Blue's had won the $10,000 Princess Breeders' Cup Handicap as a four-year-old before being claimed by the Harwoods.
Upon retirement to the broodmare ranks, she produced two Basket Weave fillies in succession, three-race winner Faithfully and Julia Rose. The latter was unable to race, having suffered a serious injury at just six weeks old, and though it did not seem financially wise at the time, there was a lot of sentiment and emotion attached to the filly, as she had been named for Doris's sister, who had recently passed away.
The Harwoods made every effort to save her as a broodmare, and Julia Rose rewarded their faith by producing three winners from her first four foals. In 2005, she was slated to be bred to the stallion Tiffany Ice at Pam and Neal Christopherson's Bar C Racing Stable in Hermiston, Oregon, for the fourth time, but the stallion refused to breed her. At the same time, the Christophersons had recently acquired an unknown stallion named Harbor the Gold, and the Harwoods were quickly convinced to give him a try.
Julia Rose was the very first mare that Harbor the Gold, now regularly the Pacific Northwest's leading sire, bred. The resulting foal was Noosa Beach, named for a stunning destination on Australia's Sunshine Coast.
Young Noosa
As a yearling, Noosa Beach tested the most patient horsemen. "Noosa unloaded every human being on his back," Doris attested, "not because he was unrideable, but because he saw an opportunity."
The 17.2-hand gelding joined Doris's string at Emerald Downs, and systematically dislodged all her riders. "He didn't do it every day, but if he thought he had an opportunity he would get rid of the rider just to see what happened."
For Noosa Beach's debut, trainer Harwood entered him for a $12,500 claiming price on August 14, 2008. "It's not that I didn't think he could run," she said. "But I thought I could get away with it since the mare hadn't produced anything significant and the stallion was brand new." Noosa Beach won by 4 1/2 lengths, and never ran for a claiming price again.
Just two starts later, Noosa Beach won the Captain Condo Stakes by 5 1/4 lengths. The big horse finished second in the prestigious Gottstein Futurity, with stablemate and future rival Winning Machine running third. With two stakes placings and a stakes win under his belt, as well as a champion two-year-old colt or gelding title, Noosa Beach was put away for the winter and returned as a sophomore in April.
Sophomore Season
He won the Auburn Stakes right off the bench, and then added the Pepsi-Cola Handicap by a head over Winning Machine. The stablemates turned the tables in their next start, the Tacoma Handicap, with Noosa Beach running fourth. They both finished behind Peaceful Reign in the Seattle Slew Handicap, with Noosa Beach second, and then the pair left Washington behind for Canada's Hastings Racecourse and the rich British Columbia Derby (G3).
"We didn't know how Noosa would run on the bull ring because he's so big," Doris said. Noosa Beach finished third, with Winning Machine scoring by a length. As the trainer of Winning Machine and the breeder, owner and trainer of Noosa Beach, the Harwoods enjoyed a hefty payday from the experience, and Noosa Beach was named Washington's champion three-year-old male.
Going Strong
"Noosa was so big that it took him longer to get as good as he was going to get," Doris said. "At four he was nearly unbeatable."
Noosa Beach kicked off his 2010 campaign by winning an allowance race by a neck, once again outlasting Winning Machine. He then stormed through consecutive victories in the Seattle Handicap – despite being bumped at the start – and the Budweiser Handicap by 9 1/4 lengths. He lost by a neck in the Governor's Handicap after a bad break, but rebounded to romp in the Mt. Rainier Handicap. Then it was time to face both the best runners in Washington and a host of out-of-state shippers in the $250,000 Longacres Mile Handicap (G3).
Under jockey Ricky Frazier, Noosa Beach battled for the lead early on, and then turned back all challengers to win. "Winning the Mile is the goal of every trainer on the backside here," said Doris. "For me to win it personally, it was one of my greatest moments. And I have to admit that I was confident going in. That's not being cocky, that's just because I knew I had the horse!"
The race was not without its issues, as rival Gallon veered in and stepped on Noosa Beach's right front pastern. Despite the injury, Noosa Beach came back one more time in 2010, strolling home to win the restricted Muckleshoot Tribal Classic. He was named Washington's horse of the year and champion older horse for his nearly perfect record.
Doris reflected, "They couldn't beat him by letting him go to the front, they couldn't beat him on an off track and they couldn't beat him by leaving him at the gate because he could close. He really could run any style, and that's the difference between a really good horse and a great horse."
Four Years a Champ
Jeff and Doris took Noosa Beach – nicknamed "The King" – into his 2011 season with high hopes. The allowance race typically held at the beginning of the Emerald Downs meet didn't fill, as no one wanted to run against the reigning champion. In response, the Harwoods took Noosa Beach back to Canada for the George Royal Stakes, which he won by 1 1/2 lengths to continue his win streak.
Noosa Beach next added scores in the Governor's Handicap (by one length), the Budweiser Handicap (by 3 1/2 lengths, with Winning Machine in second) and the Mt. Rainier Handicap (by a half-length over Winning Machine).
After seven straight victories, the streak ended with a second place effort to Awesome Gem, while giving that runner a three-pound advantage, in his attempt at defending his Longacres Mile title. It was Noosa Beach's only loss in 2011.
Shortly afterwards he was named Washington's horse of the year for the second time, as well as champion older male and champion sprinter.
Noosa Beach made one final start, finishing fourth in the 2012 Governor's Handicap.
"We bred him, we owned him, we trained him," Doris said. "It was time. And when he left that stall, it was the emptiest stall I've ever seen in my life." Noosa Beach retired with a record of 14-4-2 in his 22 outings and garnered earnings of $524,472.
Doris herself was inducted into Washington's Racing Hall of Fame in 2018 in the trainer category.
In 2013, his dam Julia Rose was named broodmare of the year with a staggering nine winners from nine to race, which includes Noosa Beach's champion younger full brothers Music of My Soul and Noosito (sire of 2020 Washington two-year-old co-champion Dutton).
Retirement
After a short stint at the Harwood's property, Noosa Beach has now settled into life at Second Chance Ranch outside Spokane. "He is the king there, has friends and loves it," Jeff said. "With all he's done for us, we're going to make sure that he has the best life possible for as long as he lives." Jeff has even dared to climb aboard the gelding in his retirement, and found himself promptly bucked off.
At Emerald Downs's 20th anniversary party, four past Longacres Mile winners were paraded down the stretch. Among them was Noosa Beach, who spent "half the time walking on his hind legs," said Jeff, who led him. "He was the consummate racehorse and loved competition. He still has that same heart, it hasn't faded at all."
"He proved we could breed good quality horses here," Doris said. "He was something special."
---
Emily Shields is a freelance writer based in Southern California. She has been covering horse racing since 2006.