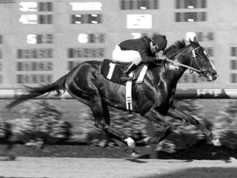 Trainer: Robert A. Meeking
Owner: Loto Canada Inc
Breeder: Kwik Lok Corporation
Record: 33-11-5-10
Earnings: $311,993
After winning the $1-million Canadian Lottery in 1978, Lee and Patti Brauer decided to take $5,000 of their windfall and buy a racehorse, and what a racehorse the Yakima couple got!
In the early 1970s Yakima businessman Jerre Paxton set out to build the foremost breeding operation in Washington. Among his first broodmares was the well-bred T. V. Lark mare T. V. Actress, who raced 29 times in California with a 2-4-1 record, eking out only $8,050 along the way.
On March 5, 1977, T. V. Actress produced her second foal, a small bay colt by the stakes-placed Tom Fool stallion Saltville that would turn into a champion runner.
Loto Canada made his debut on May 26, 1979, winning a Longacres maiden special weight race by seven lengths for trainer Len Kasmerski. The gelding next finished second to future stakes winner Havadasher in an allowance. A third place in the Washington Stallion Stakes was followed by a trip to Exhibition Park where Loto Canada took the Blue Boy Stakes by eight lengths.
After that impressive tally, Loto Canada returned to Longacres where he won the Stripling Stakes by six. And then, over a sloppy track, he took the $85,270 Gottstein Futurity by nine lengths. The talented juvenile next won the mile Tukwila Stakes to give him four stakes tallies in a row by a combined 24 lengths. He was named 1979 Longacres horse of the meet.
At Santa Anita the Washington-bred finished third behind Del Mar Futurity (G2) winner The Carpenter in the Grade 3 Sunny Slope Stakes. The November outing would finish his nine-race juvenile campaign with a 5-1-2 record and earnings of $117,105. The Brauers' fairy tale runner was the unanimous choice to take the Washington juvenile title.
Loto Canada made his sophomore debut at Santa Anita where he finished third to Jaklin Klugman and The Carpenter in a
6 1/2-furlong allowance.
Next traveling to Oaklawn Park, Loto Canada ran fourth – but only a head behind third place Be a Prospect – in the mile and 70 yard Rebel Stakes, won by the then unheralded Temperence Hill.
Temperence Hill ($1.60-to-one) and Loto Canada ($1.40-to-one) would next clash in an allowance at the same distance. On a sloppy track, Loto Canada prevailed by nearly five lengths over the son of Stop the Music.
This was all leading up to the major objective: the Arkansas Derby (G2), a prelude to the Triple Crown and part of the ambitious plan mapped out by the Brauers and Kasmerski.
Loto Canada, again the favorite, could only manage seventh in a race won by future Eclipse champion three-year-old Temperence Hill.
Back at Longacres, Loto Canada rewarded his many fans by equaling the 1 1/16-mile track record in the William E. Boeing Stakes, a race which he took by ten-widening lengths. After such a thrilling success, Loto Canada was once more sent to Southern California where he ran third in the El Dorado (G3) and Silver Screen (G2) handicaps. He finished his sophomore campaign with a second, by a neck, to Pappy in the Longacres Derby. His 2-2-2 record from nine starts and $75,593 earned the game runner his second state title.
At four, Loto Canada won a trio of Longacres races, including tallies in the Seattle Handicap and Washington Championship Stakes, and was third behind champion Trooper Seven in the Longacres Mile (G3).
Loto Canada won his first race in 1982, an August allowance at Longacres, in what would be his final trip to the winner's circle. He also placed in the Warren G. Magnuson Handicap and Washington Championship.
At seven, the speedy runner finished his 33-race career by placing in two allowances and was retired after an untimely hoof injury with a final record of 11-5-10 and $311,993 in earnings.
He was retired to a Yakima farm, but at age 24 was moved to John and Tanja Parker's Lakebay farm. The Parkers are longtime friends of the Kasmerskis and the gallant gelding spent his final years as a cherished member of the Parker household. Loto Canada passed away on New Year's Day 2012, just after officially turning 35.
Read the expanded profile in the WASHINGTON THOROUGHBRED MAGAZINE, Spring 2017, page 30.