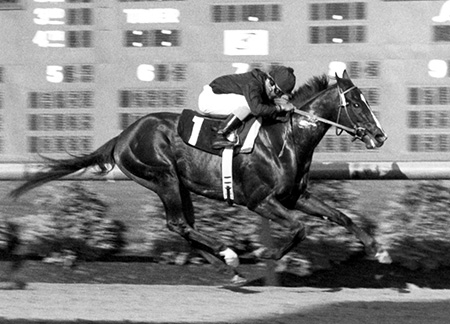 His name, Loto Canada, summed up the story well enough, but Lou Brauer remembers the events that led to the name unfolding as if they were yesterday.
Brauer, son of Lee and Patti Brauer, recalled that his parents were not well off and lived on a tiny apple farm. "We had just taken our first family vacation the summer before," Brauer said of 1977, when the family traveled to Vancouver, Canada. "My parents bought two lottery tickets of $10 each."
One of the tickets was worth $100, but rather than collect that money, the Brauers wheeled it into ten more tickets. In April of 1978 they received the stunning phone call: the Brauers had won $1-million.
"They thought it was someone playing a joke," the younger Brauer remembered. "My dad was just sitting there, then he held up one finger, and my mom started screaming and crying. The next three days they just tried to figure out what to do."
The Brauers sat on the money for six months before "splurging" on a new truck and fixing the farm tractor. They also bought a yearling by Saltville out of the T.V. Lark mare T.V. Actress off of a friend that managed Jerre Paxton's Kwik Lok Corporation.
"He cost $5,000," Brauer said. "That was Loto."
Loto Canada turned out to be the second state champion – following the influential Knights Choice – bred by Paxton, a charter member of Washington's Racing Hall of Fame.
Juvenile Brilliance
Loto Canada matured into a precocious juvenile, embarking on his Hall of Fame career on May 26, 1979. The race was five furlongs on the old Longacres track. Loto Canada rolled home, winning by seven uncontested lengths. That debut spoke to the brilliant career he would have, but it took two allowance placings and his first stakes race before Loto Canada broke through to not only win a stakes, but start a breathtaking four-race win streak.
In one of only two career starts at Exhibition Park (now Hastings Racecourse), Loto Canada took the Blue Boy Stakes by five lengths. He returned to Longacres to run away with the Stripling Stakes by six lengths, then did himself one better by adding the prestigious Joe Gottstein Futurity by nine lengths. He was heavily favored in the Tukwila Stakes two weeks later, and responded in kind, winning by four.
The win streak came to an end when Loto Canada was shipped south to try graded stakes company at California's Santa Anita Park. Despite the services of National Hall of Fame rider Bill Shoemaker, Loto Canada finished third in the Grade 3 Sunny Slope Stakes. He tried the $100,000 El Camino Real Stakes (G2) at Bay Meadows to end the season, and finished fourth.
As a juvenile, Loto Canada compiled a record of five wins in nine starts, racing at four different tracks and earning the title of Washington's champion two-year-old male. His sophomore season in 1980 would see much of the same: gutsy performances in graded stakes company and a championship title at the end of the year.
More Travels
With an eye on the 1980 Triple Crown trail, Loto Canada began his season with a third in a late February allowance race at Santa Anita, but he found himself in exceptional company. Jaklin Klugman, who won the event, would go on to be California's horse of the year and champion three-year-old male, while The Carpenter, who ran second, had just been named the Golden State's best juvenile the year before.
In an effort to get away from the competition, Loto Canada shipped to Oaklawn Park in Arkansas and finished fourth in the $50,000 Rebel Handicap. He next won an allowance prep by nearly five lengths, defeating future Belmont Stakes (G1) hero Temperence Hill, before a dull seventh behind that same runner in the $150,000 Arkansas Derby (G2) expedited his return to Washington.
Loto Canada had a superb homecoming, waltzing home an uncontested ten lengths in front in the William E. Boeing Stakes – equaling the track record of 1:02 2/5 for
5 1/2 furlongs. He was so superior to his Washington competition that Loto Canada returned to Hollywood Park in California to spend most of the summer. He finished third in the Grade 3 El Dorado Handicap, second by a head in the Grade 2 Silver Screen Handicap and fifth in the Grade 1 Swaps Stakes.
Although heavily favored in the Longacres Derby, Loto Canada finished second by a head to Pappy, while giving the winner 12 pounds. That effort concluded his three-year-old season with two wins in nine starts, but also two graded stakes placings.
Older Campaigns
Loto Canada ran eight times in 1981 and had another strong season. He finished third in the Renton Handicap, won an allowance race, and then finished third in the Grade 3 Longacres Mile. To wrap up the year, Loto Canada added his final two stakes victories, taking the Seattle Handicap and the Washington Championship Stakes in succession.
An allowance race at Longacres in 1982 proved to be Loto Canada's final win. He finished third in the Warren G. Magnuson Handicap and second in the Washington Championship Stakes, but a hoof injury put his career on hold indefinitely. Loto Canada missed the entirety of 1983 and ran only twice in 1984, finishing second at Exhibition Park and then third at Longacres in his final trip to the post.
Loto Canada ended his racing career with 11 wins, five seconds and ten thirds in 33 starts for earnings of $311,993. He was campaigned at various points in his career by trainers Len Kasmerski, Gary Vickery and Robert Meeking, his final trainer of record.
Retirement
Initially retired to live on a farm where former trainer Len and wife Kay Kasmerski, as well as Lee and Patti Brauer, could visit him often, Loto Canada later found another home with Tanja and John Parker.
"We had Loto for the last 11 years of his life," John Parker said. "The day he arrived at our place, it was an exciting thrill to see him in our pasture."
Parker remembered watching Loto Canada as a fan while the horse was racing through his two championship seasons, but lost track of him while he was in the service.
The Parkers' two young girls grew up with Loto Canada in their backyard, and helped spoil the racetrack star. "He was so spoiled," Parker recalled. "Candy bars and colas were his favorite. Scones from the fair and caramel apples, too. He was a genuine pasture pet for sure.
"Lee came by to see him and knew he was a happy horse. Loto loved fresh bedding and loved to roll," Parker reminisced.
Loto Canada passed on January 1, 2012, to the heartbreak of his numerous connections. "His legs got tired . . . it got hard to put front shoes on him. A year later he could not get up. It was a sad, sad day to say goodbye to a true friend," said Parker.
Loto Canada was inducted into the Washington Racing Hall of Fame on August 28, 2016.
"My dad and I had discussed it over the years, but didn't think he would get in," Lou Brauer said. "That was really amazing, such a huge honor."
Loto Canada is still remembered for his special backstory, brilliant displays of dominance on the track, and the gentleness he displayed in retirement.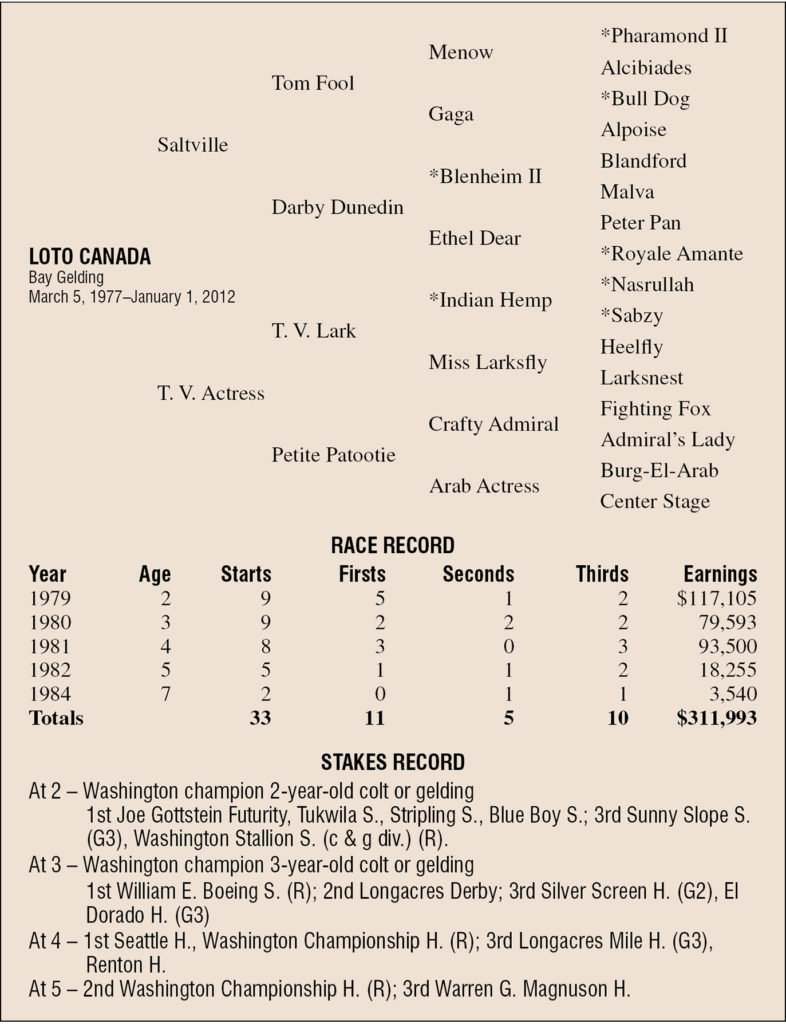 Emily Shields is a freelance writer based in Southern California. She has been covering horse racing since 2006.