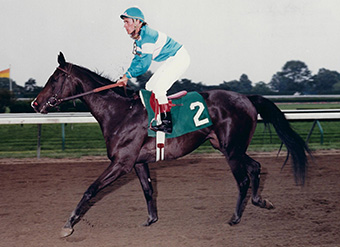 Trainer: Robert J. Frankel
Owner: Alsdorf & Frankel & Moss
Breeder: Dan J. Agnew
Record: 5-4-0-1
Earnings: $390,370

A standout from the time she was foaled, Delicate Vine was not only among the best fillies ever bred in Washington, she nearly was Washington's second Eclipse Award winner.
Born in 1984, Delicate Vine was a fourth generation Washington-bred mare produced for the Agnew family. War Skirt – Delicate Vine's fifth dam – foaled 1960 Spokane Futurity winner Bridge Act, juvenile stakes-placed My Hero and eight-race winner Miss Tenino, a 1959 filly by Valdina Orphan, for the southwest Washington family.
Miss Tenino's best runner was Washington champion and five-time stakes winner Tenino Ville, but among her four other foals was six-race winner Watch Lucille, by *Daumier.
Watch Lucille produced Aunt Iva, who won or placed in 15 stakes; stakes-placed Salty Enuf; and Fool's Miss. Though a non-winner, Fool's Miss, by Saltville, did run fourth in the Washington Stallion Stakes.
Fool's Miss's first foal was 1980 Yakima Meadows stakes winner Missa Bet, who would become the pride of Rick and Sharon Pasko for many years to come.
Delicate Vine was the seventh foal for Fool's Miss and a member of the third crop of 1978 Washington champion two-year-old Knights Choice, who would lead the state stallion ranks in 1991.
Delicate Vine was consigned to the 1986 three-day CTS March Two-year-olds in Training Sale where future Hall of Fame trainer Robert Frankel, who had already one Washington Horse of the Year under his trainer's belt – Pataha Prince – signed the ticket for $60,000.
The filly, ridden by Gary Stevens, made her debut on June 19 in a maiden special weight race at Hollywood Park where she "blew away maidens by four" for new owners Gregg Alsdorf, Jerry and Ann Moss and trainer Frankel.
The Washington-bred's next start came in the Landaluce Stakes (G3), a six-furlong, $75,000 event. As the nine-to-five favorite, she earned her first stakes win, again with Stevens aboard, by two lengths, in 1:10 flat. Finishing fifth in the field was Brave Raj.
Then came a trip to New Jersey's Monmouth Park for the $200,000 Sorority Stakes (G2), where under a hand ride by Stevens, Delicate Vine took the six-panel stakes by five lengths in a time of 1:09 3/5. It should be noted that only the great Ruffian had won the race in a faster time.
The Delicate Vine entourage next traveled to Arlington Park for the Grade 1 Arlington-Washington Lassie Stakes, a seven-furlong race which grossed $296,100.
The .70-to-one favorite, Delicate Vine defeated future three-year-old filly champion and 1987 Breeders' Cup Distaff (G1) winner Sacahuista with 1986 Canadian Horse of the Year Ruling Angel in third place. The final race time was 1:23 2/5.
The long, smooth-striding filly was a Frankel favorite and up to that time he felt she was the best young horse ever placed in his care. "She's just a real smart filly, very relaxed and mature," said the master conditioner who would later add his third Washington Horse of the Year in 1989 with the event of Grade 1 winner Saratoga Passage's second top-ranked season.
In what would be her final start, Delicate Vine went into the 1 1/16-mile Oak Leaf Stakes (G1) as the seven-to-ten favorite. She drew the outside post, which forced Stevens "to gun the filly early." She could only manage third, 2 1/4 lengths behind winner Sacahuista and another neck back behind Silk's Lady.
When she turned up lame after the race, Frankel had her x-rayed and found she had fractured a coffin bone and bowed a tendon.
After Brave Raj added a win the Breeders' Cup Juvenile Fillies (G1) to her four other stakes scores, Delicate Vine lost her chance of being voted national champion, though she was rated only one pound behind that rival on the Experimental Free Handicap, along with co-second highweights Tappiano and Very Subtle. The next weighted fillies, Personal Ensign and Sacahuista, would both soon become national champions.
Attempts were later made to get Delicate Vince racing sound, but the Oak Leaf would prove to be the final start in her brilliant race career. Delicate Vine retired with earnings of $390,370 to rank fourth to Eclipse Award winner Chinook Pass on the leading Washington-bred money winners list and second behind fellow Hall of Famer Belle of Rainier's distaff record of $424,526. Delicate Vine's 61.81 SSI eclipses any other Washington-bred.
Read the expanded profile in the WASHINGTON THOROUGHBRED MAGAZINE, Winter 2017, page 226.