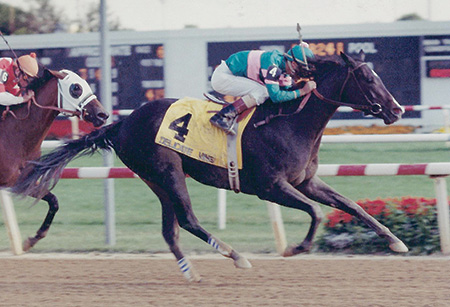 A standout from the time she was foaled, Delicate Vine was not only among the best fillies ever bred in Washington, she nearly was Washington's second Eclipse Award winner.
Foaled in 1984, Delicate Vine was a fourth generation Washington-bred mare. Although War Skirt, Delicate Vine's fifth dam, was bred in Washington by Mrs. J. J. Mundy II (1945), S. A. Agnew would acquire both War Skirt and her dam Colonel's Miss. Colonel's Miss, a 1934 daughter of Colonel Shaw, later produced 1955 Washington Futurity winner Fourth Act for the Agnews.
War Skirt produced five Agnew-bred winners, including 1960 Spokane Futurity winner Bridge Act, three-time juvenile stakes-placed My Hero and eight-race winner Miss Tenino, a 1959 filly by Valdina Orphan who was Delicate Vine's fourth dam.
Miss Tenino's best runner was Washington champion and five-time stakes winner Tenino Ville, a 1968 son of the Agnews' Tom Fool stallion Saltville. Among Miss Tenino's four other foals was six-race winner Watch Lucille, a 1966 daughter of Italian champion *Daumier (who was bred by Federico Tesio shortly after World War II, but eventually found his way to the Agnews' T9O Ranch).
While Watch Lucille's initial two foals to live would both be non-winners (including her first foal, the 1973 Saltville filly Fool's Miss), her final five would enter the winner's circle on multiple occasions, led by the Captain Courageous filly Aunt Iva, who won or placed in 15 stakes at four different racetracks and earned $169,576; and Salty Enuf, a Saltville gelding who placed third in the Sutter Stakes at Golden Gate Fields as a three-year-old. Though a non-winner, Fool's Miss – Delicate Vine's dam – did run fourth in the Washington Stallion Stakes.
Fool's Miss's first foal was 1980 Yakima Meadows stakes winner Missa Bet, a daughter of Captain Courageous who would be the pride of local breeders Rick and Sharon Pasko for many years to come. Among Missa Bet's many top descendants are the Pasko-bred and -raced stakes winner Timely Bet and her stakes-winning daughter Ippodamia. After being claimed in California, Ippodamia would later produce Del Mar Futurity (G1) winner Georgie Boy. In 1982 Missa Bet produced Fool's Guest, who would place in three stakes at Playfair.
In 1984, Fool's Miss, bred to Knights Choice, was entered in the January CTBA Mixed Sale where Washington bloodstock agent Dana Halvorson signed the ticket for $5,200. Soon after the sale, fellow Washington agent L. L. "Packy" McMurry approached Halvorson and asked a favor. McMurry was supposed to have been "protecting" the mare and he asked if Halvorson if he would sell the mare back to Agnew for a slight profit. Halvorson agreed, and the foal Fool's Miss was carrying and produce some two months later (April 8) would list Dan J. Agnew as her breeder. That foal was Delicate Vine. Agnew was a major shareholder in 1978 Washington champion two-year-old Knights Choice.
Five years later Agnew would sell Fool's Miss for $35,000, covered by his classic-placed Desert Wine, at the Keeneland November Breeding Stock Sale. The resulting filly, the single race winner Ballynaugh, produced 2002 Humana Distaff Handicap (G1) winner and future $1.3-million broodmare (bred to Danzig) Celtic Melody. The now 26-year-old Ballynaugh's most recent foal, a 2013 filly by multiple Grade 1 winner and 2014 leading freshman sire Quality Road named Corby, was a $95,000 RNA at the 2014 Keeneland September Yearling Sale.
Sheer Brilliance
Todd Hansen, now a successful builder and owner with his wife Shawn of the Scatter Creek Training Center in Tenino, vividly remembers his mother, DanDar Farm manager Stevie Hansen, and himself imploring Dan Agnew to keep the daughter of Knights Choice—Fool's Miss, who had shown a keen mind and "a bit of a temper."
Agnew also remembers "his error."
"While Stevie Hansen fell in love with every foal ever born at DanDar, she begged me not to sell her, saying she was the best one we'd ever raised on the farm," remembered Agnew. "Unfortunately, I didn't listen to her and sold her anyway; one of the biggest mistakes I've ever made about a filly I'd bred."
The filly was sent to Lev Fanning at Cardiff Stud Farms for a month and a half of sales prep before being consigned as Hip 222 – in the consignor preference session – of the three-day CTS March Two-year-olds in Training Sale (of 561 juveniles cataloged) with Cardiff Stud Farms, Agent. Future Hall of Fame trainer Robert Frankel, who had already one Washington Horse of the Year under his trainer's belt – Pataha Prince – signed the ticket for $60,000.
Delicate Vine, ridden by Gary Stevens, made her debut on June 19 in a maiden special weight race at Hollywood Park where she "blew away maidens by four" lengths for owners Gregg Alsdorf, Jerry and Ann Moss and trainer Frankel. According to Bruce Batson in his report "Following in Some Quick Footsteps," which appeared in the August 1986 The Washington Horse. "Despite a string of eye-catching works, she was sent off as the second choice in the wagering behind the highly regarded Anything for Love," a Seattle Slew filly from the stable of D. Wayne Lukas.
The Washington-bred's next start came in the Landaluce Stakes (G3), a six-furlong, $75,000 event run on Hollywood Park's Fourth of July card. After refusing to enter the gate and then lagging at the back field, Delicate Vine – the nine-to-five favorite – came out six-wide in the stretch before earning her first stakes win, again with Stevens in the saddle, by two lengths, in 1:10 flat. Finishing fifth in the field of nine was future champion two-year-old filly Brave Raj.
"We really thought she was out of it," said Jerry Moss of Delicate Vine. "She must have gone five or six wide coming out of the turn; she was totally out of the picture. Gary said he was thinking of standing up on her and letting her relax through the stretch, but then she just started digging in" said the future owner of Zenyatta. "It was just incredible. You really learned a lot about the personality of the filly through that race."
The Washington Horse editor Joe LaDuca called Delicate Vine's win in the Landaluce "another bold display of courage and speed, earning juvenile of the meet honors and more kudos for Washington breeders."
After the Landaluce, which was named to honor Seattle Slew's 1982 unbeaten champion daughter who tragically died of a severe bacterial infection in her first season of racing, the following was penned by Jay Hovdey in the July Thoroughbred Record.
"After the Landaluce, Delicate Vine can have any future she chooses.
"Bobby Frankel, her trainer and co-owner with Jerry Moss and Gregg Alsdorf, sat in the racing office the next morning accepting congratulations from whoever walked by.
"'Whaddya think?"' Frankel would ask. '"Have you ever seen anything like that before?"'
"No," was the only answer. Delicate Vine inhaled the Lukas-trained front-runner Anything for Love, who was not exactly lying down, and drew out to win by two lengths in 1:10 flat. She was immediately placed in a special category reserved for only the most exciting young discoveries. Her jockey, Gary Stevens, homed in on the most sensible comparison.
"'She reminds me of Hilco Scamper (2012 Washington Hall of Fame inductee and 1985 Washington horse of the year)," Stevens said. 'The way she moves, that easy stride. They could be brother and sister.'" The top exceptional runners were in fact paternal half-siblings.
A trip to New Jersey's Monmouth Park for the $200,000 Sorority Stakes (G2) was the next race on her agenda, where six of the seven in the starting line-up, including Delicate Vine, were supplemental entries. Under a hand ride by Stevens – who eased his mount in the final sixteenth – Delicate Vine took the six-panel stakes by five lengths in a time of 1:09 3/5. It should be noted that only the great Ruffian had won the race in a faster time.
"She just exploded – boom – like that when I gave her some rein," said an impressed Stevens. "She's amazing, just amazing. I can't believe her, she scares me she's so good. And she's more than a sprinter, believe me."
Again, from the Thoroughbred Record, this time in an article by Neil Milbert in the September 1986 edition.
"No matter how much allure Bet Twice (winner of the Sapling Stakes [G2] a week later and future Belmont Stakes [G1] winner and Kentucky Derby (G1) and Preakness Stakes [G1] runner-up) has as he nears his fall campaign, it does not approach the promise of the Sorority winner. At a very early point in the season, Delicate Vine has established herself as one of the very best two-year-old fillies after her August 2 victory in the Sorority."
The Delicate Vine entourage next traveled to Arlington Park and its 13-day International Festival of Racing. One of three supplemental entries in the Grade 1 Arlington-Washington Lassie Stakes run on August 29, the seven-furlong race grossed $296,100, with a $165,660 payout to the winner.
According to The Daily Racing Form chart of the event, "Delicate Vine was rated just off the pace while racing between (five) rivals, (she was then) eased out three deep for the stretch run, took the lead inside the eighth pole and gradually drew clear late." The .70-to-one betting favorite, Delicate Vine defeated future three-year-old filly champion and 1987 Breeders' Cup Distaff (G1) winner Sacahuista by 1 1/4 lengths with 1986 Canadian Horse of the Year Ruling Angel another three-quarters of a length back in third place. The final race time was 1:23 2/5.
Stevens called it Delicate Vine's "toughest race," as the filly overcame a track apparently not to her liking.
"When the other fillies came up I just took back," recounted Stevens. "I didn't want to get into any speed duel. And she had some trouble getting hold of the track the first quarter mile and I had to wrap up on her. Then she got settled and she responded."
Agnew had traveled to Illinois to watch his top flight filly and future Grade 1 winner Top Corsage take the Arlington Oaks (G3) just the day before.
"I was at Arlington Park on the same weekend Delicate Vine won the Arlington-Washington Lassie. After being invited to the winner's circle after the race by Jerry Moss, I asked him if he'd like to sell her back to me. He smiled and told me I didn't have enough money . . . and I believed him."
The long, smooth-striding filly became a Frankel favorite and up to that time he felt she was the best young horse he had had placed in his care. "She knew what to do right from the beginning," Frankel stated. "She's just a real smart filly, very relaxed and mature," said the master conditioner who would later add his third Washington Horse of the Year in 1989 with the event of multiple Grade 1 winner Saratoga Passage's second top-ranked season.
LaDuca would later write "She steps to the fore as the nation's bona fide princess of her division after capturing the richest race ever won by a Washington-bred."
According to Frankel, three more races were on the planning board for Delicate Vine's juvenile season: the October 5 Oak Leaf Stakes (G1) at Santa Anita; the November 5 Breeders' Cup Juvenile Fillies (G1) at Hollywood Park; and the November 30 Hollywood Starlet (G1). Unfortunately for all her fans, that schedule would be cut short by injury.
In what would be her final start, Delicate Vine went into the 1/16-mile Oak Leaf Stakes as the seven-to-ten favorite. Delicate Vine drew the outside post in the field of seven, which forced Stevens "to gun the filly early," The article in the November 1986 issue of The Thoroughbred of California written by Tracy Gantz, went on to say: Delicate Vine and Stevens "had to take the overland route around the first turn, while Taxpayer's Folly led the field to a :22 first quarter and a :45 3/5 half. At first that strategic loss of position appeared to cost Delicate Vine the race. She rallied mildly on the far turn, but it was only good for third (2 1/4 lengths behind winner Sacahuista and another neck back behind Silk's Lady).
"Back at the barn, the filly turned up lame, and trainer Bobby Frankel upon X-raying her reported that she had fractured a coffin bone and bowed a tendon."
When Brave Raj added a win the Breeders' Cup Juvenile Fillies to her four other stakes scores, Delicate Vine lost her chance of being voted national champion two-year-old filly, though she was rated only one pound (122 vs. 123) behind that rival on the Experimental Free Handicap along with co-second highweights Tappiano and Very Subtle. The next highweighted fillies, Personal Ensign and Sacahuista, at 120, would both soon become national champions.
Noted turf writer Joe Hirsch would pen in his year recap in the 1987 American Racing Manuel, "One of the more successful two-year-old fillies of '86 was Delicate Vine," which was considered by the majority of her fans to be a gross understatement.
Sophomore Campaign
Attempts were later made to get Delicate Vince racing sound, but the Oak Leaf would prove to be the final start \ion her brilliant race career. With her $36,510 third place monies, Delicate Vine retired with earnings of $390,370 to rank fourth to Eclipse Award winner Chinook Pass on the leading Washington-bred money winners list and second behind fellow Hall of Famer Belle of Rainier's distaff record of $424,526. Delicate Vine's SSI was an astonishing 61.81, which eclipses any other Washington-bred.
(Note: Of the 22 other horses – 2003-2016 – named to the Hall of Fame, the next best SSI belongs to fellow distaffer Table Hands at 32.65. Ranking just behind her is Washington's biggest earner, Saratoga Passage, at 31.93.)
In the Breeding Shed
The Mosses retained Delicate Vine as a broodmare prospect. Dottie Ingordo-Shireffs, whose son is noted bloodstock agent David Ingordo and she is the wife of noted trainer John Shireffs (of Zenyatta fame; the 201o Horse of the Year was also raced by the Mosses), Helped guide the breeding career of the Mosses stellar filly and remembered '"Delicate Vine was always a very personable and fun horse to be around – very loving and kind. She was a beautiful filly who emerged into a gorgeous and accomplished broodmare.
"In breeding her we wanted to utilize her speed and talent. Combining those qualities with the sire's genes,the hope was to breed a strong and talented race horse…just like Altazarr and his siblings.
"One is so fortunate to have a horse as Delicate Vine to work with each day."
Delicate Vinee was first covered by the Moss-raced Metropolitan Handicap (G1) winner Garthorn and produced the filly So Fortunate. Though unraced, So Fortunate would later produce Fantasy Stakes (G2) winner and near millionaire House of Fortune and Grade 3-placed Film Fortune.
The following year, 1990, Delicate Vine foaled a colt by Relaunch. At two Altazarr won the Grade 2 Hollywood Juvenile Stakes by 3 1/2 lengths and ran third in the Hollywood Prevue Breeders' Cup Stakes (G3). At three he would add a victory in the Golden Bear Stakes and a second place finish in the San Miguel Stakes. He retired with earnings of $170,485 and entered stud in Washington at El Dorado Farms in 1985. His best runner was 2004 Washington champion older filly or mare Aunt Sophie, who won or placed in 13 Washington and California stakes, earning nearly $300,000 for her owners/breeders Dr. Charles and Barbara Barth.
Altazarr was followed in 1991 by the Stop the Music filly Bebe Ani, who would have one win and $24,345 in earnings.
Next came a daughter by Woodman in 1993. Named Babeinthewoods, she won two races and ran second in the Althea Stakes at Hollywood Park before retiring with earnings of slightly over $100,000. Her 2008 son Shrug, by Medaglia d'Oro, won three stakes at Del Mar and Hastings Racecourse, earning $283,874. Babeinthewoods is also the granddam of 2009 Del Mar Derby (G2) winner and $447,805 earner Rendezvous, a son of Victory Gallop.
After having slipped in 1994, Delicate Vine produced the Seeking the Gold filly Oak Vintage in 1995. Though unplaced, Oak Vintage, who was sent to England, then Japan and most recently New Zealand, is the dam of Japanese winner Fine Vintage, a daughter of Japanese champion Dance in the Dark. Oak Vintage's granddaughter Paradise Rain, by Compton Place, won the Oppenheim-Rennen in Germany.
Delicate Vine's 1996 filly Rayelle, a full sister to Altazarr, became her second stakes winner when she won the Hidden Light Stakes at Santa Anita at two. The following year she finished second to Honest Lady in the Grade 2 Santa Ynez Stakes. Among Rayelle's six winners are A Gleam Handicap (G2) winner Irish Gypsy, a daughter of Hennessy who earned $386,420 while racing for Mike Pegram and Hill 'n' Dale; and Arlington-Washington Futurity (G3) third Piscitelli, who earned $240,521.
Rayelle was followed by Ladir, a colt by Irish River (Fr) who placed in half of his ten starts, in 1997; and the unraced Silver Hawk filly Kahlea in 1999.
Her final stakes performer was the 2000 Holy Bull gelding Bullistic, who earned $136,984 over four seasons and ran third in the Grade 3 Affirmed Handicap at three.
In the spring of 2001, Delicate Vine produced her final foal for the Mosses, the unraced colt De Vo, by El Prado (Ire).
Later that year, the Mosses consigned Delicate Vine to the Keeneland November Mixed Sale, where bred to Distant View, she sold for $140,000. While owned by the Mosses, Dotty Ingordo Shireffs had help plan her breedings.
Delicate Vine's next foal was the unraced colt La Romanee. Her 2003 offspring didn't do much better, as Tiznow's Vineyard, by Tiznow, only had one third in three starts.
Her final filly, unraced Pomeral, by Honour and Glory, was foaled in 2005; and at age 23, Delicate Vine produced her last foal, the unraced Honour de Vine, a full brother to Pomeral. All of Delicate Vine's final four foals were bred by Eclipse Thoroughbreds Inc.
Many years later Agnew would state "She has proven to be the best filly I ever bred and her long history as a successful broodmare with a long list of stakes-winning and -producing progeny makes me wish I'd never sold her."