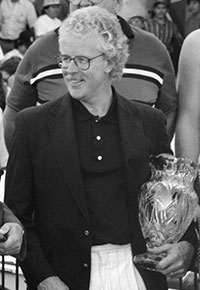 Though being honored for accomplishments since 1970, Dan Agnew's family has been prominent on the Washington Thoroughbred racing and breeding scene for three generations.
His grandfather, Sam A. Agnew, started with trotters on the fair circuit, but by the 1950s, Dan's father, S. J. "Jay," was racing Thoroughbreds successfully at Longacres and Playfair and had established T9O Farm near Centralia. Dan's Thoroughbred namesake, Mr. Dan A. (foaled in 1956) was a stakes winner at three and four while running for Dan's parents.
Born in October 1945, Dan would graduate from law school at Willamette University in 1970 and assume the leadership of the family business, which included prominent lumber dealings, in 1980 after the death of his father.
As a young man, Dan was on hand when the T9O colors were carried by Terlago in the 1970 Kentucky Derby. Thirteen years later he would be back at Churchill Downs' hallowed grounds to see his Desert Wine finish second to Sunny's Halo in the 109th running of the May classic and then be runner-up in the Preakness Stakes (G1). The son of Damascus was to become racing's 50th millionaire.
During the 1980s, T9O Farm, renamed DanDar Farm in 1984, would stand some of the preeminent Washington stallions of the era, including four-time leading Washington sire Staff Writer and other top stallions, such as Captain Courageous, Just the Time, Drouilly (Fr) and Peterhof.
Dan bred, or co-bred, Washington champions Tortellini Roma (1987 two-year-old filly), T. D. Passer (1989 three-year-old colt) and Grade 1 star Delicate Vine. The daughter of Knights Choice was Washington's horse of the year in 1986 and was ranked second of her sex on the national Experimental Free Handicap at two. Among his non-Washington-bred stakes winners are group one winners Alydar's Best and Flamenco Wave.
Other top runners racing in the Agnew silks include Sunset Handicap (G1) winner Kings Island (Ire), Spinster Stakes (G1) winner Top Corsage, 1992 Longacres Derby winner Star Recruit, two-time Belle Roberts Stakes winner Silk Chiffon and, more recently, Fortunate Event, who finished second in the Emerald Distaff Handicap on August 19.
A second generation WTBA president, Dan has been a member of the WTBA board of directors since 1980 and was at its helm for 15 years. In 2006, the WTBA honored Dan with its most prestigious honor, the S. J. Agnew Special Achievement Award.
Dan currently lives in Vancouver, Washington, with his wife Kim.
Read the expanded profile in the WASHINGTON THOROUGHBRED MAGAZINE, Summer 2020, page 94.