Dan J. Agnew was inducted into the Washington Racing Hall of Fame in 2007, the sixth state breeder to be so honored. A third generation Washington horseman, he was born in Chehalis in October 1945, and along with his younger sister Zan, grew up on the family's T9O Ranch in nearby Tenino.
A Little Family History
Both his father S. J. "Jay" Agnew and grandfather Samuel Alexander (S. A.) "Sam" Agnew were also born and reared in Washington. Sam, who was born on May 11, 1879, in Port Townsend to Irish immigrants James and Jane Agnew, moved to Centralia as a young child with his parents and two siblings. In 1914 he married Kathryn Walker of Tacoma and they had two sons, S. J. (born June 21, 1917) and Jack.
At a young age Sam began working for the Eastern Railway and Lumber Company – which operated one of the largest inland lumber sawmills on the West Coast. The lumber company, which was located in Centralia adjacent to the Burlington Northern railroad mainline, became deeply in debt due to the Depression, while a fire destroyed Eastern's Centralia sawmill in 1939. Agnew leased a sawmill and operating facility (the Western Cross Arm and Manufacturing Co., a subsidiary of Eastern) and resumed operations as Agnew Lumber Company in January 1941.
By the mid-1940s he had become the sole owner of Eastern, which included 12,000 acres of logged-off lands in Lewis County. At the age of 70, he also ventured south and acquired timber holdings in both Oregon and California and entered into a joint timber venture in British Columbia. Upon his death in 1965, Sam left behind land and timber holdings in excess of 70,000 acres and one-billion board feet of old growth timber. (For many years the Agnew family remained prominent in the lumber industry with Agnew Enterprises, Agnew Lumber Company and the Oregon-based Agnew Timber Products and Agnew Environmental Products.)
Jay graduated from Washington State College in 1938 and joined the Coast Artillery in 1941, nine months before the US entered World War II. He was commissioned as a navigator in the Army Air Corps and flew 25 missions over Germany in a Boeing B-17 bomber, earning numerous citations, including the Distinguished Flying Cross and Air Medal. He married Billie Vanderhoof in 1943. After the war he soon returned home to help his dad, Sam, with his ranching operations.
Jay, who was honored as cattleman of the year for Lewis County in 1956 and earned that same title in 1964 in Thurston County, also served as the president of the Washington Cattlemen's Association.
In 1946 Jay purchased his first Thoroughbreds, two offspring of the US Army Remount stallion Warrior Son. Their claim to fame was that their sire was a son of none other than Man o' War.
"Not knowing anything about Thoroughbreds, I thought it really meant something to own two granddaughters of Man o' War," related Jay in a 1965 article in The Washington Horse. "I was a first rate greenhorn."
Unfortunately, Jay would not live to see that one of those fillies, War Skirt (1945), would become the fifth dam of probably not only the best horse foaled at T9O, but one of Washington's most elite runners – 1986 Washington horse of the year, Grade 1 winner and 2014 Washington Racing Hall of Fame inductee Delicate Vine. (See December 2017 Washington Thoroughbred or go to washingtonthorughbred.com to see her in-depth profile).
T9O Ranch
The Agnews' Tenino (T9O) property had been originally homesteaded in 1850 and Sam purchased it in 1947 to raise cattle to feed the timber crews who worked for him in Lewis County. The large and highly successful Hereford cattle operation would earn Sam and Jay numerous awards.
Soon thereafter Sam and Jay set about establishing one of the largest Thoroughbred breeding farms in Washington.
Sam had always had a love for horses and had raised and raced a few trotters on the fair circuit.
Jay would become well-known in Quarter Horse cutting horse circles, where he was one of the top non-professional cutting competitors in the 1960s and 1970s. He believed that cutting pedigrees could be improved by adding Thoroughbred bloodlines. One of his top working horses would be the Thoroughbred gelding For Amble, a 1955 son of two-time Longacres Mile winner Amble In.
According to Dan, "My father found that there were some Thoroughbreds who had a lot of 'cow' in them." Mr San Peppy, who he co-owned with and was ridden by top cutting horse trainer Buster Welch, won the 1974 NCHA World Championship. Jay also rode Rey Jay's Pete, Rey Lad and Little Boy Rey to top placements in NCHA non-pro competition.
Together the father-son team would become a force to reckon with and strong leaders in the fledgling state Thoroughbred industry – a legacy they would pass on to Dan, who would earn a degree in law at Willamette University. Dan practiced law in Centralia until he assumed the leadership of the family business – Agnew Enterprises – after the death of his father in 1980.
"My earliest recollection of my family's involvement with racehorses was attending some races in a bull ring located at the Southwest Washington Fair in Centralia, which ran for about five days in August each summer. I was probably five or six years old at the time and I don't think those races were sanctioned or wagered upon," remembered Dan.
"I recall one of Sam's first trainers was a guy named Smokey Moore. I also recall my first trips to a major racetrack back then were to Portland Meadows where there was no age restriction on children getting into the grandstand, while at Longacres you had to be 12 years of age to get into the grandstand. I spent many a Sunday in the mid-50s watching races from the guinea stand at the 3/8ths pole on the backside at Longacres and hanging around the barns while my grandparents and parents were comfortably watching Sunday races from the grandstand."
Sam was the first Agnew to serve on the then-WHBA board of directors and was later followed by Jay (1960 president) and Dan's 15 years (1982-96) at the helm of the "Breeders." Dan first came on the board in 1980 and he served until 2009, after which he was named board member emeritus in honor of his 30 years of service.
Dan was also chairman of the board and vice president of Emerald Racing Association (an original board member) and served on the board for Breeders' Cup Limited and the Thoroughbred Owners and Breeders Association (TOBA).
T9O Ranch's first homebred winner came on August 3, 1951, when the three-year-old filly Go Phar (Pharned—Colonel's Miss, by Colonel Shaw) won the first race of the day at Longacres. Go Phar was a younger half-sister to the aforementioned War Skirt.
T9O Ranch was ranked fifth in the Washington breeder rankings just four years later and led all state breeders in 1960 (15 winners of 30 races and $54,155), 1968 and 1969. From 1955 through 1996 (with the exception of one unknown ranking in 1957), T9O Ranch or one of the Agnews ranked in the top 35 Washington breeders, including 27 times in the top ten (with 18 times in the top five).
The Agnew name was last seen on the list of top 50 Washington breeders in 2003, when the Dan J. Agnew/Guy Roberts partnership was ranked 36th. Dan and trainer Jerry Fanning also ranked fourth in 1989, mainly due to the efforts of champion two-year-old T. D. Passer.
On the list of Washington leading breeders in money won from 1956-1978, the Agnew family ranked in the number one spot with $1,528,505 in earnings (and had bred 346 winners who had won 738 races to that point). The three generations of Agnew family's Washington-breds (not counting partnerships) have earned over $5.5-million.
Among the farm's early successes was Valstone, a 1954 son of Valdina Orphan who won his first start by 18 lengths and in doing so set a new five-furlong mark (:57 2/5) at Longacres.
The S. J. Agnew-bred two-year-old Bouncing Kim was named Washington-bred horse of the year after he won a trio of stakes, including a three-length triumph in the 1969 Washington Futurity in the fastest time to date for the then 6 1/2-furlong race, while racing for Joe Gottstein's Elttaes Farm. Gottstein had purchased his future racing star out of the 1968 WHBA Sale for $5,400 and the gelded son of Six Fifteen would win 23 races over an 11-year campaign, earning $114,861 and a 2.29 SSI.
Just one year after Bouncing Kim, the best Washington-bred two-year-old title went to the Agnew-bred Tenino Ville, a member of Saltville's second crop. The partnership of Herman Sarkowsky and Ike Alhadeff paid $8,500 for him at the 1969 WHBA Summer Sale to run in the name of their Alsar Stable. At four, Tenino Ville set a new Longacres track record in the six-furlong Renton Handicap over future world record holder Grey Papa. Tenino Ville (a half-brother to Watch Lucille, the granddam of Delicate Vine) would take five stakes victories among his 20 wins and earn a total of $119,605, with a 2.71 SSI.
Other top runners bred by the Agnew family – many of which they also raced – include: stakes winners Mr. Dan A. (foaled 1956 and named in Dan's honor), Bridge Act (1958), Boundaway (1961), Foreseen Miracle (1961), Mounted Colonel (1961), Hanaford (1963), Flying Gem (1964), Imnofool (1969), Aunt Iva (1980), Costly Array (KY-bred, 1981), Alydar's Best (KY-bred, 1982, Group 1 winner in France), Building Code (1984), Exotic Source (1984), Pool Party (1985), Unique Image (1985), Lance (KY-bred, Grade 3 winner, 1987), Dramatic Joy (KY-bred, 1987), Call Me Ellen (1987), Melrose Nugget (CA-bred, 1991), Luxury Box (1992), Right You Are (2000, bred in partnership with fellow Hall of Fame breeder Guy Roberts) and Malia Sofia (CA-bred, 2005).
Through the years the three generations of Agnews made 15 attempts with 12 runners to win the prestigious Longacres Mile. Jay's Pitch Out won the 1971 Mile, after the runner had finished second the year before. Sam's best placements were fourths with Mr. Dan A. (1960) and Hanaford (1967). Dan's Calbally (1977) and Murrtheblurr (1980) each managed to run fifth. (See "The Agnews Circa 2019" for update.)
Jay passed away at age 63 in July 1980. Later that same year, the S. J. Agnew Special Achievement Award was inaugurated by the WTBOA and the first awardees were Richard and Dixie Hitchcock and Richard's parents Maurice and Kathleen Hitchcock. Through the years there have only been 21 holders of this prestigious honor, including Dan – the 14th recipient – in 2005.
Classic Aspirations 1970
In 1969 Jay purchased two-year-old stakes winner Terlago for a sale-topping $200,000 at the October Belmont Park horses of racing age sale. The son of Terrang had a 3-4-1 record from his first ten starts, which included a win in the World's Playground Stakes and placements in the Great American and Rancocas stakes. The dark bay was turned over to trainer Marion "Smitty" Smith (2017 Washington Racing Hall of Fame inductee) for whom he promptly won the Burlingame and San Mateo stakes. Terlago was given 117 pounds on the year's Experimental Free Handicap.
At three, Terlago was sent to trainer Jerry Fanning, and with Bill Shoemaker in the irons, had an "impressive triumph" in the San Felipe Stakes, taking 1 1/16-mile race by 3 1/4 lengths over George Lewis.
Terlago then clinched the top three-year-old title at the Santa Anita meet with his 2 1/2-length score in the Santa Anita Derby, giving Shoemaker his sixth victory in that nine-furlong test. Shoemaker commented that he "had a lot of horse" in the race.
Terlago went off as the fifth choice in the Kentucky Derby, which was won by 15-to-one betting choice Dust Commander. Terlago ran 11th in the field of 17 after racing mid-pack for the first six furlongs. He was weighted at 124 pounds on the three-year-old handicap (along with Arlington Classic winner Corn Off the Cobb), four pounds behind leader and champion Personality. After he finished his racing career at six, with a 7-7-4 record and $220,424 in earnings, Terlago was retired to stud at T9O Ranch in 1973 where he proved a modest success.
Classic Aspirations 1983
"In the summer of 1981 I had decided to try my hand at pinhooking a few select yearling purchases into the 1982 March Barrett's Two-year-olds in Training Sale that was then held at Hollywood Park," commented Dan.
"Of Desert Wine, my main recollections were that of him as a yearling. He was a pick of the Keeneland July sale by Dr. John Traber and it was based primarily on his recommendation that I bought him from Brereton Jones' Airdrie Stud for $165,000," said Dan.
"Desert Wine was broken and prepped for that sale by Lev Fanning at Fred Sahadi's Cardiff Stud Farm, went through the sales ring and was RNA'd. Soon thereafter I sold a half interest in Desert Wine to Sahadi."
After breaking his maiden in a Hollywood Park maiden special weight race in June of his two-year-old year, Desert Wine – trained throughout his career by Jerry Fanning – came back three weeks later to score a 6 1/2-length score in the $100,000 Hollywood Juvenile Championship (G2). He would also take the Sunny Slope Stakes (G3) later that fall, but would finish second behind eventual Eclipse Award winner Roving Boy in the Grade 1 Norfolk Stakes, Grade 2 Del Mar Futurity and, with its record-breaking $761,400 two-year-old purse, the December 12 Hollywood Futurity. Desert Wine finished second by a neck in the Futurity, while the East Coast's best juvenile, Copelan, ran fifth in the 1 1/16-mile race. Desert Wine had run third behind Copelan in the Hollywood Prevue Stakes in November. Roving Boy and Copelan were co-ranked at126 pounds on top of the Experimental Free Handicap with Desert Wine third at 122.
At three, Desert Wine began the year by reeling in the San Rafael Stakes (G3) (by 2 1/2 lengths). Next, while burdened with 124 pounds, he won the San Felipe Handicap (G2) (Naevus finished first by a head in the 1 1/16-mile race, but was disqualified due to his repeated bumping of the Agnew/Sahadi runner) before finishing sixth behind Marfa in the Santa Anita Derby (G1). He then left for Kentucky where (in the first of four straight runner-up finishes) he was promoted to second in the Blue Grass Stakes (G1) after Marfa was disqualified to fourth after boring in badly against Desert Wine and eventual third place finisher Copelan.
A field of 20 started in the 109th Kentucky Derby. Desert Wine went off at nearly 16-to-one, and finished second, two lengths behind winner Sunny's Halo with eventual champion three-year-old Slew o' Gold fourth. Desert Wine also finished second in the Preakness Stakes (G1) two weeks later, this time behind hometown Maryland favorite Deputed Testamony.
After a three-month break Desert Wine ran second by a length to A Phenomenon in the Jerome Handicap (G2), but was unplaced in the last two starts of his sophomore campaign, both Grade 1 fixtures.
Desert Wine shared a 122 pound impost with Barberstown (co-fifth) on the Daily Racing Form Free Handicap, five pounds less than leader Slew o'Gold.
At four, Desert Wine again proved to be one of the top competitors in his class and was ranked in fourth place at 124 pounds on the 1984 Free Handicap behind top-weighted Slew o'Gold's 130.
Desert Wine's three Grade 1 tallies that year came in the Charles H. Strub and Californian stakes and in the Hollywood Gold Cup (over reigning Horse of the Year John Henry). Desert Wine also placed in the Grade 1 San Fernando Stakes and Grade 2 Malibu Stakes and Eddie Read Handicap. He finished his career with a fifth in the Breeders' Cup Classic (G1) and was retired with an 8-8-3 record from 25 starts, $1,618,043 in earnings and a 66.60 SSI.
A son of 1967 Horse of the Year and 1974 National Racing Hall of Fame inductee Damascus, Desert Wine was the second foal out of stakes winner Anne Campbell, who would later be named1999 broodmare of the year after having additionally producing Grade 1 winner Menifee (who, like his older brother Desert Wine, was runner-up in both the Kentucky Derby and Preakness), English stakes winner Arsaan and stakes-placed runners Excavate and Dupree.
Desert Wine was retired in 1985 to stand at Sahadi's Cardiff Stud Farm. In January 2000 the stallion was purchased by Gary Jackson to stand at his St. Hilaire Thoroughbred Farm in Yakima. Desert Wine passed away at age 23 on October 15, 2013.
Desert Wine sired 26 stakes winners (six percent), including Group 1 winner Flamenco Wave and three-time graded winner Profit Key. Flamenco Wave, who was bred jointly by Dan Agnew and Cardiff Stud Farm, won the Moyglare Stud Stakes in Ireland. She would produce a trio of Group 1 winners, one Group 2 victor, one hurdle stakes winner and the dam of international racing star and five-time Group/Grade 1 winner St Nicholas Abbey (Ire).
DanDar Farm
In 1984 T9O Ranch was renamed DanDar Farm and among the runners who carried Dan's silks (either alone or in partnership) to stakes victories were: Top Corsage (1986 Spinster Stakes [G1]), Kings Island (Ire) (1985 Sunset Handicap [G1]), multiple graded stakes winner Star Recruit (who missed winning the 1993 Santa Anita Handicap [G1] by a nose), Wilderness Bound (1986 California Juvenile Stales [G3]), Silk Chiffon, Swank, La Duncan (Arg), Flying Lieutenant, Lomax, Lyphard's Princess (in France) and Known for Style.
During the late 1980s and early 1990s, in addition to the stallions at stud, the farm offered many other services, including boarding, breaking, training, lay-ups, mare care, foaling, sales preparation and sales agent.
Many talented and dedicated farm managers helped to nurture the Agnew legacy. Among them were: L. L. "Packy" McMurry, an industry leader and influential bloodstock agent who was affiliated with the farm for many years; Peter Antoniou, a Greek Native who brought with him experience from working at Newmarket and both Claiborne and Calumet farms; former East Coast trainer Larry Evans; and Stevie Hansen, who started with the farm in 1977 and served as its farm manager during its final 11-year run.
"My dad would have many great stories about his 13 years at T9O," said respected Kentucky bloodstock agent Tim McMurry about his father Packy. "He started out working for Sam, then his son Jay and finally Dan.
"My sister and I were blessed to grow up on the farm with all the land to play and discover. Jay Agnew was always very kind to us children. We had gentle horses to ride and he allowed us to have 4-H projects, including sheep and steers, with the use of corrals. I have very fond memories of the Agnews and the ranch."
DanDar Farm East
In the summer of 1984 Dan purchased an approximately 500-acre farm (Hammond's Sycamore Hill) in Lexington, Kentucky, from Robert and Blythe Clay, then owners of Three Chimneys, for the purpose of boarding and prepping horses for sale. He sold the Kentucky farm in 1989 after deciding to scale back his breeding operation.
Sale Toppers
The Agnew family both sold and purchased their share of WTBOA sale toppers.
Beginning with the fledgling association's first sale in 1947, S. A. Agnew's bid was the highest noted for a yearling filly by Blensweep ($700) and then again the following year for a filly by Eddie Welch ($2,100) who actually earned her purchase price back.
In 1974, three yearlings were acquired on $16,000 bids. One being a *Grey Dawn II filly purchased by S. J. Agnew who would later be stakes-placed under the name Touchdawn.
Two years later Jay Agnew made state history when he went to a record $140,000 to acquire a half-sister to the nation's 1977 juvenile filly champion Lakeville Miss from his old friends the McMurrys.
In 1983, Dan Agnew offered another history-making sale topper when he sold a Sauce Boat filly (out of an unraced Buckpasser half-sister to Cosmah) to BBA (England) – with Seattle bloodstock agent Claudia A. Canouse as their agent – for $85,000. Initial Premise ("a quite attractive filly" according to Timeform) was a winner at two in England while under the care of trainer Sir Michael Stoute and was later exported as a broodmare to Japan.
In 1990, Dan Agnew and partner Bob Rondeau sold the Washington sale topper. The colt by Flying Paster out of the stakes-winning Staff Writer mare Twice Written was purchased by trainer Mike Puhich for $62,000 and under the name Flying Blueprint would capture $143,311 in purse monies.
In 1997 Dan emulated his dad's record when he went to $140,000 to acquire a Star de Naskra filly from the consignment of Jerre Paxton's Northwest Farms LLC.
Sire Power
Through the years T9O Ranch stood many stallions. Early on there were: Argentine-bred *Actium, by Parlanchin; English-bred *Horseguard, by *Royal Charger; Dwyer Stakes winner and Kentucky Derby third Valdina Orphan, by *Hilltown; English-bred *Perambulator (Washington's leading sire in 1966), by *My Babu; Dobi Deenar, by Clem; Italian champion *Daumier, by Niccolo dell'Arca; Bonnard (half-brother to Kentucky Derby winner Proud Clarion), by *Ribot; Terlago, by Terrang; Saltville, by Tom Fool; and Ben Adhem, by *Ribot.
Later, when the ranch was renamed DanDar Farm, their fields contained the likes of four-time leading sire Staff Writer, by Northern Dancer; Captain Courageous, by Sailor; Just the Time, by Advocator; Peterhof, by The Minstrel; Drouilly (Fr), by Mill Reef; Barula, by Raja Baba; Cajun Prince, by Ack Ack; Crafty Native, by Native Born; Night Mover, by Cutlass; Paint King, by Diplomat Way; Mateor, by Bold Bidder; Bronze Hero, by Blushing Groom (Fr); Black Mackee, by Captain Courageous; Crimson Slew, by Seattle Slew; and Sunday Guest, by *Forli.
In addition to Terlago, both Ben Adhem and Drouilly won stakes – at Longacres – for the Agnews.
Through the years, the Agnews also had shares in several prominent stallions in California and Kentucky.
Change
In October 1993 Dan announced that the 1,700-acre farm had been sold to the China-based Citifor Corporation, a large timber company, and would cease operations as of December 31. The decision to sell had been based on substantially declining revenue and business in the farm operations and the realization that the farm's principal real property asset was its timber, which had far greater value than the farm itself.
In the spring of 2002, a significant portion of the former DanDar Farm was sold to Dr. William E. Barnett's Alpacas of America LLC and was soon home to around 1,700 alpacas.
Also in 2002, Todd and Shawn Hansen purchased 560 acres of land that was previously owned by the Agnew family.
"When my dad first went to work for Jay we lived in a home on the cattle ranch. My mom (Stevie) started working on the horse farm the next year," remembered Todd.
It is fitting that Stevie's son Todd would later return a section of the former Agnew holdings to its glory days. Scatter Creek Training Center is home to Todd, Shawn, their son Ethan and a select broodmare band. Offspring of American Pharoah, Declaration of War and Animal Kingdom currently grace the same property that brought forth such champions as Delicate Vine, Bouncing Kim and Tenino Ville.
The Agnews Circa 2019
Dan is the father of five children, sons, Sam, Paul and Garrett, and daughters, Jenny and Ashley. He also has 12 grandchildren, aged 23 down to two. Unfortunately, Dan opines that he has had little success in getting either his children or grandchildren interested in the Thoroughbred racing or breeding game. He and his wife Kim have been married since 2000.
He continues to race a few runners in partnership on the West Coast, including recent winners Chasin Lucas, Colosi, Law Abidin Citizen and Martin Riggs (a son of their former racemare E Z Kitty).
Agnew and his friends Gerry Schneider and John Xitco had a remarkable weekend on August 10-11, 2019, when their Law Abidin Citizen took the 84th Longacres Mile (G3) in an exciting finish on Sunday. The previous day at Del Mar, the threesome and additional partner Rodney Orr won the Best Pal Stakes (G2) with their two-year-old Collusion Illusion.
In the early 1990s, Dan had purchased Mt. Hood Beverage Company, a major wholesale beer and wine distributorship, in partnership with his sister and brother-in-law, and he and Kim moved to Vancouver, Washington, in 2001.
Today Dan, who remains at the helm of The Agnew Company, has championed and led the nearly 80-year-old company founded by his grandfather in "business growth and diversification for over 35 years."
According to The Agnew Company website, "In 2008, after decades of directly owning and operating a beverage distribution business, the family merged Mt. Hood Beverages with its primary competitor to form the West Coast's largest beverage distributor." In 2012, the family sold its stake in the beverage business, which at that time had annual revenues in excess of $1-billion, and reinvested a majority of the proceeds back into The Agnew Company, which even today has premium-quality timberland in the Pacific Northwest as its primary asset.
Dan is a passionate elk hunter and he and Kim are active supporters of various charitable causes in the Northwest.
The Agnew family has had a legacy of philanthropy going back to Sam and Kathryn Agnew, which today is fostered by the Agnew Family Foundation (AFF), whose mission is "to enhance the lives of children in our communities (California, Oregon and Washington) while nurturing and sustaining our family unity."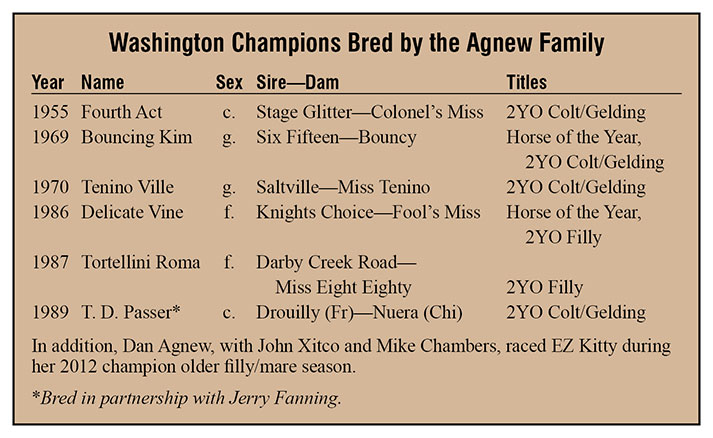 References: In addition to various stories in The Washington Horse/Thoroughbred throughout the years, the December 28, 1977, issue of The Thoroughbred Record featured an article on Jay Agnew and T9O Ranch and the November 10, 1984, The Blood Horse featured Dan Agnew and DanDar Farm.