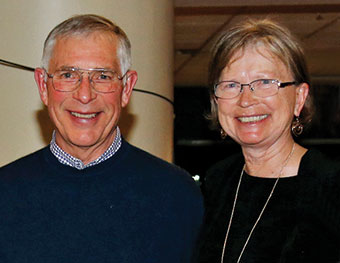 William "Terry" and Mary Lou Griffin were introduced to everything Thoroughbred through their longtime friendship with fellow Hall of Fame breeders Frederick "Rick" and Debbie Pabst, who had been their neighbors when they lived in Spanaway in 1973. In 1976 the Griffins purchased the nucleus of their Buckley farm (which today is 72 acres) from their now neighbors – the Pabsts – and bought their first Thoroughbred mare, New High.
Mary Lou grew up in Minnesota and at seven bought her first horse, a Paint named Paint (who lived out her days at Griffin Place before dying at age 41). Mary Lou became active in horse shows and later was involved with the horse program at Colorado State University. It was there that she met Terry, an ROTC cadet from Santa Barbara. During his military career Terry had been stationed at Fort Lewis and being impressed with the area, the couple decided to move to Washington.
The Griffins have bred five state champions among their nine stakes winners, led by 2000 horse of the year and Ashland Stakes (G1) winner Rings a Chime (1999 two-year-old filly, 2000 three-year-old), Best Judgement (2000 two-year-filly), Mulcahy (2007 three-year-old), Lady Golightly (2010 two-year-old filly) and Bella Mia (2017 two-year-old filly and 2018 three-year-old filly). The Griffins also raced Best Judgement and the unfortunately, ill-fated Lady Golightly.
Rings a Chime's dam, Outofthebluebell, was named Washington broodmare of the year in 2000 and her descendants, Campanita, Rain Shadow and Bella Campana (dam of Bella Mia), still grace the fields at Griffin Place.
The Griffins were also Washington's leading breeders in 2000 and have ranked in the top ten a dozen times since 1999. Most recently the Buckley couple ranked tenth in 2018.
In 2016, the Griffins were chosen as the twentieth recipients of the prestigious S. J. Agnew Special Achievement Award.
Mary Lou has served on the WTBOA Board of Directors since 1999 and has also served as chairman of the WTBOA's sales, publications and finance committees, as well as the Washington Thoroughbred Farm Managers Association. The Griffins were also among those who contributed to the building of the current WTBOA offices and sales pavilion.
Now a private farm, for many years they provided such services as foaling and boarding at their Buckley acreage. Today they continue to offer limited sales agenting.
The Griffins also helped bring the stallion Tribunal to Washington, where his influence continues today in both Washington and Canada.
Griffin Place has sold the WTBOA Summer Yearling Sale topper on numerous occasions, beginning in 2005 with Courtroom Charmer, by Tribunal, who was later returned to their broodmare band. In 2014 Griffin Place sold both the filly and colt co-toppers, and again offered the high-priced yearling in 2015 and 2019. This year, Griffin Place also sold the second highest-priced yearling as agent, a colt out of the previously mentioned Courtroom Charmer. Their name was also listed as the selling agent for sales toppers in 2007, 2010 and 2017.
The Griffins had a high-selling offering of another sort when they offered the stakes-placed Cozzene's Angel – bred to Pulpit – at the 2005 Keeneland January Horses of All Ages Sale – where she topped the winter venue for $1,350,000. The couple had purchased the daughter of Cozzene for $35,000 – bred to the little known Aggressive Chief – at the 2000 Fasig-Tipton's November sale. Two years after that fateful purchase, Cozzene's Angel's two-year-old son Toccet emerged as one of the top juveniles of his crop with four graded tallies, including wins in the Grade 1 Champagne Stakes and Hollywood Futurity.
The Griffins have two grown children, son Devin and daughter Keelia.