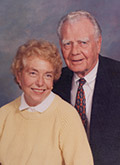 William and Barbara Nelson Jr. developed and owned Gunshy Manor, a 165-acre farm in Redmond, of which 40-50 acres were devoted to the horses. The Nelsons, mainstays in the industry from the late 1960s until their deaths in the mid-2000s, bred Washington champions Prince Joda, Favored One, Norm's Nephew and Margo's Gift. Today, the Nelsons' legacy lives on as Favored One's granddaughter, Lexie Lou, won the 2014 Woodbine Oaks (G1-Can) and then defeated 14 male runners in the Queen's Plate (G1-Can).
Bill was born in Wenatchee and raised in nearby Cashmere. Barbara (Shackelford), though born in Berkley, California, was raised in Seattle. Both were graduates of the University of Washington, where Bill had received a football scholarship and was star athlete and Barbara graduated magna cum laude. Bill later would serve as an Army officer in World War II and graduate with an MBA from Harvard Business School, where he was on the 1943 team that won the national rugby championship. Barbara became only the second woman in UW history to be elected class president and was also the editor of the UW paper, The Daily.
They were married in 1945 and raised five children: sons, Buff, Brian and Michael; and daughters, Janet and Mary.
Bill later became the CEO and president of the insurance and bonding company, Dawson and Company.
The Nelson family had moved to Redmond in 1957, after acquiring 124 acres of the original 160-acre property which was first homesteaded in 1890.
Barbara, who had been exposed to horses as a young child, soon added riding horses to the family farm. The Nelsons, or I should say Barbara, bought a Thoroughbred mare named Triple Punch, a 1957 daughter of Triplean. Her first foal, the 1962 gelding Roman Mutiny, became the Nelsons' first winner and first stakes horse, as the son of Kings Mutiny finished third in Playfair's Juvenile Mile Handicap and at three added a second in the Hilltop Handicap at the Spokane track.
Since that successful beginning, the Nelsons bred the winners of close to 600 races and the earners of nearly $4-million. From 1964 through 2009 (the last year they were listed among Washington's top 50 breeders), their names appeared among the top ten on nine other occasions; and they were listed 21 more times among the top 50 state producers of Washington-bred earners. The Nelson topped the state breeders list in 2007.
From that one mare, the Gunshy broodmare band grew to 13 mares in the mid-1980s and also served as station to homebred stallions Exclusive Listing, Put Em Up and Drumboggie. The well-bred Exclusive Listing (a son of Exclusive Native from the immediate family of Affirmed) was unraced due to injury. Put Em Up, by Staff Writer, won stakes at both Longacres and Bay Meadows. Drumboggie, a winning son of Drum Fire, was a half-brother to Grade 1-placed Villador.
The Nelsons joined the WTBOA in 1958. Barbara served on the board of trustees as a regular member from 1972-1989 and as board member emeritus from 1990-2006. The WTBOA's second vice president in 1980, she also served on the sales, magazine, finance and special events committees.
The Nelsons bred a trio of Gottstein Futurity winners. In addition to Prince Joda (1971) and Favored One (1994) was Favored One's older half-brother Krupa (1985).
Two-time champion Margo's Gift, who raced for Elttaes Stable, would only finish third in the 2007 Gottstein, but later that fall would bring Washington racing fans to their feet when he decisively won the $250,000 Favorite Trick Breeders' Cup Stakes – under 2014 Racing Hall of Fame inductee Ricky Frazier – held the day preceding the 24th Breeders' Cup World Championships at Monmouth Park in New Jersey.
Among the many other good runners bred by the Nelsons were additional Washington-bred stakes winners A'La Natural, Bookie Buster, Catch Me, Ego Image, Ekahi, High On Jazz, Luv a Roni, Northern Alert, On Leave, Seaborn, Tight End and Wailea Warrior; non-Washington-bred stakes winner Cleard for Action; and 1985 Washington most improved plater Exclusive Aim.
The Redmond couple also had connections to another Canadian champion as they co-bred – with Packy and Julia McMurry's Enumclaw-based Royal Match Stud Inc. – the dam of 2007 champion two-year-old filly Dancing Allstar.