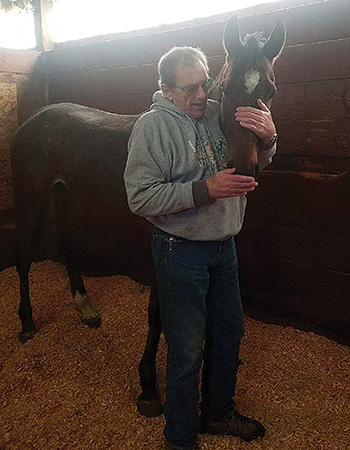 The Long Journey Home
When the 11-year-old Thoroughbred gelding Ugottabcatty stepped off the van at his old home in Auburn, Washington, on December 3, 2017, he'd come full circle after a remarkable 88-starts and a ten-year racing career that took him to Washington, Canada, Arizona and Puerto Rico. Taking his lead shank was his old friend and owner, Jim Foulkes. Also welcoming the gelding home was Foulkes' friend, Lali O'Brien, who has known "Catty" since he was born, and who was instrumental in bringing him back home.
Bred by Montanan Bill Nooney and foaled in 2006, the bay gelding by Jazzing Around—Nightly Habit, by Knightly Rapport, experienced one of life's first big misadventures when Foulkes intended to buy him out of the Washington yearling sale in 2007.
Early Racing
"Jim missed him at the sale," O'Brien laughed, "and the Penneys [Washington long-time trainer and Hall of Fame inductee Jim Penney] bought him. So Jim ended up buying him from the Penneys.
"Then the next day when they were shipping horses out from the sale, Catty got on the wrong van and ended up at the border of Canada, instead of the home farm in Auburn. Fortunately, they wouldn't let him cross to Canada because he didn't have the right paperwork. He had to sit at the border for a day before he was shipped back here, and Jim finally got him home."
Catty turned out to be the kind of racehorse an enthusiastic owner loves: one that runs hard, stays sound and earns money. He won his only start at two, a maiden claiming race for $20,000, for Foulkes and trainer H. R. "Pat" Mullins. Catty moved in and out of the upper claiming ranks and allowance races for Foulkes over the next six years, at Emerald Downs and at Hastings Racecourse in Canada, winning six times in 27 starts and avoiding the claim tag. In the winter off-seasons, Catty would let down back at his Auburn farm.
In September 2014 of his eight-year-old season, Catty was claimed by Jeff Metz and, after a few more starts at Emerald Downs, moved down to Turf Paradise in Arizona. In 2015, after Catty ran two more times, Foulkes decided he wanted that gelding back home.
A Trip to Puerto Rico
O'Brien recalled, "The day Jim was going to buy him back, he got the news that Catty had changed trainers down there and he had just been vetted to go to Puerto Rico."
Catty took up residence at the Camarero Racetrack, and he hit the ground running hard: 15 more starts in 2015 (two wins). Twelve starts at age ten in 2016 (one win). Ten starts at age 11 in 2017 (no wins). O'Brien kept an eye on him from afar via her online Virtual Stable, getting notifications any time he ran.
"It was awful," she said. "He ran cheap, and they ran him every month. I decided I had to try to get him back. I called down there to the track four times, but I could never find anybody to help me. They didn't speak good English, and I don't speak Spanish. They didn't know what I was talking about."
O'Brien couldn't get Catty out of her mind, particularly after Hurricane Harvey passed through the Caribbean last August. "TVG said the track wasn't affected, but then Hurricane Maria hit." Maria devastated the track, ripping roofs off stables and leaving no access to clean hay or water, and leaving many horses stuck in their stalls and standing in water."
Caribbean Thoroughbred Aftercare
At the same time, friend Terri Forster found the Caribbean Thoroughbred Aftercare (CTA) rescue group on Facebook. The CTA is a non-profit that provides a process for Thoroughbreds that have been shipped to Puerto Rico and the surrounding islands to race, as well as those born in Puerto Rico, to find good second careers in the islands and back in the United States.
"Terri told me to get in contact with them and see if they could help me," O'Brien said. "I e-mailed them that day with my story, and not even an hour passed and they contacted me.
"Shelley Gagnon-Blodgett and Kellie Stobe are the most amazing women. Kellie's in Puerto Rico and Shelley's in Florida. I gave them all the information on the horse. The next day as I'm driving to work, Shelley called me and said 'we found him.'
"I said 'Is he alive?' and she said 'Yea, but he's in really poor shape.'"
Stobe e-mailed O'Brien pictures of Ugottabcatty, and he was hardly recognizable. "He was so skinny, and his head was so big," O'Brien said. "I hadn't seen him for two years, so I wasn't sure it was him. She took a picture of his lip tattoo, and I knew for sure then it was him."
It would cost O'Brien $2,700, with the rescue group's help, to get Catty out of Puerto Rico and back to Florida in the US, but there was no question. "I didn't care if I couldn't afford him; I wasn't going to leave him there," she said. "I'd figure it out. And not only that, I had to get him here to Washington, which was another $2,600. So I was looking at quite a bit of money. But I thought, well, I'm not going to let him die."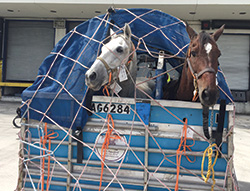 Homeward Bound
O'Brien and Foulkes discussed it, and Foulkes offered to pay the $2,700. [WTBOA board member] Jenny Webber and [WTBOA General Manager] Anne Sweet tried to help raise funds for transportation for Catty; and ultimately, Jack Hodge, 2012 Washington Hall of Fame inductee, and Emerald Downs Vice President of Racing, offered help from The Prodigious Fund (a 501[c][3] at Emerald Downs that helps with rehoming and transitioning after racing for Thoroughbreds) with transportation fees.
Catty went into quarantine in Puerto Rico for eight days, where he went through a bad colic episode. "After living through two hurricanes and terrible conditions at the Puerto Rico track, he survived the colic," O'Brien said, "and the next picture I got was one of Catty waiting to be unloaded off the plane in Florida. And it's the cutest picture; I just had to cry. It makes me cry now!"
The gelding had to wait nearly a week for a ride to Kentucky, where, at KESMARC (Kentucky Equine Sports Medicine and Rehabilitation Center), he regained strength and weight for almost a month before he was finally shipped to Washington. It was an emotional, happy ending – or new beginning – to a long journey home.
Forster summed it up: "It seems like it took forever since we first thought this might be possible. Catty is a very lucky boy to have had Lali's love and determination to get him home!"
Editor's Note: Ugottabcatty , a full brother to 2004 Trooper Seven Stakes winner Jazzinarounnightly, was consigned to the WTBOA Summer Yearling Sale by his breeder through Woodstead Farm, agent. Bloodstock agent Claudia A. Canouse then signed for the future runner with a $2,000 bid. Ugottabcatty went on to make 88 starts during his long racing career with a 10-19-15 record and earnings of $134,264.
Ugottabcatty (WA), 2006, g., Jazzing Around—Nightly Habit, by Knightly Rapport.
Raced ten years, 88-10-19-15, $134,264.
---
According to the multi-talented Merri Melde, "Horses pretty much says it all: horse photographer, writer, photojournalist, artist, claw hammer banjo player, horse packer, spotted owl hooter, wildlife technician, trail builder, carriage driver, sound engineer, theater techie, world traveler, former racetrack groom, rabid obsessed endurance rider, Tevis Cup finisher. But not all at the same time." Visit her website at theequestrianvagabond.com.