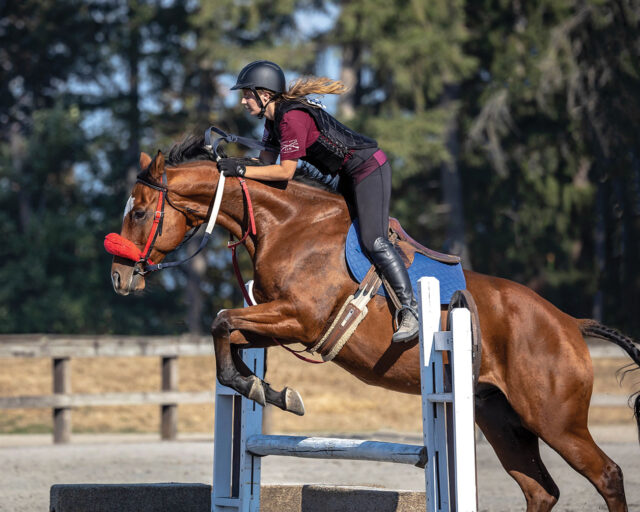 Ninth Annual Show for Thoroughbreds
by Jill Hallin
Photos by Heather Sacha
On September 30 and October 1, Donida Farm in Auburn hosted the annual Ride for the Roses Thoroughbred horse show for the ninth consecutive year. The show, which started as the Thoroughbred and Half-Thoroughbred Show in 2013, was the brainchild of Emerald Downs vice president Jack Hodge as a fundraiser for the track's The Prodigious Fund. In later years the show was taken over by Gwen Blake, owner of Donida Farm, and was renamed the Ride for the Roses, a celebration of the Thoroughbred breed. No matter what the name, this event is the only horse show in Washington State where only Thoroughbreds compete amongst and against each other!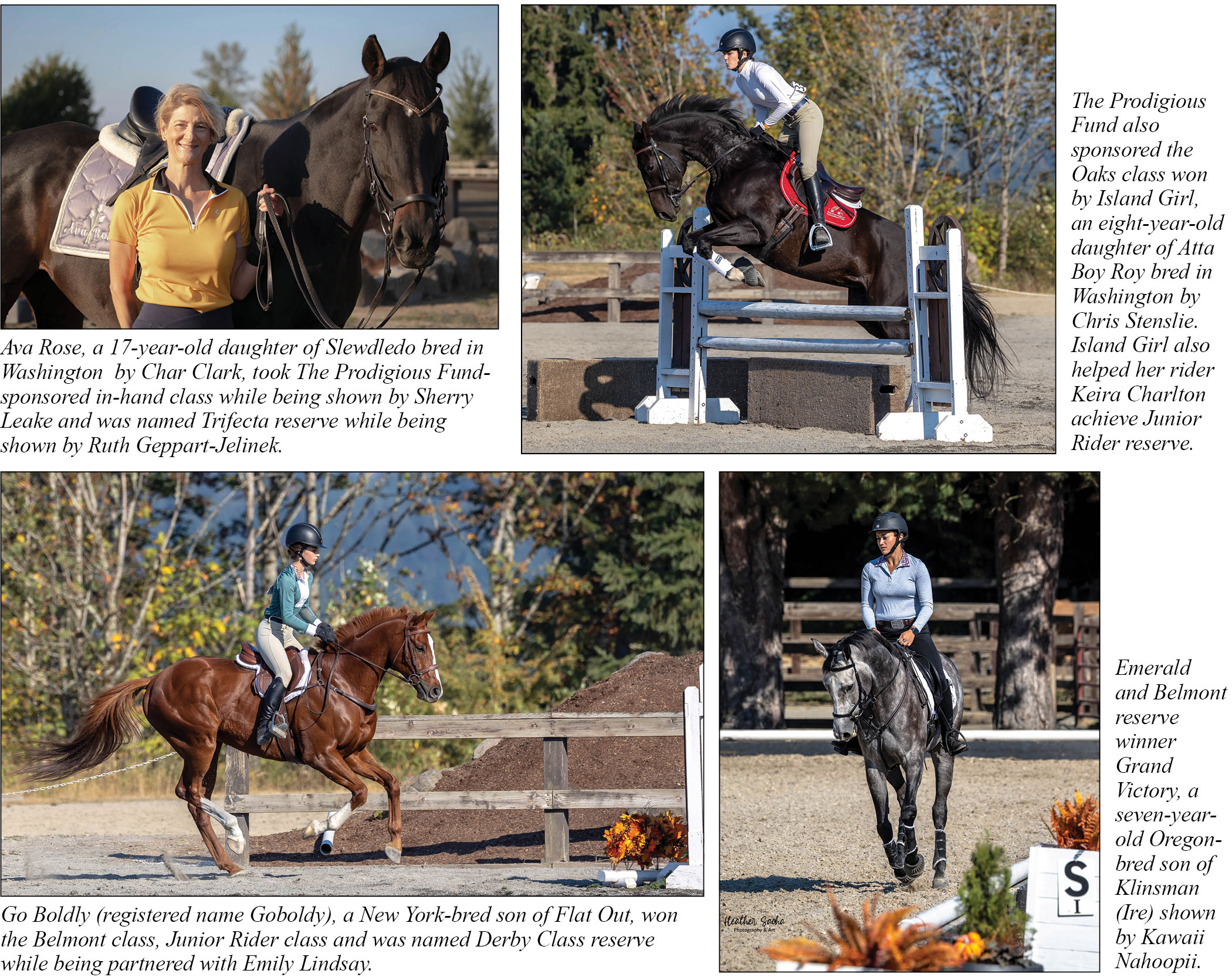 The Classes
This year's Friday evening classes consisted of Halter and Showmanship, where the horses are shown "in-hand." They are judged on their conformation and completion of a pattern while being led. Additionally, Pleasure classes were offered, where the horses are ridden and their way of going, behavior and manners are judged. The judge on Friday evening, Kim Giglio, appreciates the breed and kept things moving!
Among the other classes being offered on Friday night and on Saturday were: Oaks Filly and Mare, for maiden mares, broodmares or former broodmares; Preakness (young horse) for a horse in its first two years of showing, regardless of age; Belmont/War Horse for horses with 25+ starts on the racetrack and/or over $50,000 in lifetime earnings; Longacres, for horses 18 years or older; Emerald, for horses whose last race occurred two or less years ago; and Trifecta, for horses who raced, were part of a breeding program and are now being ridden and/or shown.
Saturday morning started with Dressage judged by Patty Russell, who judged all of the tests, as well as the Six Feet on the Ground patterns for horses not being ridden but being led.
Jumping in the adjacent arena was judged by Karin Bishop and featured classes for green horses with a "Poles on the Ground" class to introduce them to jumping, then taller jumps for experienced jumpers or eventers with jumps set at almost three-feet high.
A Trail course was set up with obstacles of varying difficulty. The trail judge was Amy Perez, who used to work at Emerald Downs.
Ample warm-up areas were appreciated by the riders and the grassy berm at Donida allowed the spectators to view all of the arenas with just a turn of their head.
There was a division for everyone and several classes within each division giving the riders lots of opportunities to compete.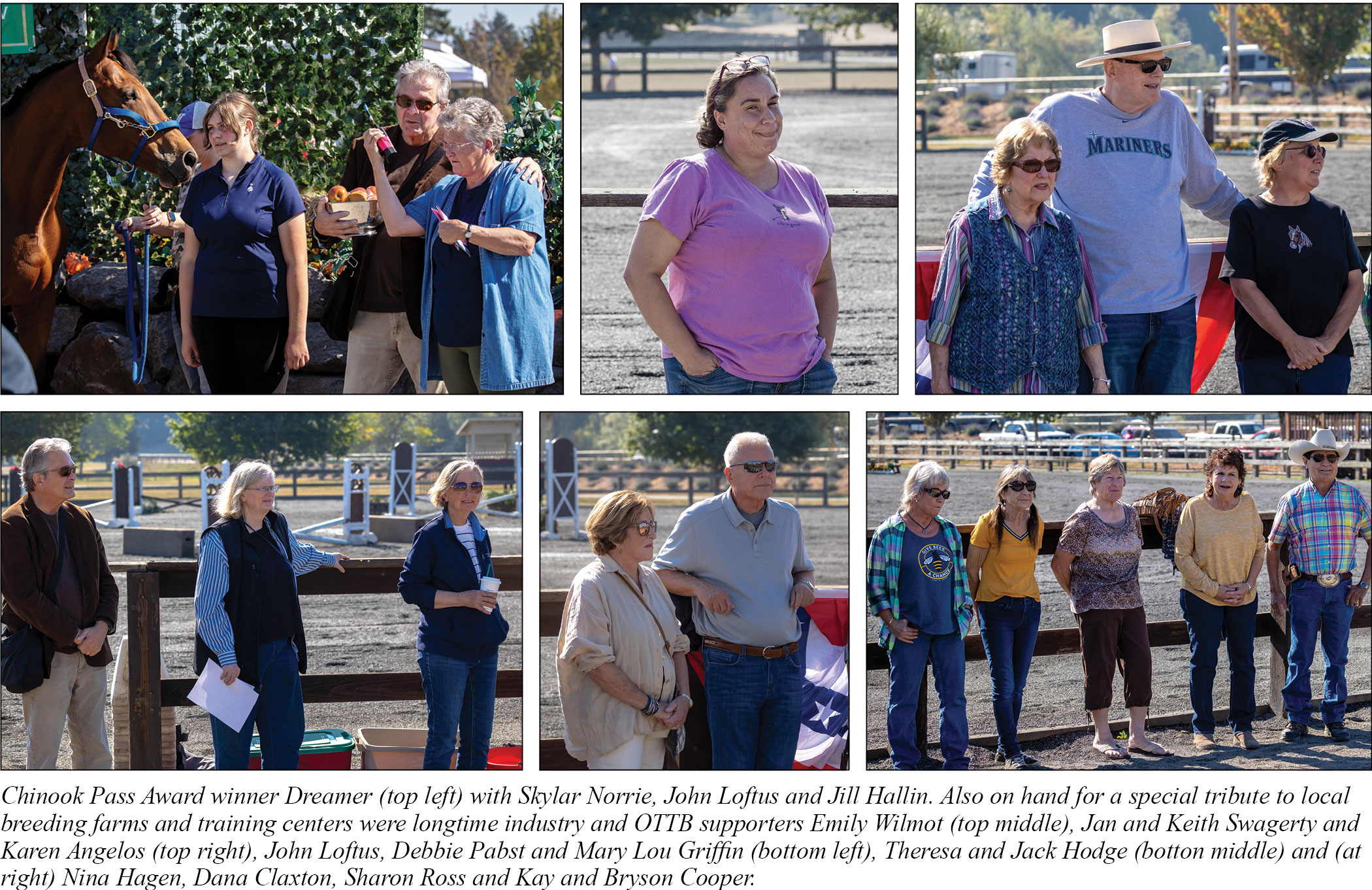 Breeding Farm Tributes
At noon on Saturday, all classes stopped for 20 minutes for a special tribute to several local breeding farms and training centers. Their owners and staff were introduced individually.
After the introductions, the farm owners told of horses on the grounds that used to be "theirs" and they were re-introduced to those horses. Pictures were taken of the "old and new" owners, and the horses and everyone had a chance to mingle. It was a special time for all and was truly a blending of the race and show horse people, which happens all too infrequently.
The following farm and training center owners were honored in this tribute: Sharon Ross and Dana Claxton (Sunfall Farm), Debbie Pabst(Blue Ribbon Farm), Nina Hagen (El Dorado Farms), Jan and Keith Swagerty and farm manager Karen Angelos (West Coast Training Center), Mary Lou Griffin (Griffin Place), Jack and Theresa Hodge (Oak Crest Farm,) Kay and Bryson Cooper (Homestretch Farm) and Emily Wilmot, farm manager for Bob and Barbara Meeking's Allaire Farms. Petra Lewin, Rainbow Meadows Farm, had expected to attend, but had difficulty getting away that morning from her farm near Centralia. She was missed.
The Chinook Pass Award
The annual Chinook Pass Award, given by Jill Hallin, honors the "whole heart" spirit that was embodied in the great racehorse Chinook Pass. It was presented to Skyler Norrie and her horse Royal Aspirations (Dreamer) for their obvious horse and owner connection and for their endeavors at the show. Dreamer was also shown by others, who are helping Skyler with his training. This year John Loftus and his wife Joyce were present to give Skyler the Chinook Pass Award trophy. John reported on, wrote articles about and promoted Chinook Pass during the horse's retirement years when Chinook Pass was considered Washington State's equine "Ambassador for Racing."
Among the champion class sponsors this year were: the WTBOA (Derby and Trifecta), Oak Crest Farm (Derby reserve), Jody Peetz (Junior Rider) and The Prodigious Fund (Oaks, Belmont, Emerald and In-hand).
Farm owners David and Gwen Blake, show secretary Jet Parrett, show manager Denise Sunick, staff and helpers Lisa Garr, Laura Hersey, Stephanie Korhel-Leyba and Pam Watterson, photographer Heather Sacha and all volunteers are to be commended for putting on a well-run show. Beautiful ribbons and awards from the TIP program and The Jockey Club and donations and sponsorships made for outstanding awards. Thanks also goes to the announcers, back gate and jump crews who were responsible for all the other behind-the-scenes activities.
This unique show, with so many Thoroughbred athletes and their dedicated riders and handlers, is expected to return to Donida Farm for its tenth year in 2023. We hope everyone interested in the Thoroughbred breed will come to the show, share in the excitement of the show atmosphere and feel the "warmth in your heart" as you watch these incredible equines excel in their second careers.
---

2022 Chinook Pass Award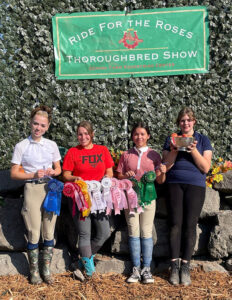 Royal Aspirations (Dreamer) arrived into our lives on March 23, 2022. I originally had no intentions of ever owning an OTTB, but he won us over with his kind eye, laid-back attitude and general calm demeanor. [Royal Aspirations is a six-year-old California-bred gelding by Goldencents—Totally Worth It, by Congrats. A $70,000 Barretts Select Yearling in 2017, he made nine starts, the first six in Southern California where he was trained by Dan Hendricks and Jeff Mullins. In his three starts at Emerald Downs he raced for the partnership of Donna Tollett, Ron Wise and Debra Tollett and was trained by Bill Tollett and Chris Stenslie. His last start was in a maiden special weight race on September 2, 2020. He retired with one second, two thirds and three fourths and $15,886 in earnings.]
When someone thinks about an off the track Thoroughbred they normally have images of a high-strung racing machine ready to run at a moment's notice, but that's not what we have experienced with this goofy guy. He is one of the most loving horses I have ever worked with on the ground – always coming in for a snuggle or a treat.  He's a fast learner and we are excited to continue his training in becoming a true all-around horse.
Dreamer is living his best life at Stoneridge Equestrians and is not only ridden by my daughter Skyler Norrie, but multiple equestrians at the barn.
At the Ride for the Roses, Mindy Ure took Dreamer through the trot pole course and the dressage arena (where she took home reserve champion!). Skyler piloted Dreamer through the Six Feet on the Ground tests and had an excellent first show with her beautiful bay. Stephanie Korhel Leyba also helped out on Friday evening with Dreamer's in-hand classes.
Skyler loves working with Dreamer on ground work and will continue his advancement in showmanship (he excels at standing still for long periods of time) and ultimately work up to Western pleasure, hunter under saddle and jumping.
We were truly surprised to have been honored with this award and want to thank Jill Hallin for her support of OTTBs. As I have now experienced firsthand, these animals can have great lives after the track.
— Michelle Norrie
---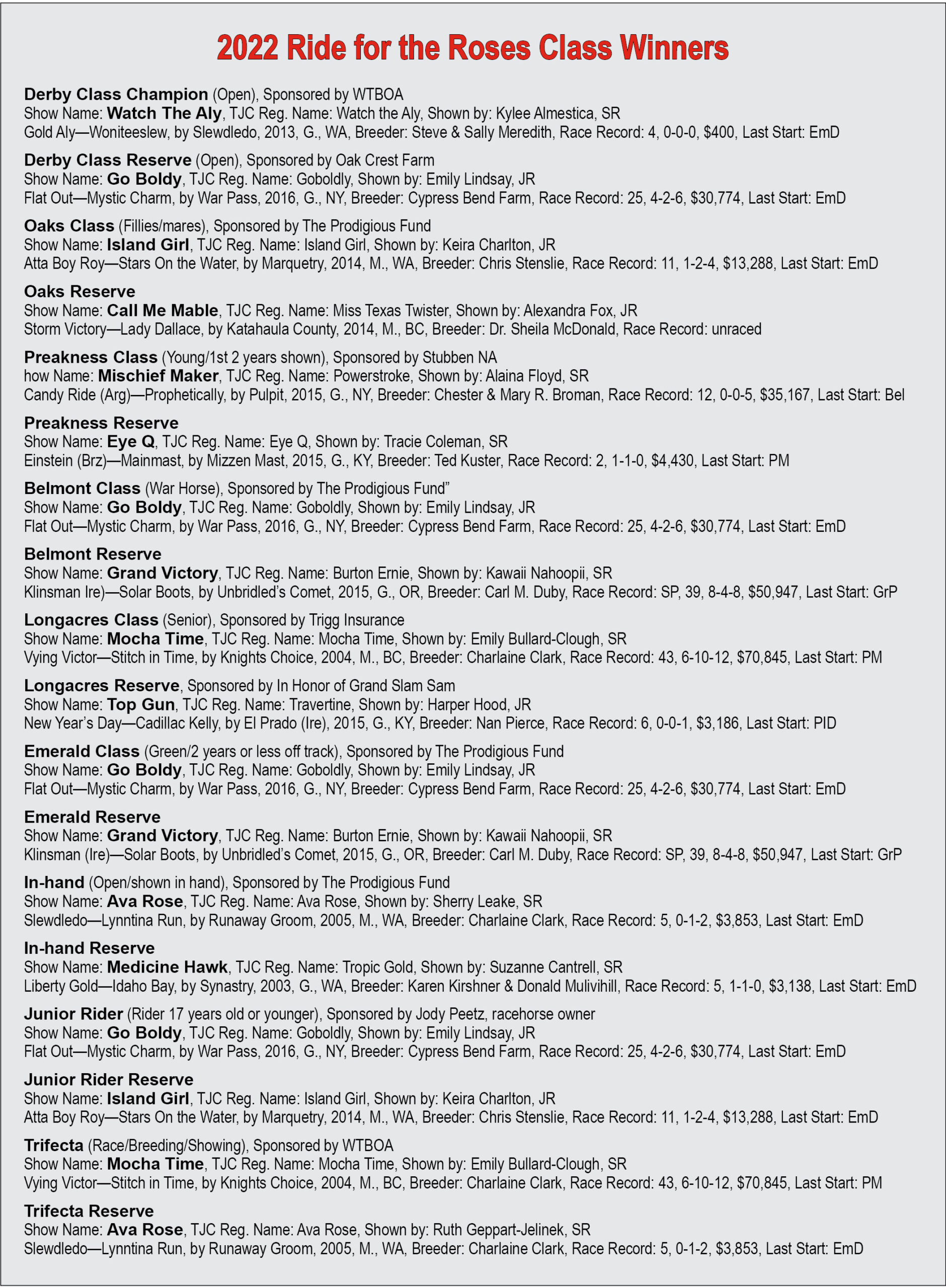 ---
Longtime industry member Jill Hallin is best known as the caretaker of Washington's only Eclipse Award winning horse, the great sprinter Chinook Pass. Hallin not only took great care of the champion for 23 years, but also willingly shared him with the public as dedicated ambassadors for racing. Twice recognized by the Washington Thoroughbred racing industry, first in 2010 with a Special Service Award acknowledging her partnership with Chinook Pass, and again in 2021 with the WHBOA Willing Hearts Award for her help on the Emerald Downs backside, Hallin is a big supporter of the annual Ride for Roses Thoroughbred show.