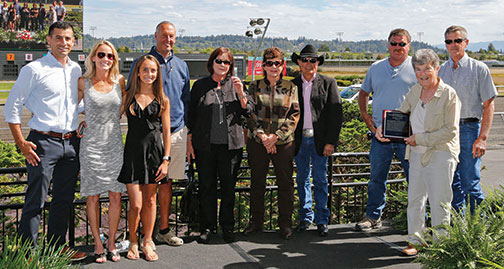 80 Years and Four Generations of Producing Top Racehorses
The Penney family's legacy in Washington racing began with A. E. Penney's arrival in Walla Walla in 1901. As a young man he rode at bush tracks and at state fair meets aboard his father's mounts. He later ran cowboy races and played polo.
The pioneer Central Washington cherry grower's first race "official" racehorse was Wizardry, who raced during Longacres' 1933 opening season. His first good horse was High Grenade, who won five races at Longacres in 1939. The first recorded foal he bred was Cherry Dart in 1941. During that period he raced runners by some of the top sires of the day, including a full brother to National Hall of Famer Twenty Grand.
A. E. "Gramps" Penney was one of the 16 original founders of the then Washington Horse Breeders Association and served on its board from its inception in 1940 until 1960, including stints as president in 1945 and 1946. Along with fellow Hall of Fame breeder George Newell, he was named 1959 Washington Turf Man of the Year. Among the many good Washington-foaled horses he bred was his homebred champion Mr. Banjo, Washington's 1951 horse of the year (who he also trained and was touted as being "the greatest two-year-old to be ever raised in the State of Washington"), two-time stakes winner Philbrick (trained by grandson Jim Penney) and Wilbur (the co-top ranked three-year-old of 1963). A. E. also raced, but did not breed, champion Vunderbar, the leading state distaff money earner (until Smogy Dew appeared) and who was also trained by Jim.
In 1961, She Can Go, who was bred by A. E. and A. J., raced by Penney Farm and trained by Jim, won the Seafair Queen Stakes at Longacres. Their names were intertwined with many top Washington-bred runners.
By the end of 1964, just five months before his death at age 85, A. E. was ranked as the 15th all-time leading Washington breeder with total earnings of $183,211.
Many of the Penney horses from the 1950s through the 1980s were bred in the name of Penney Farm, so it's not quite evident which individuals planned the breedings. Other top horses bred by Penney Farm include: Washington champions Cup of Speed, Patient Madam and Screven. Penney Farm was Washington's leading breeder by earnings in 1972 and 1973.
A. E. and his wife Roberta had two children: son, A. J. Penney and daughter, Esther Penney Kirby.
A. J. Penney was born in 1911 and passed away the day before his 63rd birthday. He was a founding director of the Yakima Valley Turf Club Inc. and served as its first vice president in 1958. He continued the Penney tradition of breeding top racehorses, as well as managing the farm, and was also an outstanding polo player, but his most lasting contribution to the Washington Thoroughbred industry has been through his and his wife Kitty's three children: Jim Penney, Dr. Robert Penney and Jean Penney Harris.
Jim Penney, who as inducted into the Washington Racing Hall of Fame in 2003 under the trainer category, first took out his trainer's license in 1954. The astute horseman saddled a record five winners of the Longacres Mile and he is the only trainer to have won training titles at Emerald Downs, Longacres and Yakima Meadows, the latter where he took the crown a record 17 times. State champions he trained were: Pataha Prince, Sabertooth, Edneator, Kittys Link, Tortellini Roma, Schoolin You, Madame Pele, Jebrica, Chu and I, and the aforementioned Wilbur and Screven. Jim also served as WHBPA president.
Dr. Robert Penney was a noted equine veterinarian and surgeon. He was active in the WTBOA as president, board member and Horsemen's Short Course chairman, until his premature death in 1984.
Jean Harris, an accomplished equestrian (hunter/jumper) in her youth, continues as the owner of Clemans View Farm, which is located on a section of the former Penney Farm in Naches. Jean co-owns the farm with her son Jeff and the twosome are the breeders of 2016 state champion sprinter Kaabraaj.
Jim's two daughters, Kay Cooper and Jill Fabulich, both are active in the state Thoroughbred industry. Kay, who is married to former jockey Bryson Cooper, was assistant trainer to her father for many years. She, with Cooper's staunch support, took over her father's position at the time of Jim's his death in 2017. Their son, Geoffrey Cooper, was a successful jockey at Emerald Downs from 1994-99.
Kay and Bryson, along with Jill and her husband Jack Fabulich, own and operate Homestretch Farm, a Thoroughbred training center in Edgewood, which Jill manages. Among the stakes winners bred by the sisters or in the name of Homestretch Farm are 2000 Emerald Downs horse of the meet and Mile winner Edneator and Arco Iris.
Many good Penney stallions have supported the Washington breeding scene, including Cold Command (sire of Hall of Famers Turbulator and Sparrow Castle), Kotzebue, Native Born, Rameses, Zulu Tom and John Casey.