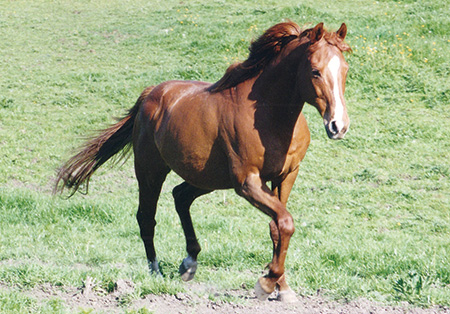 See that little horse? I'm going to own him one day.
—Lali O'Brien
Those were the words declared by Lali O'Brien, as the chestnut two-year-old gelding Samatar swaggered into the receiving barn on the backstretch of Longacres racetrack 28 years ago for his first race with trainer Don McCall.
"I fell instantly in love with him," O'Brien said. "He was this little chestnut colt, and he just took my heart away. I said to everybody, 'I'm going to own him one day,' and they all said 'You'd better get a lot of money, because they turned down $100,000 for him as a two-year-old."
At the Races
By 1975 Belmont Stakes winner Avatar out of the *Forli mare Sams Hattie and bred in Washington by Bill and Barbara Nelson, Jr., [Washington Racing Hall of Fame breeders] of Gunshy Manor, hopes were high for this colt, particularly when he won that first start, a maiden special weight at six furlongs, by two lengths in 1:11.
The hoped-for brilliance on the racetrack didn't follow for Samatar, however. He did not finish his only other start at two in stakes company at Longacres, and he finished up the track in his two starts at three at Golden Gate Fields and Santa Anita.
O'Brien recalls Samatar was plagued with hoof cracks throughout his racing career and was hard to keep sound. She also remembers he was a bit of an unruly colt. He kicked one person in the face before he was gelded at three, and in his later years he broke a groom's leg.
During his 18 starts in his four-year-old season in 1991, while never quite winning, Samatar hit the board eight times in claiming races at Yakima Meadows and Longacres. As a five-year-old in 1992 Samatar found the winner's circle four times in eight starts at Longacres, while running in $6,250 to $16,000 claiming races. He changed barns several times, from Bill McMeans (who trained Samatar beginning in 1991) to Brad Taylor, to Larry Ross and back to Brad Taylor.
"I watched him get claimed and claimed and claimed; he went through that whole thing," O'Brien recalled.
Serendipity
It was 1994 – two years after Longacres shuttered its barns for good – when serendipity appeared in the form of a red head over a stall door. "I was at Reber Ranch [in Auburn] feeding horses when Reber was used as a training satellite," O'Brien said, "and I looked down the shedrow, and there was this red horse with his head sticking out. I thought, 'Ohmigod, it's Samatar!' I ran down the shedrow to him, and it was him – and I yelled 'Samatar!'" The gelding was now seven, but still tugged just as hard on O'Brien's heart strings.
"I contacted Brad Taylor, who owned Samatar then, and told him that if he ever wanted to get rid of that old horse, I would like him. Brad said 'Well, he'll kill you for sure!' because Samatar was still a bit of a rogue. I said I'd still take him."
Samatar ran twice more, in 1994, as a seven-year-old at Yakima Meadows, but that last race – his 36th start – was his final one.
O'Brien said, "He went to the lead, and then said 'I'm not going to do this anymore,' and he quit running." His final race shows a DNF (did not finish). "Brad told me, 'If you want him, I want $500 for him.'
"Then I decided to talk myself out of this. I didn't need another horse. What was I thinking? I tried to get out of it, and told Brad that he'd have to take payments, thinking that would deter him. But Brad said that was fine, so . . . I thought, well, here we go, I guess I'm getting this horse!"
Retirement Years
Samatar retired from the racetrack into O'Brien's pasture with a record of $35,212 in earnings over six seasons, with a 5-3-3 record in his 36 starts at Longacres, Golden Gate, Santa Anita, Yakima Meadows and Playfair.
Samatar seemed to be a happy horse once he was off the racetrack, though in typical rascally manner, he didn't act particularly grateful to be united with the woman who'd fallen in love with him five years ago as a cute two-year-old.
"When I got him from Brad, I gave him just a few weeks off, and I thought, 'I can get on this horse,' because back then I rode a lot. And Samatar bolted and ran off around the field with me a couple of times before I could pull him up. He was very naughty!"
O'Brien went back to ground work and drove him for several weeks before she got on him again. "He was just that kind of horse, a prankster.
"I lived in Montana for a while, and a friend roped off him, and I did a bit of barrel racing on him. One day running barrels on him, he just cow-kicked a barrel as he went around it. Don't ask me how he did it, but he knocked it over, and everybody was laughing at us.
"He liked to go trail riding, but he would spot a low branch, and you'd better watch out, because he'd go under it and try to peel you off.
"One time I was trail riding with three other people, and we came to a raging river crossing. Samatar went down into the river like a champ, but do you think I could get him out of there? He just stood there, and he started splashing around. He was having a blast, and I couldn't get him out till he was ready to come out, like 20 minutes later.
"He was just like that. You could see him almost laughing at you. He's always had a mind of his own, and when he decides he's going to do something, or not do something, he does it. Like when he decided he didn't want to race anymore.
"He turned out to be a handy horse; he was awesome, did everything I asked him to do. But one day he just told me he didn't want to be ridden anymore, so I stopped riding him. That's how he is.
"He's been retired for probably 15 years."
Now at 30, while the passage of time has put a sway in his back and a few gray hairs around his muzzle, Samatar's handsome frame and somewhat haughty attitude still elicits a double take from visitors. O'Brien can lead him across his paddock with a string around his neck … but he can just as easily decide to take off back down the field, leaving the string dangling in her hand, while almost winking over his galloping shoulder at her.
But O'Brien laughs at this horse that stole her heart 28 years ago and is grateful for their time together. "He's had a good life!"
Samatar (WA), 1987, g., Avatar—Sams Hattie, by Forli.
Raced six years, 36-5-3-3, $35,212.
---
According to the multi-talented Merri Melde, "Horses pretty much says it all: horse photographer, writer, photojournalist, artist, claw hammer banjo player, horse packer, spotted owl hooter, wildlife technician, trail builder, carriage driver, sound engineer, theater techie, world traveler, former racetrack groom, rabid obsessed endurance rider, Tevis Cup finisher. But not all at the same time." Visit her website at theequestrianvagabond.com.