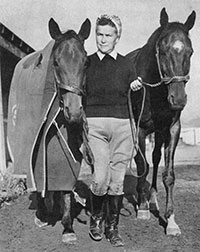 Called the "Mother of Thoroughbred Racing," Ruth Parton was born on November 9 (1894 or 1895) at her parents' cattle and horse ranch in Toppenish and her lifelong career in horses started soon afterwards.
Parton had her first pony at age two. By the time she was five she was racing her horse against her father's ranch hands and before she tenth birthday she had a highly successful "career" riding and racing her father Bert's Thoroughbreds at local fair meets and on the Yakima Indian reservation.
A few years later the teenaged equestrienne was successfully competing at rodeos and was the World Champion Relay Race Rider in three consecutive years (1914-16). She also performed as a trick rider. In 1988 Parton was inducted into the National Cowgirl Hall of Fame.
In the twenties, jockey Parton competed in races up and down the West Coast and into Mexico and Canada. Parton turned to Thoroughbreds around 1920-21. Not only did she continue to work and shoe her own horses into her early 70s, but she bred and owned many of those runners. Most of her homebreds' names began with a "P." Horses such as Profit Taking, Prune Pit, Parapups (the aforementioned three runners once finished in a three-way photo for first at Longacres while under Parton's care; and all three were sired by Parton Ranch stallion Blondin), Posey Bow, Pitter Patter, Pinch Penny, Prut, Pigeontoed and Prince Pie, to name a few.
Parton's favorite runner was Cyclonic, a 1924 daughter of Sweep who won three consecutive Spokane Derbies (1928-30) after running third in that race as a three-year-old. Cyclonic's three-peat occurred in the middle of what was then the oldest Thoroughbred stakes race (93 runnings,1891-93, 1901-30, 1935-41, 1944-95) held west of the Mississippi.
According to Playfair historian Jim Price, "In 1922, Parton brought 16 head to the Spokane Interstate Fair from Vancouver, but officially became a licensed trainer in 1932 (rather than the 1933 or 1934 named by other 'sources')." He went on to note "She may have won the 1939 Playfair training title, although there are no available statistics." She did take the 1945 Longacres training title and she also conditioned winners during Longacres short inaugural meet in 1933.
Parton was later described in The Washington Horse as "the busiest woman on the [Longacres] backstretch." In addition to her stable duties, Parton managed her family's cattle ranch and raised her daughter Bertie Lou.
The petite horsewoman was also popular with some of the Hollywood crowd. According to the eldest of her three granddaughters, accomplished polo player Gratia Brown, "She used to pick winners for Douglas Fairbanks Sr. and Clark Gable." (In 1933, Gable handed the winner's trophy to Parton after her trainee Piracy had won the Clark Gable Handicap at Landsdowne Park in British Columbia.)
Parton was also a charter member of the WHBA and served as the association's first vice president in 1946 and 1947. When the then WHBA (Washington Horse Breeders Association) held their first sale (in a tent) in 1947, it was noted that Parton was the first person to consign a horse.
Parton was married twice, first to Eugene H. Burlingame Jr. in 1917. The union produced Ruth's only child. Fifteen years later she wed Robert Webster, but always used her maiden name. Two of Ruth's granddaughters survive today: the aforementioned Brown and Susan Stovall. Both developed their grandmother's passion for horses and spend their summers in Toppenish at the family's over 100-year-old Parton Ranch.
Parton passed away October 10, 1978. Fourteen years later the City of Toppenish unveiled a six-part mural showing her accomplishments in rodeo, relays and racing. Part of the Toppenish mural project, Parton's legacy can be viewed on the Century Link building located at Washington Avenue and Alder Street.