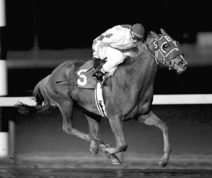 Trainer: Bud Klokstad
Owner: Billie Klokstad
Breeder: Bill G. Michael
Record: 20-13-2-2
Earnings: $260,575
California-bred, but five-time Emerald Downs champion, Ropersandwranglers became the first non-Washington-bred inducted into the Hall of Fame. Bred by Bill G. Michael and foaled on February 16, 1993, Ropersandwranglers was the first foal out of Silent Surprise, a daughter of the brilliant 1969 national juvenile champion and prominent broodmare sire Silent Screen.
Just six months after her foaling, Ropersandwranglers was consigned to the CTS September Mixed Sale where future Washington Hall of Fame trainer Bud Klokstad purchased her for $2,000.
The chestnut filly would prove to be the best of the runners sired by California Derby (G3) winner Endow, a son of California-bred superstar and five-time leading state sire Flying Paster.
Campaigned in the name of Billie Klokstad, Ropersandwranglers began her race career with a 6 1/2-length tally in her first outing, a juvenile maiden special weight race at Golden Gate Fields on May 4. Six weeks later she came back to score a gate-to-wire three-length win in the $50,000 Moraga Stakes.
Turned out for the rest of the year, Ropersandwranglers made her sophomore debut at Golden Gate, and after finishing third in an April allowance, she would score her third victory by 4 1/2 lengths.
The Klokstad star made her Emerald Downs debut in late August of the track's inaugural season with a three-length allowance score over future Washington champion Cocktails Anyone.
In her first Emerald stakes, Ropersand-
wranglers finished second to Ever Lasting in the $60,000 Washington Oaks. As that first season at Emerald ran until November 4, there would be two more opportunities for stakes glory. The chestnut made the best of it by scoring a seven-length win in the six-furlong Hastings Handicap and then defeated older fillies and mares by 2 1/2 lengths in the nine-furlong, $50,000 Belle Roberts Handicap. For her 3-1-0 record in four starts that season, Ropersandwranglers was named top Emerald three-year-old filly and earned her first sprint championship.
She finished the year with a sixth in the Moment to Buy Handicap at Bay Meadows on Boxing Day, but came back nine days later to finish third – beaten two necks – in the Sonoma Handicap at Golden Gate on January 4.
After running fifth in two Bay Meadows stakes, Ropersandwranglers returned to Emerald where she reeled off three consecutive stakes wins: the Auburn Stakes (5 1/2 furlongs, by a neck), Boeing Handicap (six furlongs, by seven lengths) and the Ingenue Handicap (6 1/2 furlongs, by 3 1/2 lengths). Though her year would be cut short due sore shins, Ropersandwranglers would be awarded her second sprint title.
In 1998 the now five-year-old Klokstad mare cruised to three-length tally over crack Washington sprint mare Spite and Malice in the 5 1/2-furlong Mountain View Stakes at Emerald on April 26. Five weeks later her five-race win streak continued with a victory in the six-furlong Auburn Handicap.
After a neck loss to Shay in the mile King County Handicap, Ropersandwranglers won her second Boeing Handicap (this one at
6 1/2 furlongs) by 7 1/2 lengths en route to her third meet-end sprint award.
The mare's final and ninth Emerald stakes victory came in the April 25, 1999, Mountain View Stakes.
All-in-all the speedy distaffer had a record of 13-2-2 from 20 starts and earned $260,575.
After producing her first foal for the Klokstads in 2000, a colt by In Excess (Ire), the couple sold Ropersandwranglers to Jerre Paxton, who bred her next five foals in the name of his Northwest Farms. The first, the 2001 Bertrando filly Seize the Moment, was the best of her five named foals, as she won two races, earned $13,400 and would later produce $107,508 winner Grasp. Though bred to Fusaichi Pegasus, Awesome Again, Thunder Gulch and El Corredor, Ropersandwranglers would fail to produce another winner.
Read the expanded profile in the WASHINGTON THOROUGHBRED MAGAZINE, Spring 2022, page 34.