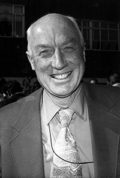 Robert L. Edwards established his Flying E Ranch in Moses Lake in the late 1960s. He went from breeding his first Thoroughbred winner in 1971 (Prince Mabes at Longacres) to leading the Washington breeder ranks by wins for nine consecutive years (1974-1982). Along the way he bred a trio of Washington champions and stood the powerhouse stallion Balance of Power.
The first photo of Edwards in The Washington Horse was in July 1972, when the horseman appeared riding his Peruvian Paso stallion Que Tal. At the time Edwards was the largest Paso breeder in the state.
Edwards consigned his first Thoroughbred offering to the 1972 WHBA Summer Yearling Sale from whence would come both Balance of Power's and his first stakes winner after Power Reigh took the 1973 Drumheller Memorial Stakes. Power Reigh was also the first of three stakes horses out of 1976 Washington broodmare of the year, Quina Reigh, Washington's best juvenile filly of 1967.
Power Reigh's full brother Balanced Reigh followed the next year when he won the second division of the Washington Stallion Stakes. Other 1974 stakes winners hailing from Edwards' sprawling 400-plus acre Moses Lake farm were: Eyes Six and Bal de Lune, who each won a divisions of the Mercer Girls Stakes; and Washington Championship Stakes winner Malert. Bal de Lune also won the Mary Broderick Memorial Stakes.
Power Bea and Hay Power soon followed their path and Edwards had his first Washington champion in 1978 with Unpossible, a daughter of Well Mannered. Though not a stakes winner, at three she recorded nine wins – six at Belmont Park (including four allowance tallies), three at Aqueduct (led by one allowance) and an allowance victory at Keystone Race Track – and had earnings of $88,640. The following year she would garner her only stakes placing, a third behind 14-time stakes winner Skipat in the Grade 3 Distaff Handicap at Aqueduct.
Edwards' second Washington champion came in 1980 when Question, co-bred with Arnold Nestegard, rolled to victories in the pivotal Gottstein Futurity, Spokane Futurity and Tukwila Stakes. He earned $111,858 that season and was named the state's best two-year-old runner.
Probably the best runner bred by Edwards was Sprink, a 1978 gelding by Canadian Gil out of the Balance of Power mare Sprinkle Power. Sprink proved to be one of the nation's top turf horses at age four. After taking Belmont's Grade 3 Brighton Handicap over Erin's Tiger, Sprink added a six-length trouncing of Naskra's Breeze in the historic Grade 2 Manhattan Handicap. He also finished second by a neck to that runner in the Grade 1 Man o'War Stakes and was runner-up to McCann in the Oceanport Handicap held at Monmouth Park. At five, Sprink was second by three-quarters of a length to Ogden Mills Phipps' Tantalizing in the Grade 1 Bowling Green Handicap. Of his $266,870 total earnings, $225,810 was earned on the grass, giving him a 10.49 turf SSI.
Edwards also bred Washington stakes winners Maxwell's Power, One Never Nose (another Belmont Park turf stakes winner and younger half-brother to Unpossible), Powerette, Silver Daddy, Wading Power and Whoop Up.
In addition to his multiple times leading by wins, Edwards set four new single season money records. His best year was 1982 when he superseded his 1979 earnings' zenith of $552,247 by $315,365. That $867,512 figure was not surpassed until 1992 when fellow Hall of Fame breeder Jerre Paxton's Northwest Farms bred the earners of $937,421.
In early 1979 Edwards moved Balance of Power (who would be Washington's leading sire that year) and eight of his mares to a farm outside of Buffalo, New York. He later moved to a 120-acre farm and training center in New Jersey where he bred stakes winners Wading l'Enjoleur, Thanks to Randy and Northwest Key, all out of Balance of Power mares.
Edwards died of a heart attack on April 30, 2001, at age 89, after a day spent hauling horses in his van.