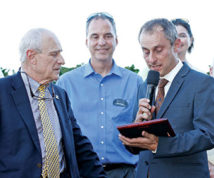 During his nearly 20-year tenure as Emerald Downs popular announcer Robert Geller, 56, provided race calls which were stylish, dramatic, informative and flavored with his well-known accent.
Born in England, the Geller family immigrated to Australia when Robert was a toddler. The Gellers, like so many Australians, were drawn to the popular horse racing culture, and the young Robert spent time at Melbourne area tracks such as Moonee Valley, Flemington (home of the world renowned Melbourne Cup [G1]), Sandown and Caulfield.
"Totally obsessed as a child with everything to do with racing," race calling became his hobby while in his teens. He would grab his binoculars and a tape recorder and head out to whichever local track was in session.
Geller, whose studies at the Lincoln Institute of Health Sciences led to a bachelor of science degree in communication disorders and to becoming a qualified speech pathologist, earned his first paycheck in racing by writing down bets for a small-time bookie.
His first chance to officially call a race came at the Alexandra Race Club (on the Victoria "picnic track" circuit), when the scheduled race caller failed to show up. His first appointment as a named race caller came on ANZAC Day at the Seymour Races. He continued to pick up race calling stints at small tracks, but also was chosen as track commentator at Wangaratta Turf Club, which raced 12 days annually. Other weekend announcing jobs followed while working full-time in his college-earned profession.
In 1989 he gave up his "day job" when he was hired as the English commentator for the Royal Hong Kong Jockey Club, his first full time job in racing. He would spend the next six and one-half years in Hong Kong calling races at both Sha Tin and Happy Valley,
In 1995, his employers sent Geller to Vancouver, British Columbia, to represent them at Hastings Racecourse when the track ran the Royal Hong Kong Jockey Club Handicap. It was during that visit that he learned about Emerald Downs, which was due to open the following June. One position they hadn't yet filled was announcer/race caller. He contacted track management at the Washington track and later, after being offered the job, Geller took the plunge and landed in Auburn. "It felt like an opportunity that wasn't going to come every day."
Geller was part of the team which opened the Auburn track on June 20, 1996, and "served up some of the most unique and accurate race calls in the business" until his departure after the June 7, 2015, race card.
He and Emerald director of publicity Joe Withee also entertained and provided the fans with "pertinent, useful and interesting data" during the popular "Handicapper's Corner," which was presented 30 minutes prior to the races. Both also regularly appeared on TVG.
While working the spring and summer months at Emerald Downs, in 2000 Geller added New Mexico's Sunland Park announcer job to his winter schedule.
In early 2015, with the retirement of longtime Woodbine Thoroughbred announcer Dan Loiselle imminent, the Ontario track had a position to fill. Geller applied and was soon winging his way to Toronto and Canada's biggest Thoroughbred venue with its mile polytrack and 12-furlong turf course where he went to work on June 12, 2015.
He continues to leave northern winters behind with his work from December to April at Sunland Park.
Also an accomplished actor and writer (his prose has appeared in the New Mexico-based Sure Bet Racing News, Washington Thoroughbred and internationally in Racetrack and Racing World), the truly international Geller is known as a gentleman by all he comes in contact with. Emerald Downs' loss has been Woodbine's gain.