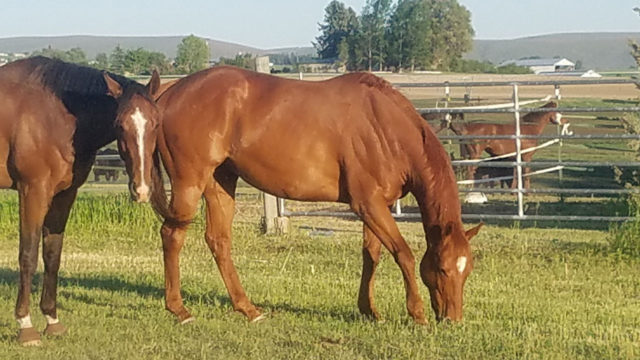 It was announced on August 20, 2019, that two former Emerald Downs-based runners, Disruption and Kactus Relevation, were among the four top honorees of the 2019 The Jockey Club Thoroughbred Incentive Program (TIP) non-competition awards.
Nominated by Katie Merwick of the Spokane-based Second Chance Ranch, Florida-bred Disruption (2010, g., Street Boss—Disrupt, by Deputy Minister) was recognized as the TIP Thoroughbred Horse of the Year.
According to a The Jockey Club press release "The Thoroughbred of the Year Award recognizes a Thoroughbred that has excelled in a non-competitive career, such as equine-assisted therapy or police work, and includes a $5,000 grant to the non-profit organization associated with the horse . . ."
Washington-bred Kactus Relevation (2006, g., Katowice—Wanfastprincess, by Wander Kind), was among the mounts who helped his rider Megan Grace Farnsworth, 14, gain recognition as one of three riders, 18 and under, who were presented with a 2019 TIP Young Rider of the Year Award.
The press release went on the state "The young rider award recognizes riders 18 or younger who own or lease a Thoroughbred for use in 4-H, Pony Club or other activities."
Bruce
Disruption, who goes by the barn name of Bruce, was originally purchased by trainer Blaine Wright on behalf of Heidi Nelson's Nelson Family Racing for $90,000 at the 2012 OBS March Two-year-olds in Training Sale. He made his first starts at Golden Gate Fields while in Wright's care where he won two races. After finishing second in the Auburn Stakes when sent north to Emerald Downs, Disruption was then turned over to trainer Monique Snowden. While running in her care, Disruption won three races at the Auburn track and finished third in the 2014 Mt. Rainier Handicap behind two-time Longacres Mile (G3) winner Stryker Phd. Disruption's final race came on September 26, 2015.
A lifelong horseman, Snowden was a great believer in a strong fundamental education for each horse and highly believed in preventative care. She was known for spending a lot of time with each one of her charges, both astride and on the ground. The young horsewoman was respected for the care, dedication and love she gave each of her horses, which made her suicide in July 2016, after one young runner's untimely death on the track, even harder to bear. She was only 37.
Merwick nominated Bruce to honor Snowden.
Nelson had contacted Merwick to find a home for Disruption when he was retired from racing. At the time Nelson was unaware that among Second Chance Ranch retirement facility's programs was "'Leading With Horses,' an innovative platform for mental health professionals to utilize while engaging with clients, which offers an equine-assisted mental health therapy program focused on suicide prevention and anti-bullying."
According to Merwick, "Bruce has helped with this program, as well as the equine art program, which encourages children to express themselves creatively."
The talented multi-tasking Bruce "also spent three semesters as part of the Washington State University Equestrian Team, where he taught beginners to ride."
Merwick went on note "Bruce is a product of Monique Snowden's superb equestrian skill. She adored this horse. All of the horses she trained and whose lives she touched were shown respect and fair leadership. They, in turn, gave their best for her. Bruce learned empathy, compassion and a desire to connect with people because of Monique. She was deeply emotional, and horses relate to that – it's why they are so successful as 'therapists.' The greatest way to honor Monique is to have her beloved horse help others coping with depression and mental health struggles. Her voice is being heard through the actions of this horse."
UPDATE: On May 5, 2020, Bruce was also inducted into the 2020 Horse Stars Hall of Fame (Bruce's story). The Horse Stars Hall of Fame was established by the EQUUS Foundation and the United States Equestrian Federation (USEF) in 2013 to celebrate the extraordinary talent of horses and their magical and powerful bond with people. The USEF inducts the horses recognized annually as "Horses of Honor" for their stellar athletic performances. The EQUUS Foundation inducts horses who have had an inspirational impact on the public as companions, teachers and healers.
Kactus
Kactus Relevation was bred by Glenda and Allen Roberts' Benchmark Farm and raced under one of the Roberts' many Benchmark syndicates. He was trained by Chris Stenslie. For the first win of his career, Kactus Relevation was also co-owned by Jody Peetz's One Horse Will Do Corporation. The runner didn't break his maiden until his four-year-old season when he went gate-to-wire to take a $5,000 maiden claiming race at a mile. Both of his other wins also came at eight furlongs for $4,000 and $2,500 tags. His final race came on September 9, 2011. Among Kactus Relevation dam's six other winners were Emerald Downs stakes winners Colterkind and Wan Too Free.
Megan Farnworth and Kactus Relevation, whose names are familiar due to finishing second in state TIP standings in both 2016 and 2018, have competed in dressage, trail, showmanship, bareback and hunt seat equitation.
Farnsworth would like to use her award funds to continue training Kactus and her other gelding Rocco to eventually have the opportunity to travel to Kentucky for the TIP Championships. The young rider also has a goal of bringing more awareness of TIP to Washington.
". . . the geldings I have worked with are smart, willing, athletic showmen who love their person and have a passion and drive to compete, no matter what the discipline," said Farnsworth.
Also honored with TIP Young Rider of the Year Awards were Alexa McVoy and Claudia Ridder, both 18.
Created in October 2011, TIP recognizes and rewards the versatility of the Thoroughbred through sponsorship of Thoroughbred classes and high point awards at sanctioned horse shows, year-end performance awards, a recreational riding program and non-competition awards. Additional information about TIP is available at tjctip.com and on the TIP Facebook page at facebook.com/tjctip.
Second Chance Ranch serves as a sanctuary for Thoroughbreds, sport horses and brood-mares, raced or unraced. These magnificent athletes serve as "coaches" in an innovative animal-assisted platform for mental health professionals. Leading With Horses is an equine-facilitated psychotherapy program that is non-riding and an alternative to conventional talk therapy. This program serves both military families and youth programs coping with various degrees of trauma and PTSD, with a focus on suicide prevention, anti-bullying and substance abuse. It is their belief that creative learning environments will put kids and young
adults on the path to becoming tomorrow's forward thinkers, innovators and leaders. For additional information go to secondchanceranch.org.
Second Chance Ranch was the original inspiration for this, its namesake column, "Second Chances."