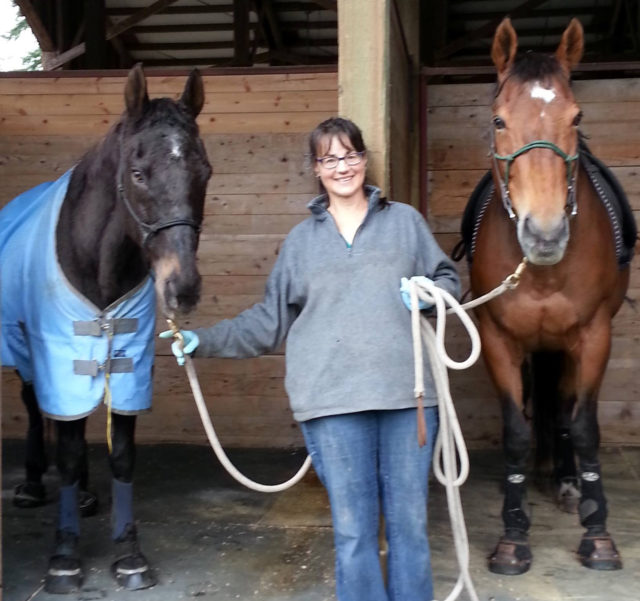 A "holme" for life
The most memorable aspect about the Thoroughbred mare Ol Mom's Holme, who raced at Longacres and Yakima Meadows between 1989 and 1993, was neither her looks (an average-sized, plain dark bay), nor particularly her breeding (Noholme Way out of Ol Moms Eldorado, by Rule the Seas), nor her race record (five wins in 30 starts in cheap claiming races, career earnings of $12,005).
Her renown was of an entirely different facet: her cantankerousness.
"Oh my goodness," one of her grooms, Kay Sides, commented. "I groomed that horse . . . she was an ornery [sic] one. Didn't know if you'd get bit or kicked on a daily basis."
I devoted an entire short eBook to her titled Ol Mom's Holme: The Witch.
But a response to this eBook from a reader illuminated another side of this mare: that she was adored by her breeder and owner, and that today, at age 32, she's cherished by her subsequent owners in her forever home.
Marlene Spencer, a long-time racetracker from Graham, wrote me after reading my story. "My neighbor has an old mare named Ol Mom's Holme," she wrote. "She ran (not well) at Longacres as a three-year-old and was trained by Ben Harris. My neighbor inherited her and her yearling colt from her dentist about 14 years ago.
"She was very cranky when I first knew her but has become sweeter over time – as long as you don't brush her or do anything else she doesn't like. I'm wondering if she could actually be the filly you wrote about?"
Indeed, this was the very same mare, Ol Mom's Holme, a 1986 filly bred and owned by Victor Moriyasu, and now living in Spencer's neighbor's backyard.
Sumner Beginnings
"It's kind of a fun story," said current owner Kathie Burr.
"Dr. Moriyasu was the dentist in Sumner that I went to from the time I was four years old, when he was a brand new dentist. As a kid I loved animals and found out he had horses, so every time we saw him, a couple times a year, we would talk horses."
Talking horses meant discussing Moriyasu's racehorses that he bred and raised in Sumner and raced at Longacres and Yakima Meadows with various trainers, settling on eventual Washington Racing Hall of Fame trainer Ben Harris. Burr and Moriyasu's friendship and mutual interest in horses continued for decades.
When Dr. Moriyasu died in January of 2000, Burr was crushed. "He'd been almost like a second father. He was such a kind man, and we always talked about his horses. Before he died, he had kind of offered Ol Mom to me.
"We'd never had horses. We didn't know anything about having horses, but my husband Dave and I loved the idea. So we went over and visited Ol Mom in October of 1999 in Yakima, where she was boarded. I met her and her son." Ol Lazy Lightning was a yearling at the time.
The day after Moriyasu's death, his daughter Sue Moriyasu got a call from the veterinarian that there was a problem with Ol Mom. "Sue was just devastated, because she had just lost her dad, and she was about to lose his last broodmare," Burr recalled.
"We do not know exactly what happened to Ol Mom," Sue Moriyasu said. "The vet tried to manage the lameness with medication, but eventually told me that Ol Mom needed to go to WSU (Washington State University), where I was a vet student at the time, for care. The suspicion was that she stepped on a nail. The end result was a very severe navicular bursitis. By the time she made it to the vet school – half of the navicular bone was gone."
Moriyasu counts the eventual recovery a miracle, not only because of the severity of the injury, but the fact that the mare didn't end up with laminitis in the opposite hind foot, because she was practically three-legged lame by the time she reached the vet school.
"At WSU they put the first-ever epidural catheter in her and were able to get her bearing weight on the injured leg before the good leg went bad," Moriyasu explained.
"This also helped counteract some of the scar tissue and muscle and tendon strictures that were developing in her bad leg because she was not bearing weight on it. "
When Ol Mom finally recovered from the ordeal and returned home to Yakima, Moriyasu still wanted the Burrs to have the mare and her son.
"Well, we were crazy," Burr said. "In October we brought home Ol Mom and her son 'Ichiban' (Ichi) who at that point was about 1 1/2 years old and unbroken, only able to load in the trailer, and that's about it.
"So that was the beginnings of us having the two horses. We boarded them in Tacoma for several years while we learned how to own horses. Ol Mom was a bit of a handful then, but she has changed so much over the years. I think it's because of the close contact for the last 12 years that we've had her here in Graham, with us where we live on the property.
"Marlene Spencer lives right next door, so she has been instrumental in helping me keep these horses going."
Today's Routines
Keeping the old mare going involves plenty of hands-on time and a solid routine that Ol Mom herself insists on. "We take a mile and a half walk every morning with the two horses, and in the evening we walk another half mile.
"And Ol Mom is the go-getter. When she knows that's about to happen, she walks straight to the gate, and she tries to push the gate open. She knows how far we normally walk, and at the end she'll turn us around, and off we come back home then.
"You can just still see what she probably was like in those original years at the track, because she's still the mare. She's still the bossy one. She pushes her son around, even though she's 32."
Burr started Ichi under saddle as a two-year-old and was the first one to get on him before sending him to a trainer; now she takes lessons on him and occasionally rides him in the woods, which he loves. Burr will take her husband or a friend (often Spencer) and Ol Mom along; the companion will hand walk Ol Mom while Burr and Ichi go off and have their canter through the forest.
"Ol Mom knows the gig and wants to get out. She's always ready to go and if you're not looking, she'll load herself into the trailer. She is just crazy. She's just like the partner that comes along – everywhere her son goes, she goes."
Last winter was a little tough on the old mare when she suddenly came down with a virus. Burr and her husband Dave were up one whole night with Ol Mom while she was on IV fluids, but she recovered from that about as quickly as it had come.
"Otherwise her health has been really good and her weight looks pretty good. She has to have special soft food, and she'll only eat a certain amount at a time. So since I'm retired, I stay home most of the time, and I feed her five different meals a day. She quids [spits out] hay, so she doesn't get any calories from that, so we have to do the special feeding."
Over the years, after-effects of the original navicular bursitis occasionally flared up, but Burr learned barefoot trimming, and has gone that path with Ol Mom. She puts boots on whenever they go out for walks.
"I think the walking has made a huge difference in her life. We started that when she was probably in her late 20s, and I just really feel that's extended her life."
Some habits die hard though: don't expect Ol Mom to thank you for a grooming session. "Even to this day, she doesn't like to be groomed much," Burr laughs. "We have to really carefully groom her, find the little scratchy spots. If she doesn't like it, she whips her head around and lets you know. She's still got that in her, that little personality.
"But she does love to have her face cuddled now. So every time I go out to her – and I'm out there ten times a day feeding and doing things – she'll stop and walk right over to me because she wants her face rubbed."
And though Ol Mom's Holme was unimpressive as a Washington racehorse, and didn't have the adoration of grooms and exercise riders and fans such as a Captain Condo or a Delicate Vine, she still got what every racehorse deserves: a forever home with people who love and dote on her.
"It means the world to me that Ol Mom and Ichi are in such a good home. Kathie and Dave have taken such good care of them, and it has been such a gift that I do not have to worry about whether they are being taken care of," said Sue Moriyasu.
"My dad would be so happy to see how things have turned out with Ol Mom, Ichi, and the Burrs. I know that they could have ended up in a much worse situation; I see it all the time with animals. They are so vulnerable; it gives me such peace of mind knowing they are in such a loving home."
"The two of them have taught us so much," Burr said. "Ol Mom is just a sparkle.
"We love her to death! It's been really special."
Ol Mom's Holme (WA), 1986, g., Noholme Way—Ol Moms Eldorado, by Rule the Seas.
Raced four years, 30-5-4-5, $12,005.
---
According to the multi-talented Merri Melde, "Horses pretty much says it all: horse photographer, writer, photojournalist, artist, claw hammer banjo player, horse packer, spotted owl hooter, wildlife technician, trail builder, carriage driver, sound engineer, theater techie, world traveler, former racetrack groom, rabid obsessed endurance rider, Tevis Cup finisher. But not all at the same time." Visit her website at thequestrianvagabond.com.