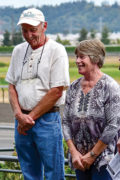 Since 1983, Larry and Sharon Ross have developed 13 Washington champions and a score of other top runners.
Larry began his career in racing in his native Montreal breaking yearlings for trainer Emile Allain. The future Hall of Famer took out his initial training license in 1974 at the then popular Suffolk Downs and plied his new trade on the mid-Atlantic and Florida circuits.
He was training at Laurel Park when he first met college student Sharon, who hailed from Virginia. The couple married in 1979 and took a three-month cross-country honeymoon. On their way to Oregon, they detoured in Seattle, where they visited Longacres and decided ". . . it would really be a nice place to train horses," remembered Larry.
After deciding to stay in the area, Larry and his then neophyte racetrack bride took a job at William and Barbara Nelson's Gunshy Manor in Redmond.
In 1981, Dave Simpson gave Larry a few horses to train. Just two years later, the first Ross-trained champion emerged – two-year-old Colonel Stevens. Among their other stakes winners in the 1980s at Longacres were: Marketal, Erin's Lad, Devonaer, Stitch An a Half, Determined Writer, Valeri's Delight, Canadian Mischief, as well as five more state champions: A Little Bit Tipsy, Crystal Run, Flame McGoon, Leading Hour and, most importantly, fellow Hall of Famer Chum Salmon. The gelded son of Gaelic Dancer won five of his nine stakes tallies during his 1985 horse of the year season, which was led by his exciting victory in the 50th Longacres Mile.
The 1990s brought Cadette Stevens – a daughter of Colonel Stevens who is probably one of the most accomplished Washington-breds never to earn a state title – and her champion paternal half-brother Military Hawk. Foaled in 1987, Military Hawk still ranks as the second leading Washington-bred earner of all time ($686,128), and he made his last race appearance on the track in 1997! He also holds the distinction of being the only runner to have won a stakes race at Longacres, Playfair, Yakima Meadows and Emerald Downs.
After racing closed at Longacres, Larry moved his stable to Northern California and Sharon maintained their Washington division out of the couple's picturesque Auburn farm. Her first "official" stakes winner came with Rain Rebel in the 1994 Yakima Debutante Stakes.
Larry saddled four stakes winners during the inaugural Emerald Downs meeting in 1996 and was also the meet's leading trainer by both wins and earnings during that fledgling opener. He continued to operate mainly out of the Bay Area until 2009.
Sharon led the 1998 Auburn meet in earnings, courtesy of the champion fillies Guinevere and Fleet Pacific, and Dash Eight's victory in the Washington Championship. (Including the Rosses' 2016 tally with Stryker Phd, the couple has taken seven editions of that restricted stakes which now goes by the moniker Muckleshoot Tribal Classic.)
Combined, the couple have had 47 stakes victories at Emerald, with Larry edging Sharon 24-23. Among their list of talented stakes winners since Emerald Downs opened are the following Washington and/or Emerald Downs champions (in alphabetical order): Belle Hill, Fleet Pacific, Ema Bovary (Chi), Crowning Meeting, Graceful Cat, Guinevere, Moonlight Meeting, Starbird Road, Stryker Phd and Zenovit.
Stryker Phd, 2014-15 Washington horse of the year and two-time Longacres Mile winner, has won nine stakes while under the care of the Rosses and ranks first among statebreds currently racing and fourth overall on the list of all-time Washington-bred earners.
Through November 30, 2016, the couple (Sharon hasn't saddled a runner under her own name since September 28, 2008) have combined to win 1,467 races from 9,702 starts (15.1 percent) and their trainees have won an excess of $20,912,000.
And just as Greentree Stable maintained their own famous "firehouse gang" many years ago, the Rosses have taken care of many of their special gelding retirees throughout their long lives at their Sunfall Farm.