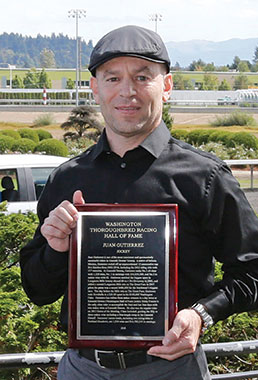 Rode Two Washington-breds to Longacres Miles Victories
A native of Mexico, Juan Gutierrez was born on August 6, 1969, in Jalisco and learned to ride at his grandfather's farm in Mexico City at age eight. Both of his uncles were horse trainers. His first win as a rider came at the age of 16 when he won on his first career mount, Glorious Beauty, on March 17, 1986, at Hipodromo de Las Americas in Mexico City. He worked as an exercise rider in Southern California before moving north to Washington.
According to Equibase, Gutierrez had his first mounts in the US in 2000 and had his first ride at Emerald Downs on April 15 of that same year. His first Emerald win came two weeks later aboard the Basket Weave gelding Snackbasket for trainer Sharon Ross. He completed the year having ridden 464 mounts with a 49-63-58 record and earnings of $195,873.
Starting in 2002 and through 2016 (he finished a creditable sixth in wins in 2017 after missing the final two months of the meet), Gutierrez ranked in the top five among all Emerald riders. In 2012 he finished at the top with 117 wins and he held down second place in 2010, 2011, 2013 and 2015. Overall, Gutierrez had 1,320 wins at the Auburn oval, including 62 stakes victories.
In 2005 the 5'-3″ rider made history when he took Herman Sarkowsky's homebred No Giveaway to victory in the 70th Longacres Mile (G3) at odds of 60-to-one.
He was also aboard Ron Crockett Inc.'s The Great Face for his head win over his stablemate Raise the Bluff in the 2007 Mile.
Both No Giveaway and The Great Face were named Emerald horse of the meet and Washington-bred horse of the year in their respective Mile seasons.
Though he never won a Gottstein Futurity, he had wins in 23 Emerald stakes, including five-peats in the Angie C. and Washington Cup Sophomore Filly stakes and was aboard four winners in the Auburn, WA Cup Juvenile Colts and Gelding and WA Cup Filly and Mare stakes.
Other Washington champions he guided to stakes victory at Emerald Downs are: additional Washington horse of the year Noosa Beach and state stars Madame Pele, My Heart Goes On, Chu and You, Chu and I, Infernal McGoon and Margo's Gift. Other top local horses he piloted to stakes wins include 2012 Emerald horse of the meet Class Included and additional non-Washington-bred Emerald champions Exclusive Diva, Exclusive Horizon and Goin to the Window.
The talented reinsman rode a trio of stakes winners on two given days at Emerald Downs. Only fellow Washington Racing Hall of Famer Ricky Frazier has been able to accomplish the same feat.
Gutierrez's last stakes win came aboard He's Not Grey in the July 16, 2017, Emerald Express Stakes, just six days before he was injured in the sixth race on July 22.
Three jockeys went down in the Saturday spill, but Gutierrez was the most seriously injured after he, aboard Current Sea Express, and apprentice David Martin, aboard Tiz a Sweet Ride, fell over the fallen Signorina Ermenia ridden by Eliska Kubinova. Both Martin and Kubinova were back riding within days of the spill, but Gutierrez, with serious shoulder injuries, has not yet been able to return to riding. He has hopes to once again be in the saddle in 2019.
Gutierrez currently ranks second in Emerald Downs' 21-year history in earnings ($14,029,389) and third in stakes tallies (62).
Gutierrez also led all riders for two seasons at Portland Meadows: 2002-03 (94 wins) and 2003-04 (105 wins). On December 1, 2003, he rode six winners at the Rose City oval.
Overall, his jockey profile on Equibase shows 10,482 mounts, 1,934 wins, 1,660 seconds, 1,607 thirds and $16,782,234 in earnings. He had an 18.45 win percentage and a 49.62 top-three percentage.
Gutierrez has two daughters, Tania and Ivette.