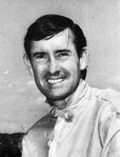 Born in 1941 in Renton, Jack Leonard rode his first winner shortly after his 16th birthday. The auspicious event occurred at British Columbia's Lansdowne Park on July 26, 1957, during a seven-day meet when he booted home three-year-old maiden Never Out by four lengths – in gate-to-wire fashion – at the Lulu Island oval in Vancouver for trainer R. M. Hall. Some 17,600 odd races later Leonard would mount his final winner in 1988 after having won 1,790 races in-between. He earned riding titles at Aqueduct, Longacres, Yakima Meadows and in the Bay Area. He also rode in New Jersey and Florida.
At 17 the young jockey was considered "one of the outstanding apprentices in California, New York and Chicago in 1958." In just his second season of racing Leonard came in first 152 times (from 1,020 starts) and was ranked among the top 30 riders – at 25th – in North America in the first of five instances in which his name would be listed the Daily Racing Form's yearly edition of The American Racing Form Manual.
After ranking the 23rd spot nationally in 1959, his 1960 season would be cut short after he suffered a fractured left shoulder in April at Aqueduct. At the time of his accident he ranked fourth in the rider standing at the New York track with a 14-13-15 record from 99 mounts.
His best years riding came in 1961 and 1962 where he earned a career-high win total in '62 (163) and his mounts' earnings went over the million mark ($1,044,261) the following year. He was ranked 14th nationally on both occasions.
Among his mounts were Washington champions Mustard Plaster, Sparrow Castle, Miss Redoubt, Bouncing Kim and Little Red Dot.
Leonard was not only aboard 1964 Washington horse of the year Mustard Plaster for his 1 1/2-length victory in the $100,000 Californian Stakes – in which the beaten field included Kelso and Native Diver – but he also partnered the son of Mr. Mustard to four stakes seconds at Hollywood Park that season.
Leonard guided Sparrow Castle to an exciting nose victory over fellow champion Dusky Damion in the 1961 Longacres Mile, in what would be the son of Cold Command's second consecutive horse of the year campaign. The rider was also aboard Oregon-bred Praise Jay for a five-length win in the 1969 Mile. In addition to his two Mile victories, Leonard was second aboard Command Module in 1971 and finished third on Systematic in 1963 and Circle in 1972 in his ten mounts (1959-76) in Washington's premier horse racing event.
The rider was also aboard Elttaes Stable's Bouncing Kim throughout his two-year-old horse of the year campaign.
In 1969 Leonard became just the fourth rider to lead Longacres' standings with a 100-win record. In the history of Longacres, Leonard ranked 13th all time with 502 wins from 4,392 mounts. Among those wins were 26 stakes tallies at the Renton oval.
Leonard is also forever linked to the greatest upset in Longacres' history when he piloted 133-to-one longshot Picador to victory on August 1, 1973.
Leonard's final rides came at Del Mar where he participated in Oceanside track's popular Rocking Chair Derby from 1994-1998.
Horse racing is deeply rooted in the Leonard family. His father, also named Jack, was a rider, trainer and movie stuntman (in the 1949 highly fictionalized The Story of Seabiscuit). His sister Sally and her husband Joe Steiner serve the Emerald Downs racing community with good food and so much more at their Quarter Chute Café. The Steiners' son Joe, who just this past summer retired from race riding, has also been a highly sought-after morning exercise rider and continued the family tradition of being a movie stunt double rider in the 2003 and much more historical Seabiscuit.