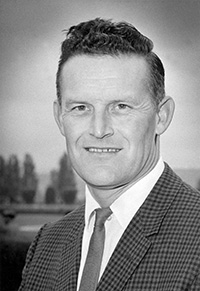 Renton native Glen Williams first attended the races at Longacres with his father as boy, soon after the track opened in 1933. After his graduation from the University of Washington with a degree in engineering, he worked for The Boeing Company, but he soon gravitated to the track.
He began training Thoroughbreds in 1954, and in the 20 years that followed, he oversaw, besides Ranniger, Irwin and Venema's trio of champion fillies – Smogy Dew, Miss Redoubt and Gold Afloat – the conditioning of state champions Sparrow Castle, Quina Reigh, Summereigh, Silver Duke, Better Dancer, Tenino Ville and finally Red Wind in 1972.
At the time of his retirement from training in 1974, he had trained a record 57 stakes winners during those two decades. Both Sparrow Castle (1961) and Red Wind (1972) won the Longacres Mile while under his tutelage. In addition to Longacres Derby winner Smogy Dew – whose victory over Canadian champion George Royal Williams considered the highlight of his illustrious career – he also trained 1959 Longacres Derby winner Auther B and 1960 Derby winner Sparrow Castle.
The Longacres Derby was just one of a trio of stakes won by Sparrow Castle in 1960. The following year the two-time Washington horse of the year would add a year-end state-record six stakes victories to give him a total of nine.
Smogy Dew's victory in the 1964 Derby, one of her eight stakes wins, was the last time a filly has won the top race for sophomore runners.
Williams also trained the winners of six Washington Stallion Stakes, four Seafair Queen Stakes winners and won back-to-back Spokane Handicaps. Surprisingly, Williams never topped the Longacres trainer standings by number of winners.
Among the other stakes winners housed under his shedrow were: Stirti, Wood Wind, Hi Yu Honey, Stoney River, Tool Kit, Princess Quilla, North End, Fitness, Me-Jo and *Titular II.
He retired from training to become the director of racing at Longacres in 1975 at the request of the Alhadeff family after the death of former racing secretary Steve O'Donnell. Williams held that position through the 1989 racing season.
He died in 1992 at age 65.