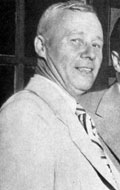 Born in the Georgetown area of Seattle in 1885, Newell was the president of the large Seattle insurance firm George C. Newell Co., which he had opened in 1921.
Newell got into racing though his brother Hallan, and his first racehorse was the mare Lou's Puzzle. George began breeding Thoroughbreds in 1938. His first winner came in 1942 and the master of the Kingston-based Newellhurst Farm bred and raced top runners up and down the West Coast, many in partnership with fellow Hall of Fame breeder Frank Brewster (Breel Stables). Among the partnership's good horses were 1951 $50,000 Sunset Handicap winner Alderman, 1951 Longacres Derby winner Bomb Special,1952 Speed and Renton handicaps winner First Repeater, Silverado and Micoka.
Newell bred and raced 1953 Washington three-year-old colt champion New Miracle (the same year in which he was ranked third among all state breeders) and also bred 1958 Washington Futurity winner Jerry's Gal, who is probably the only Washington-bred two-year-old to ever break her maiden on New Year's Day. Other stakes winners bred and/or raced by Newell include Moments Notice, New Oak, New Check, Miss Vanguard and Catch Patch. In 1958 and 1959 Newell reached his highest ranking on the state breeder list, finishing second to fellow Hall of Famer Herb Armstrong each year.
In 1958 Newell bought his wife Geraldine a California-bred gelding named Collaborator who would win the Longacres Mile, Longacres Derby, Spokane Handicap, Playfair Mile and Spokane Derby (the last two in track record time) as a three-year-old while racing in her name. Only two other horses have won the Mile during their sophomore seasons: Exotude (1936) and Brief Moment (1939). Newellhurst Farm had run third in the 1955 Mile with Auther, and Breel Stable colorbearers had finished second in both 1951 (Galavon) and 1952 (Roman Secret) Miles.
Newell's top Washington-bred earner was New Miracle, who won 37 races and earned $51,973 while racing nine seasons. The best runner to race in Newellhurst silks was How Now. After purchasing the son of Beau Max from King Ranch for $25,000 in the summer of 1957, How Now won 11 California stakes, including setting a new track record in the Del Mar Handicap, and placed in an additional 15 stakes en route to lifetime stats of 26 wins and $339,587 in earnings.
One of the 16 founding members of the then WHBA, Newell was its first president, as well as "for many years its biggest backer and guiding hand." He was instrumental in securing the five percent breeders' awards, which was later raised to ten percent by Joe Gottstein.
Newell, who passed away on August 24, 1964, at age 70, stood leading Washington sires Black Forest (1944, 1946-48) and Better Bet (1950), along with Jean Miracle, Galavon, *Basilio, New Resolve and Alderman. He also was one of the founders (1959) and president of the Yakima Valley Turf Association and the first writer and managing editor of The Washington Horse.
Newell was honored with the 1959 WHBA Turfman of the Year Award, an honor he shared with fellow pioneer horseman A. E. Penney.
According to former WTBOA general manager Ralph Vacca, "George Newell, next to Joe Gottstein, did more than any other person to give birth to our racehorse industry. He negotiated and shaped policy, thus allowing for the industry to take hold, grow and flourish."
In a 1964 interview in The Washington Horse, Newell was hailed as "a dedicated, hard-working individual with a special love for horses . . . (and the) priceless ingredient of foresight."