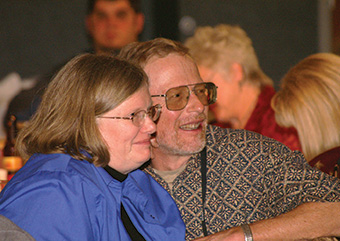 A longtime industry leader, Debbie began her lifelong love affair with racing at eight years of age, and after her marriage to Rick, the twosome became actively involved in the Thoroughbred industry with their purchase of broodmare/riding horse Turf Tiara, circa 1970.
In 1973, the Pabsts began acquiring the Buckley property that would become their now 70-acre and highly successful Blue Ribbon Farm.
The Pabsts' first stakes winner came along in 1979 with the two-year-old Speakeasy. Since that time, the couple has bred over 20 stakes winners by themselves or in partnership, including champions Dancin'all the Way (1990), She's All Silk (2006), Grade 2 stakes winner Atta Boy Roy (2009-10), Jebrica (2011), Finding More (2012) and Find Your Spot (2014).
Their most recent star is two-year-old Elliott Bay, who after winning the WTBOA Lads Stakes and pivotal Gottstein Futurity this summer at Emerald Downs, was named top two-year-old colt of the meet. He is the current frontrunner for year-end Washington honors as well.
The Pabsts also own 2011 Washington broodmare of the year Peaceful Wings, who they purchased as a yearling and is the dam of 15 winners from her 15 starters, led by four stakes winners, including the aforementioned Jebrica.
The Pabsts, who expanded their Buckley nursery to stand stallions (Nationhood and Atta Boy Roy) and offer racing syndicate, and now breeding syndicates as well, were Washington's leading breeders for four years (2011-14) and have ranked among the state's top 50 breeders 36 times since 1979 (38 years).
WTBOA members since 1972, Debbie was elected to the WTBOA board in 1982 and is a current board member. She has served as chairman of the Sales, Northwest Race Series and Youth committees and is a former vice president. She is currently WTBOA treasurer.
The 2014 Washington S. J. Agnew Lifetime Achievement Award winners were also among those who contributed to the building of the WTBOA offices and sales pavilion at Emerald Downs and were among the orininal investors in Emerald Downs.