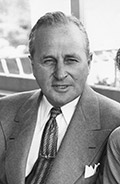 Frank Brewster's name first appeared as a Washington breeder in 1948, when two horses he bred won three races and earned $2,450, but just two years later he would lead all state breeders with $44,692. He would repeat his status as top Washington breeder in 1951 and 1953. From 1948 through 1956 he had 36 runners, of which 20 were winners that earned 194 trips to the winner's circle. From 1949 through 1956 he would never rank less than third among all breeders in the state. The Washington Horse editor and famed statistician Clio Hogan would note "Frank W. Brewster has had more success in his first five years as a breeder than any other breeder in the State of Washington – past or present."
A Washington native, Brewster was a noted name on the local racing scene well before he decided to join the ranks of its breeders. He won his first Longacres Mile in 1939 with the three-year-old filly Brief Moment and he played a major part in both the 1950 and 1951 runnings of the Mile.
Two and Twenty – who had Eddie Arcaro aboard – won the 15th running of the premiere Washington event in 1950 by defeating the three-year-old filly Whang Bang. Both runners were owned and trained by Brewster. Two and Twenty had won the previous year's Longacres Derby and Whang Bang, who was bred by Brewster, won the 1950 Derby and Washington Championship and was voted Washington's horse of the year at the end of that season. The daughter of Better Bet, who had also taken the Spokane Futurity at two, earned a lifetime total of $43,935 and was Washington's all-time leading distaff runner for a number of years.
In 1946 Brewster purchased Little Rollo as a three-year-old and would win both the Governor's Handicap and Longacres Derby with him. Little Rollo finished third in the 1947 Mile and was claimed for $15,000 the following February. The son of Count Gallahad would win the '51 Mile by two lengths for his new Canadian owners, over Brewster's Galavon. Two and Twenty ran eighth.
Brewster was the leading money winning trainer at Longacres in both 1950 ($29,025) and 1951 ($24,950).
Brewster and his partner George C. Newell, racing under the Breel Stable banner, also won the 1951 Sunset Handicap at Hollywood Park with Alderman.
A prominent, powerful and often controversial western Teamster leader, Brewster owned Clearbrook Farms in Woodinville and Lucky D Ranch near Kent. Among the stallions he stood were Speculation – who had been the fourth highest selling yearling in the history of Keeneland – and Two and Twenty.
Brewster died in 1996 at age 99.
Read the expanded profile in the WASHINGTON THOROUGHBRED MAGAZINE, Summer 2014, page 108.