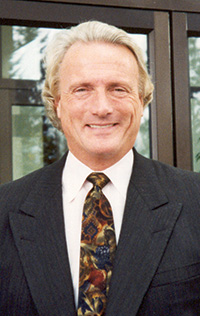 2017 Lifetime Achievement inductee Dr. Mark Dedomenico can truly be described as a modern Renaissance man. The now 80-year-old second generation horseman has been a prominent cardiac surgeon, inventor, author, is a founding member of Seattle's Hope Heart Institute, owns and operates the huge PRO Sports Health Club, built and operates the state-of the-art Pegasus Training and Rehabilitation Center (for all breeds of horses, not just Thoroughbreds) and has raced more than one top runner who has gained national recognition. He also sits on the board of the Thoroughbred Owners of California and is a former WTBOA board member.
"Dr. Mark" is a son of Paskey Dedomenico, who was a prominent Thoroughbred buyer, owner and breeder of runners in the Pacific Northwest during the 1970s and 1980s under the "Roni" banner (in homage to the family's Golden Grain company, which made, among many prominent food products, Rice-a-Roni) and who founded Woods Creek Training Center in Redmond (which continues today under the guidance of the younger Dedomenico).
Among the many topnotch racehorses that have run under the Mark Dedomenico LLC silks are national champion Blind Luck – who won six Grade 1 events, including the Kentucky Oaks and Alabama Stakes – Grade 2 winner Washington Bridge and Grade 3 winner Wonderladbynight. Closer to home, Dedomenico continued his racing exploits with 2015 Emerald Downs Derby winner Prime Engine and 2017 stakes winner Profound Moment.
The Redmond-based Pegasus has hosted a trio of successful two-year-old sales, including one this past February in Dedomenico's ongoing efforts to bring more horses to the Pacific Northwest and encourage the horse racing industry.
Dedomenico has also partnered with Dr. Wayne McIlwaith, DVM, of Colorado State University to research new treatments for equine middle and lower knee injuries, as well as the use of platelet rich plasma and stem cell therapy.
At the 2015 Washington Annual Awards dinner Dedomenico was honored with the prestigious S. J. Agnew Special Achievement Award for his leadership, foresight and contributions to the Washington Thoroughbred industry.