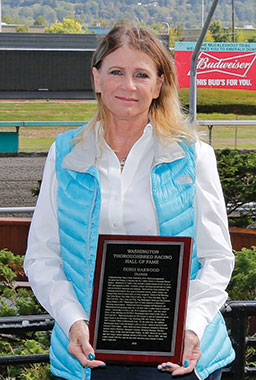 Winning Is Her "Drug" of Choice
Former jockey turned trainer Doris Harwood is one of the most successful women trainers in all of North America and one of the top conditioners in the Pacific Northwest.
She was born Doris Jones on November 6, 1952, in the small unincorporated rural community of Fancy Farm (2010 population 458), which is located in Graves County, Kentucky. Graves County, which according to the 1985 Guinness Book of World Records holds the "World's Largest Picnic," is located almost as far west as you can get and still be in the Bluegrass State.
Her family moved to the Seattle area when she was a young child. Always a "horse-crazy" girl, she started riding at Clearbrook Stables in North Seattle, where she "spent as much time as I could there."
Under the name Doris Eversole, the future trainer was a jockey at Longacres from 1975-80. From there she worked as an assistant under trainers Joyce Aliment, Wayne McDonnell and Tom Roberts.
During her early years as a trainer, she also would gallop many of her horses, which she considered "an advantage, being able to get on them yourself."
According to Equibase, she had her first starter as a trainer in 1991 (under Doris Crozier) at Yakima Meadows on January 27 with first-time starter Im a Trooper, who finished fourth of seven. Her first winner came with Michael and Marjorie Alhadeff's Dad and Lad Stable's two-year-old Andi's Knight, who went gate-to-wire to win a $12,500 maiden claiming race at Longacres by 12 1/2 lengths on August 31. The son of Knights Choice was bred by Jerre Paxton's Northwest Farms, who would play a significant part in her training achievements in the coming years. The runner also supplied her first stakes win when he took the Appletree Juvenile Breeders' Cup Stakes at Yakima Meadows the following November.
She also trained Dad and Lad's four-time stakes winner For the Children (one of Harwood's all-time favorites), who ran third in the 1993 Budweiser (Longacres) Mile (G3) and stakes winner What a Knight (also bred by Northwest Farms) for Ken and Marleen Alhadeff's Elttaes Stable in the early 1990s.
Harwood has nurtured seven state champions, beginning with two-year-old filly Best Judgement in 2000. Next came two-time titleholder Margo's Gift, who gave her and owner Elttaes Stable one of their biggest thrills when he won the $200,000 Favorite Trick Breeders' Cup Stakes at Monmouth Park over the 2007 Breeders' Cup Championship weekend. Her second juvenile filly champion title was earned by Knight Raider in 2009. In between those two came the seven-year reign of three remarkable full brothers: Noosa Beach, Music of My Soul and Noosito.
2010-11 Washington horse of the year Noosa Beach began his four-year-old predominance of his division in 2008. The son of Harbor the Gold, who was bred by the Harwoods and raced in husband Jeff's name, provided many great memories for the Kent-based couple, but none more so than his victory over future Grade 1 winner Jersey Town in the 75th Longacres Mile.
Harwood also saddled Del Rio Harbor, another son of Harbor the Gold, to state championship honors.
Among her Emerald Downs titleholders (which included most of her state champions) were Northwest Farms' standout fillies Shampoo, Smarty Deb and Elusive Horizon.
Since setting up her barn at Emerald Downs in 1996, the two-time Martin Durkan Award winner (1998 and 2014) has a record of 536-507-502 from 3,216 starts and total earnings of $7,790,380 (through September 23, 2018) and ranks fifth overall in wins and earnings. She set the single season stakes win mark of 12 in 2007 and then equaled her own record in 2009.
In the 23 years of the Auburn track's existence, Harwood has led the trainer earnings' list three times (2007, 2009 and 2013) and been in the top ten on another ten occasions. She has also ranked in the top ten by wins a dozen times and has four times been given the Emerald top training achievement award.
With a strong work ethic, an eye for detail and an attitude that puts the horse first, Harwood waxes with pride over each horse that tries hard, no matter what level of competition. She also has a talent for developing a young horse. "I love developing the young horses; that's really my favorite thing to do."
She went over a million ($1,110,804) mark in 2009 with a record 60 wins. Through September 23, 2018, Harwood trainees had made 3,783 starts with a 617-561-542 record, $8,722,349 in earnings, a 16.3 win percentage a 45.5 top-three finish percentage.