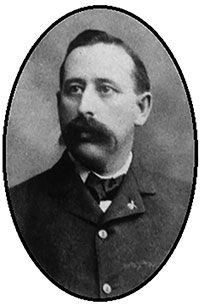 In 1902, under the leadership of Aaron T. Van de Vanter, The Meadows racetrack was built by the King County Fair Association. It was located "between the south end of Beacon Hill and the Duwamish River." During its heyday The Meadows proved "a showcase of the great beauty of Puget Sound." Van de Vanter oversaw the building of the entire racing facility, and in fact, he built a mansion on the Duwamish only a few hundred yards from the track's grandstand. He also served as the track's general manager.
The Meadows had an abbreviated run, lasting only through the 1908 season due to 1909 state legislation which banned gambling on horse racing. Van de Vanter never lived to see that ending, as he had been seriously injured in an automobile accident when on his way to The Meadows for the final race card of 1907. He passed away shortly thereafter on September 15, 1907, at age 48. He left his wife of seven years, Martha May, a wealthy widow. They had no children.
Van de Vanter had been born on February 25, 1859, in Sturgis, Michigan, one of three children of John Fee and Elizabeth (Dayton) VanDevanter. He ventured to Washington in 1883 and made his fortune in a variety of businesses, including a hops farm in the White River Valley, to which vegetables and dairy cattle were later added. In 1905 Van de Vanter and his fellow state senator Lincoln Davis acquired Seattle's Tourist Hotel. He and Davis had formed the Van de Vanter-Davis Company, which developed real estate and was involved with sales and insurance. Van de Venter also was the president of the Washington Central Improvement Company.
Aaron Van de Vanter also was involved in politics. He was elected the first mayor of Kent in May 1890, just days after Kent (population 793) had been incorporated. Kent is the second oldest incorporated city in King County after Seattle. Republican Van de Vanter was also the state senator for District 24 (1891-95) and was again elected in 1903 for District 31.
Additionally, Van de Vanter served on the Kent Council.
He was elected King County Sheriff in 1894 in the first of two terms. During his time as sheriff, notorious murderer Thomas Blanck engineered a mass escape (ten of the 21 incarcerated chose to flee with him) from the King County jail. Four days later Blanck was killed in a gun battle with the King County Sheriff's posse near Kent.
Van de Vanter had made his first racetrack attempt in 1891, heading a small group that built a combination one-mile kite and half-mile oval on a flood plain near his Kent property. It only lasted two years. Among the reasons for its closure were the constant winter flooding and the short-lived novelty of kite tracks.
The Meadows was also built on a flood plain, but that didn't stop the track from holding motorcycle and automobile races, in addition to harness and flat (both Quarter Horse and Thoroughbred), horse hurdle races and assorted other entertainment, some of which seems more appropriate to a circus.
Van de Vanter went out of his way to try to build a racing circuit with other Pacific Northwest tracks in order to ensure enough horses. Some of the "blooded-stock" came from his 200-acre Kent-based Van de Vanter Stock Farm.
At the end of the 1903 racing season, The Seattle Sunday Times reported "While a great deal of credit must go to all the gentlemen concerned, the greater share must fall to Van de Vanter, who originated the idea, fathered the deal, and has pushed it through successfully . . . Van de Vanter has worked hard and faithfully for racing in this city, and he has succeeded where nine-tenths of the local sporting men predicted he would fail. In the face of heavy odds he has fought on and won."
Today, Van de Vanter Avenue is located in the Scenic Hill area of Kent.
With his permission, information for the Van de Vanter section came from Washington historian Greg Spadoni and his detailed two-part article The Meadows, published in 2015. To read the entire article, go to: groupssa.com/themeadows/.