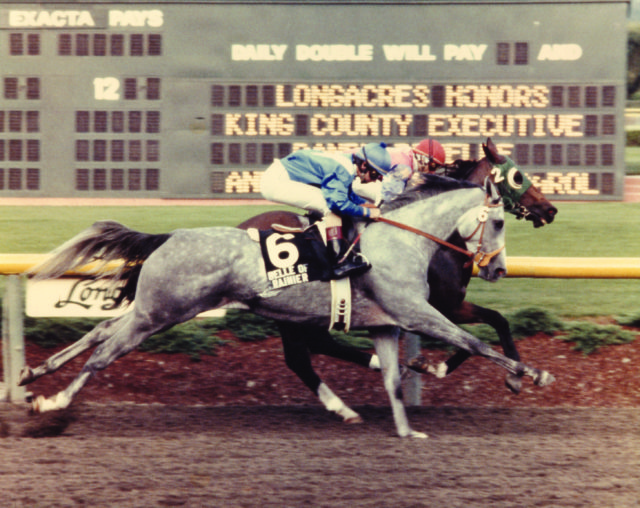 When she retired to commence her second career as a broodmare at age five, 2008 Washington Hall of Fame member Belle of Rainier was second only to Chinook Pass on the list of most affluent Washington-bred performers. Known to her throngs of adoring fans simply as "Belle," the statuesque roan was the first female since fellow Hall of Fame inductee Smogy Dew (1963) to capture the Gottstein Futurity over males. And only three distaffer winners of the pivotal two-year-old race have followed in the 34 years since.
With a career that encompassed 43 trips to the gate, a record of 17-6-4 and total purse money of $424,526, Belle of Rainier was conditioned by William "Bill" Findlay and competed as a homebred for West Seattle real estate and construction magnate Al Benton. Although it is without a doubt this 14-time stakes victress, who was also graded stakes-placed, is one of the best racehorses to ever set hooves upon a Washington oval, Benton was originally very displeased with the circumstances of her birth and her gender.
"Windy Tide was up at Rainier Stables," he told The Washington Thoroughbred in 1982. "Dewaine Moore was up there taking care of my horses and boarding them. He kept putting heat on me to breed to one of his studs. I figured I owed him, so that's how I ended up breeding to Windy Tide. I really didn't want to breed to him because I felt he was having more fillies than colts and I didn't want a filly. You can blame this whole thing on Dewaine Moore."
Involved with showing Labradors prior to entering the horse business, Benton, who passed away at age 99 in the summer of 2009, decided dogs were not a viable expense and thought horses would be more of a financially rewarding pastime.
"With dogs, all you win is ribbons and some small trophies," he said. "I didn't really see any way I could deduct that from my income taxes so I thought, if I got some horses, I'd have a chance to make some money."
Benton plucked Lap Wing, a daughter of Donut King – a stakes-winning son of Kentucky Derby winner Determine – when she was racing at Golden Gate Fields during her sophomore season. She amassed roughly $57,000 after Benton acquired her. It should be noted that Lap Wing's fourth dam Planetoid also produced "Blue Hen" Grey Flight. Belle of Rainier was Lap Wing's fourth foal and her first stakes winner. Lap Wing would produce her second stakes winner in 1981 in Lady of Rainier, a daughter of Flying Lark.
Windy Tide, the stud Benton would not have selected to cover his mare, was a $108,593 stakes-winning son of Windy Sands. Windy Sands had led the California sire list in 1981 and ran third to national champion Silent Screen as a two-year-old. He, like Lap Wing, proved that while they may not have been exemplary horses on the racetrack, they could still pass their desire and determination on to their progeny. Windy Tide's damsire Depth Charge was also a prominent sire of Quarter Horse runners and 1991AQHA Hall of Fame member.
"We loved everything about the mare (Lap Wing)," Benton said. "Her trainer said if she could cook, he would have rented her an apartment."
Born on January 29, 1979, Belle of Rainier was conceived, entered the world and raised at Moore's Rainier Stables in Enumclaw, which was named for the nearby Mount Rainier. It was one of the top breeding farms in Washington for a number of years. Despite Benton not being thrilled with the mating or that Lap Wing did not produce a colt, the Belle – whose only inbreeding was a 4 x4 cross to *Alibhai – received rave reviews from those around her when she was a yearling and later placed in training.
Benton contended on every occasion his mares foaled, he always felt their offspring could be something special, but with Belle of Rainier, it was cemented that she possessed special qualities the moment she hit the ground.
"Moore offered to buy her when she was born for $8,000 or $10,000," he said. "I wouldn't sell her. And over the next five or six months, he kept telling me she was going to be a stakes horse. She was the boss of all the other fillies he had. He'd take pictures and show me her leading all those horses out in the pasture. She ruled the roost even when she was eight or ten months old. It was her conformation and attitude.
"I didn't know much about horses," Benton continued. "But I had people like [noted Washington trainer] M. L. Smith come around and want to buy her. Les Brainard wanted to trade me a horse that was worth about $35,000 and throw in $10,000 cash and that's when she was just a little more than a year old."
A Dazzling Two-year-old
The Belle swiftly illustrated all the attention that was paid to her ability was warranted. She captured her first three starts with ease before finishing second in the Broderick Memorial. The budding superstar rebounded smartly from that performance, as she defeated Chinook Pass – who went on to become a world record holder at five furlongs the following year and earn an Eclipse Award at four – in the Joe Gottstein Futurity. Unfortunately, her speedy rival damaged a cannon bone during that early contest, but even in peak form, Belle of Rainier would have given him quite the tussle. She then went on to win the Mercer Girls Handicap before traveling to Santa Anita where she came home third in the Grade 3 Anoakia Stakes. She finished her year with a triumph in the Burlingame Stakes at Bay Meadows. As a freshman, Belle of Rainer compiled a record of 6-2-1 from nine outings and collected $142,066.
Despite her stellar season, the filly was not honored as Washington's two-year-old filly champion. The award was given to Snow Plow, who became the first Washington-bred to take a Grade 1 race, and she won two, on the East Coast. In fact, Snow Plow was so esteemed she was ranked 15th on the North American Experimental Free Handicap for that year.
Belle of Rainier's connections were a little non-pulsed that their filly, who competed primarily within the boundaries of her home state, had failed to receive recognition for her accomplishments, but her sophomore campaign would banish any doubts as to her quality.
Seven-time Stakes Winner at Three
In her first start of the season, the Seafair Queen Stakes, the roan had the worst race of her brief career as she came home sixth. Findlay discovered she was ill and after she returned to health, she showed she was every bit as exceptional as she was her previous season. With triumphs in the Ingenue Handicap, the Betsy Ross Handicap, the Mike Donohoe Memorial Stakes, the Sacajawea Handicap, the Senorita Stakes, the Belle Roberts Handicap and the Ballerina Handicap, Belle of Rainier dominated her competition.
The filly's only off-the-board performances were a fifth in the Grade 3 Longacres Derby against males, when it just wasn't her day, and a tenth in the Dahlia Handicap when the surface at Hollywood Park was not to her liking. She ended her second season of competition with a résumé of 7-0-0 from 11 starts and purse money of $168,455. Belle of Rainier was second to no other horse when it came to divisional honors, as she was given the nod as Washington's champion three-year-old filly, champion sprinter and horse of the year. She also was also lauded as Longacres Park's horse of the meet.
"It'd be nice to see her voted horse of the year," Benton said prior to the awards being determined and disseminated. "I thought she was the best filly ever to run in the state last year as a two-year-old. Now I think she's the best [older] filly or mare that ever raced here. I don't think Chinook Pass has ever won at anything over six and a half furlongs and we are the only ones to ever beat him short. I don't think a horse can be horse of the year if they when he's never won at longer than six and a half furlongs."
The Washington voters concurred with Benton's assessment of his filly, who had earned more money than any female bred in the state, and selected her for top honors.
Older Campaigns
Belle of Rainier did continue to compete at ages four and five. She did not display, however, the brilliance of the first two years of her career. In 1983 she went to the gate on 13 occasions with a slate of 2-3-3 and $61,860 in the bank. Her lone stakes score came in the Children's Handicap at Bay Meadows in her last start of the season.
In 1984, her final year of racing, the Belle was 2-1-1 in ten performances and earned $52,145. Her two victories were both in stakes, namely the Spectacular Invitational Handicap at Bay Meadows and the Prima Donna Handicap. The latter was the mare's final appearance in the Longacres winner's circle, as she, like her dam, was retired after her five-year-old season. She was surrounded by tremendous crowd of fans as she had her photograph snapped.
"When mares run until they are eight, nine or ten, they don't come back to have as good of foals," Benton said. "I think there's going to be a point when you've got to quit racing.
"We'd like to breed her to a real good stud, but I don't picture myself going out and paying $150,000 for a fee. On the other hand, I wouldn't want a horse who earned $300,000 or $400,000 breeding to a $5,000 [stallion] either."
Broodmare Belle
Unfortunately, Belle of Rainier was not intended to live a long life of luxury as a broodmare. She perished at age ten and failed to produce any offspring that possessed her speed, grit and heart, but then again she wasn't supplied with much of an opportunity. From only three foals, her best was three-time Longacres stakes-placed Sky White (by Relaunch), who went on to a successful stud career in British Columbia. Her final foal, the mare Pancho's Girl (by Pancho Villa), gave birth to two minor stakes winners and one stakes-placed horse. Pancho's Girl's best progeny was longtime fan favorite West Seattle Boy, who set a record for the most triumphs at Emerald Downs (18 of his 26 victories overall) and competed until age 12 (2012) while banking nearly $185,000.
Although she left this earth far too soon, the glory that Belle attained and the fervor she stirred amongst those who witnessed her conquests will always grace the pages of history. She is certainly one of the best Washington-breds ever to compete in her 25 starts at Longacres and her name is clearly recognized more than two decades after her last start.
Findlay, whose son Chuck and daughter Julie, were also noteworthy Washington conditioners, was not inclined to utter superlatives regarding Belle of Rainier. When reporters inquired as to whether she was the greatest Washington-bred distaffer of all time, Findlay would allude to her talent, but never provided a concise statement affirming that contention.
When he was asked, however, if he would swap her for another horse with ability if the opportunity arose, Findlay, whose last start as a trainer was in 1989, wasted no time responding.
"No way," he told Washington Thoroughbred in her last season of racing. "I would not trade her for anything in the whole world."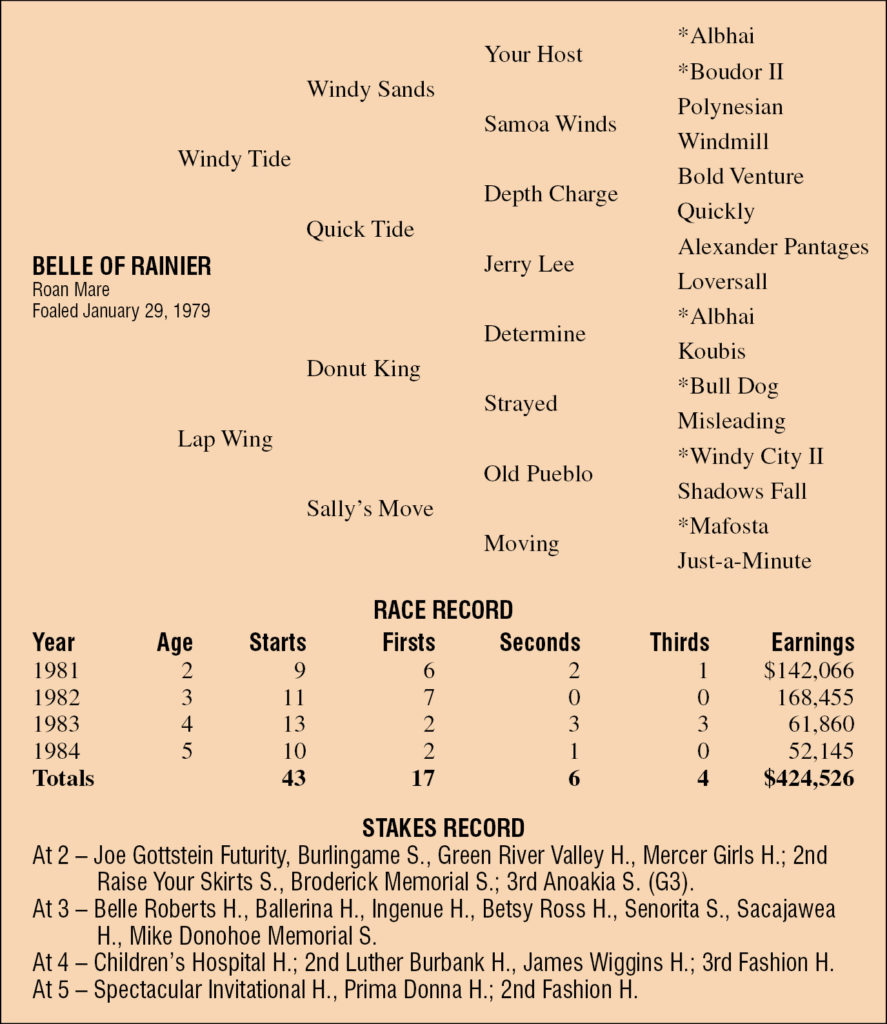 Kentucky resident Kimberly French is a freelance writer whose work has appeared in Thoroughbred, Standardbred and Quarter Horse publications. She also freelances as a production assistant for ESPN's horse racing broadcasts.