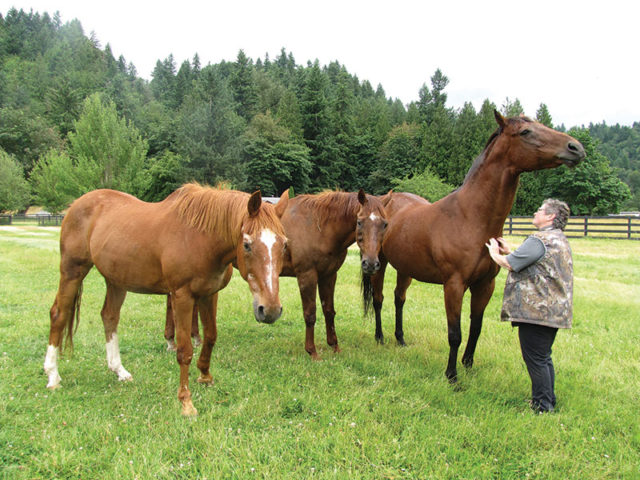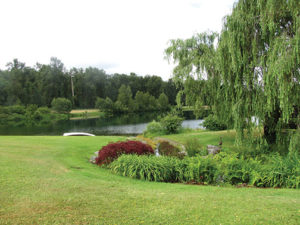 I recently had the good fortune to visit Jones and Jones Farm. It is a bucolic haven in Maple Valley and has been owned by the Jones family since 1981. Although originally used for raising and training Thoroughbreds, since 2008 it has gradually become a retirement home for both Thoroughbreds and recreational horses.
When I first pulled up to the property, I was struck by the peaceful atmosphere. It was initially a dairy farm, but it now boasts a 5/8-mile sand racetrack, as well as a 13.5-acre lake. The design and development of the farm is the result of painstaking research of farms in Kentucky. A fun fact is that the gravel from the lake was used in the building of the HOV lane from Renton to Bellevue.
The property consists of 160 acres with an admirable selection of barns, round pens and a 20,000-square foot covered arena with rounded corners. There are 14 paddocks, which range in size from two to five acres and each one has an automatic water system and attached feed shed. The feeling of being away from it all is enhanced by the fact that two sides of the property are bordered by the Cedar River.
Carrie Reeves was gracious enough to give me a tour. She and her husband Cam Reeves manage the farm. A lifelong equestrian, she regaled me with wonderful tales of her equine-centered youth. When she was ten years old, her school principal and a businessman arrived at the family home in Elma. Her mother immediately questioned her as to what she had done, only to learn that the young Carrie was being invited to gallop racehorses! Furthermore, I was fascinated to learn that by the age of 12, she was starting Thoroughbreds.
Forty-five lucky horses are currently in residence at the farm. They are matched by personality and feeding requirements, as well as size and sex. Management of the horses is carefully planned to make sure everyone is on the same schedule in terms of vaccinations and deworming. Horses are fed and checked twice a day, and most delightfully for visitors, as well as the horses themselves, are on pasture full time.
I couldn't help but reflect upon the recommendations by the Farm Animal Welfare Council (2009):
Freedom from hunger or thirst by ready access to fresh water and a diet to maintain full health and vigor;
Freedom from discomfort by providing an appropriate environment, including shelter and a comfortable resting area;
Freedom from pain, injury or disease by prevention or rapid diagnosis and treatment;
Freedom to express normal behavior by providing sufficient space, proper facilities and company of the animal's own kind; and
Freedom from fear and distress by ensuring conditions and treatment which avoid mental suffering.
Farm Animal Welfare Council. 2009. Para 1.
The five freedoms are clearly in play here. The absence of stereotypes was noticeable. Here at the farm horses are living as close as possible to a natural life.
Happy Pensioners
Handy N Bold is one of the most famous retirees here. He was foaled in British Columbia on March 28, 1995 (Bold Laddie—Five Rings, by Table Run) and had career earnings of $349,121. Grazing quietly with his vintage buddies, he looked remarkably good for being 24 years old. Carrie warned me as I approached with a camera that he was likely to keep himself at a distance. Luckily for me, he decided I was worth an introduction. And once he realized I was prepared to scratch his withers, all his reservations went out the window. His claim to fame is being one of the most prolific stakes winners in Emerald Downs history – ten in total, as well as putting himself firmly in the record books for winning the Governor's Handicap an incredible four times (1999, 2000, 2001, 2003).
I can never resist the story behind the story and I learned that Handy was originally spotted by local trainer Charles "Charlie" Essex during an early morning training session. He was so taken with the horse that he called his owner Doris Orr with the recommendation that they claim him out of his first race (an August 24, 1997, $25,000 maiden claiming race at Emerald Downs). However, Charlie then began to second guess himself until Doris told him in no uncertain terms to claim the horse. Handy N Bold won his first race – by eight lengths – and the rest is history.
Another dark horse with a history of note is the mare In the Act. Known at the farm for her nonchalant demeanor, the daughter of Slewdledo was bred by the Paulson Brothers Thoroughbred Ranch and foaled on May 9, 1992. In the Act is a three-time stakes-placed half-sister to multiple stakes winner Aly's Act and Gottstein Futurity third Reliable Act. She produced five winners from six foals, with her daughter Wild Blackberries being stakes-placed at two. The latter mare then went on to produce stakes-placed Diamond Berries, the dam of British Columbia stakes winner Notis the Jewell ($146,937). In a rather poetic way In the Act ended up retiring on the farm with the man who started her and all her offspring – no less than the man himself, Cam Reeves.
Other Critters
Although the focus of the farm is equine retirement, the property is home to animal characters galore. My first encounter was with Dozer the Doberman, who was standing stock still with his nose pointing to the earth to indicate he was on a mole hunt!
Imagine my surprise when a very confident zebra marched up to me. Thandi rather curiously takes on the personality of her equine pasture buddy, as Carrie discovered to her cost. After some trial and error, she was paired with a calm chestnut mare and pasture peace was restored!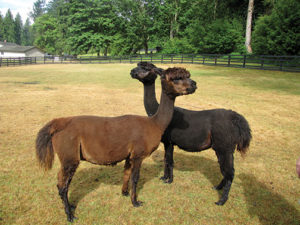 Two alpacas and I had a close encounter which I confess was a little disconcerting. It was difficult to tell from the facial expressions of Coco and the Dalai Lama whether they were friendly or not – but I was advised that they would spit if they were unhappy.
Last but not least I met Daisy, a Zebu cow. The breed is originally from Southwest Asia. A characteristic of the breed is their large hump, but I was equally impressed by her spectacular eye lashes.
As horses become more involved in our modern lives, it is sometimes easy to forget that the adaptability of most horses should not discount the fact that they are most happy and healthy when the five freedoms are made a priority. Jones and Jones Farm is clearly on track – to the benefit of their equine retirees and the other unique residents.
When we consider all that horses give to us in terms of pleasure, profession, competition and lifestyle, isn't it appropriate that their twilight years are given careful consideration?
---
Personal assistant by day and writer and researcher by night, Susie Sharp has yet to find an equine project she doesn't like. She recently graduated from the University of Guelph with a Diploma in Equine Studies (with Distinction) and is currently looking for her next challenge.