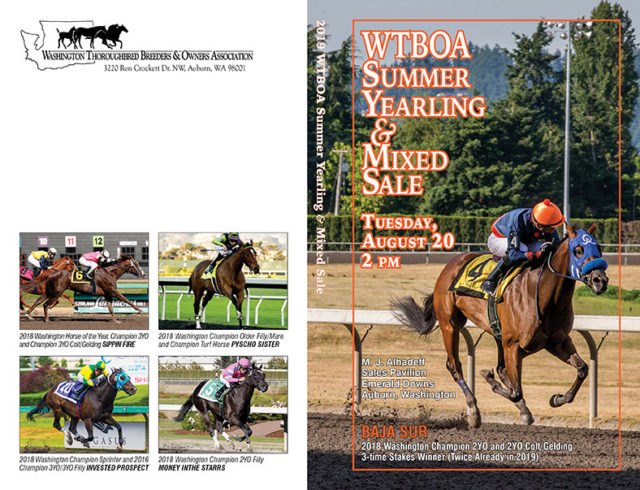 Bid on a Breeders' Cup Trip for Two
Selling Just Prior to Hip 1 at the WTBOA Sale
2019 WTBOA August Sale
The beauty of Mt. Rainier, the excitement of Emerald Downs racing and the quality of the yearlings and breeding stock entered in the WTBOA Summer Sale annually lead horsemen from all over the Pacific Northwest and other parts of the country to gather in Auburn for the opportunity to find their next champion.
This year the sale will be held on Tuesday, August 20, in the WTBOA Sales Pavilion at Emerald Downs. Horses will be available for inspection starting Sunday morning, August 18.
Once again, the horse sale will begin at 2:00 pm with a chance to bid on a trip for two to the 2019 Breeders' Cup World Championships, which will be held at Santa Anita on November 1-2. Proceeds from the sale of this exciting package go to benefit the many programs funded by the Washington Thoroughbred Foundation, a 501(c)(3) non-profit organization. Click here for more information.
Best Advertisements – A Host of Champion Runners
Runners produced out of the annual WTBOA venue continue to provide the sale's best advertisement.
2018 Washington champion juvenile Baja Sur continues his impressive unbeaten streak as the 2017 sale topper has glided to four wins – three in stakes – by a combined 22 1/2 lengths!
Sippin Fire, Washington's 2018 horse of the year and champion three-year-old, has won five stakes in his short career. He is the fourth stakes winner – including his champion full brothers Del Rio Harbor and Couldabenthewhisky – out of 2012 Washington broodmare of the year Bahati. Hip 46, a filly by Harbor the Gold, is a full sister to Bahati's trio of champions.
Pyscho Sister, Washington' champion older mare and turf horse, was also the state's leading earner in 2018. Her half-brother by Astrology is cataloged as Hip 98. Pyscho Sister's stakes-winning dam Melba Jewel is also the dam of 2017 state champion juvenile and WTBOA Sale graduate Elliott Bay.
Money inthe Starrs was named the top Washington-bred two-year-old filly last year and she has a half-brother by Grazen selling as Hip 3.
Another sale graduate earning her second state title in 2018 was champion sprinter Invested Prospect who was voted the top sophomore runner in 2016. Her half-sister, Citizen Kitty, a 2013 sale graduate, earned older filly honors in 2017.
While not a sales horse herself, 2017-18 Washington champion filly Bella Mia's yearling half-brother by Abraaj has been consigned as Hip 49.
Every Washington horse of the year since 2013 has gone through the WTBOA Sale ring, led by three-time horse of the year Stryker Phd and multiple champions E Z Kitty and Mach One Rules.
Both of the opening juvenile stakes of the Emerald season were won by sale graduates with For You Only winning the Angie C. Stables by nearly two lengths and Show Me the Mints the four-length victor of the King County Express Stakes. In fact, 2018 sale graduates took the top three spots in the latter race for juvenile males.
Sales alumni also controlled the first three spots in the Muckleshoot Derby on August 11 with My Grandpa earning his first stakes victory.
A Stallion for Every Taste 
Yearlings due to hit the auction block were sired by a divergent group of 42 stallions, with stud fees ranging from $1,000 to $25,000.
Prominent local stallions Abraaj (12), 2018-19 leading Washington sire Atta Boy Roy (four), Coast Guard (13), ten-time leading Oregon sire Harbor the Gold (11) and Nationhood (three) are all represented.
Among the sires that have gained national recognition are 2018 leading freshman sire Cross Traffic, sire of last year's juvenile filly champion Jaywalk; and Alternation, sire of 2019 Kentucky Oaks (G1) winner Serengeti Princess. First crop sires Constitution (eight two-year-old winners, two which came back to win graded stakes at Saratoga and Del Mar) and Commissioner (with seven winners) both rank among the nation's freshman sire leaders.
The Factor leads the group with 12 2019 stakes winners, and in earnings, ranking 13th on the national listing with $5.9-million in progeny earnings.
2016 leading freshman sire Dialed In already has 13 stakes horses this year, including Irish juvenile stakes victor Strike for Glory, a son of Washington champion Chu and You.
Point of Entry has two Grade 2 winners among his top runners, which are led by $2.5-million UAE Derby winner Plus Que Parfait.
Top California sire and WTBOA Sale poster boy Smiling Tiger has already sired six champions in his first two crops. Included in that group is the aforementioned Baja Sur and 2018 California horse of the year Spiced Perfection, a Grade 1 winner in 2018 at Santa Anita and in 2019 at Keeneland.
Third crop sire Strong Mandate has followed true to his name, as he already has five stakes winners this year.
Other top regional sires represented include Gemologist and Astrology (who currently rank first and fourth in Louisiana) and Grazen (sixth in California).
Broodmares
For the first time in several years the WTBOA is offering a significant number of broodmares, including several by impressive sires, such as Cee's Tizzy, Deputy Minister, Glitterman, Langfuhr, Orientate, Successful Appeal, Unusual Heat (a six-time leading California sire) and Yes It's True.
Covering stallions include proven sires Champ Pegasus, Coast Guard (second on the 2019 Washington sire list) and Misremembered; and promising newcomers Cat Burglar, Dads Caps, Gold Rush Dancer and Pontiff.
Catalog Requests and Updates
For more information, please call (253) 288-7878 or e-mail [email protected]. The catalog pages, which include weekly female line and sire updates, are available for viewing on the WTBOA website at washingtonthoroughbred.com. Photos of many of the yearlings are also available on the WTBOA website.
Outs: Hips 5, 21, 40, 47, 76 and 90.
Stallion rankings are through August 14, 2019.