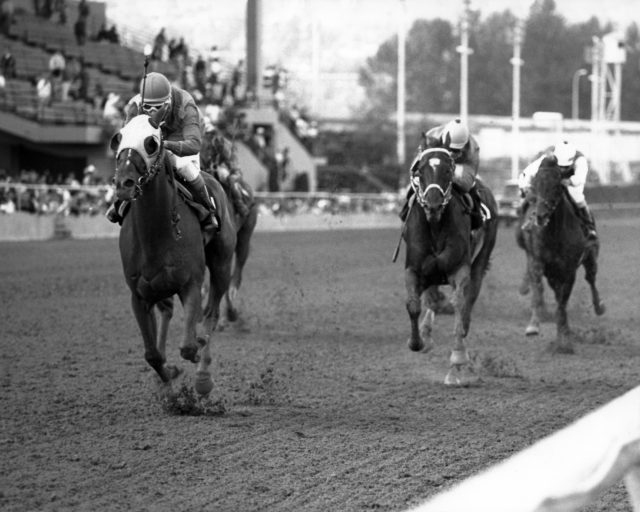 Few horses have campaigned with both the longevity and the success that Military Hawk displayed throughout his nine-year career. The popular chestnut gelding made a staggering 86 starts, finishing in the top three spots 52 times. When the darling of the Washington racing community finally retired in 1997, he had done more than enough to cement his place in the state's Hall of Fame.
George and Norma Sedlock bred Military Hawk under the banner of their G & N Thoroughbreds. They also campaigned and stood his sire, Colonel Stevens, a graded stakes-placed stakes winner and Washington champion who made all 16 of his starts at the old Longacres racetrack. The Sedlocks stood Colonel Stevens after his retirement and supported him with their own mares, including the unraced Flying Lark daughter S. S. Hawk.
Her first foal, a Spanish Way colt named Spanish Hawk, hinted at Military Hawk's future durability by racing 48 times, with a record of ten wins, ten seconds and eight thirds. Military Hawk was born two years later, on April 8, 1987. Eventually, all 14 of S. S. Hawk's foals would make it to the races, and 13 would win, but Military Hawk proved to be the best of them by far.
The Early Years
The Sedlocks turned Military Hawk over to Larry and Sharon Ross, trainers who were embarking on a long journey of conditioning successful West Coast runners, including Colonel Stevens. The narrow-framed Military Hawk would prove to be their next top runner, but when he debuted at the $16,000 claiming level, Military Hawk finished 12 lengths behind winner Falling Star and gave no indication of his future grit.
Military Hawk broke his maiden by four lengths in his third start, August 30, 1989, at Longacres. Ten days later he won again at the $25,000 level, scoring by six lengths ahead of overmatched rivals. His first stakes race was the prestigious Joe Gottstein Futurity, where Military Hawk finished sixth of 13 in his first try around two turns. He won the Juvenile Mile-His Handicap at Playfair and the Yakima/WTBA/Rainier Fall Futurity at Yakima Meadows to round out his juvenile season.
At age three in 1990, Military Hawk made nine of his ten starts at Longacres, with his lone victory of the season coming in the $30,000 Inlet Handicap at Exhibition Park. He had a solid but frustrating campaign, running second in the Longacres Derby and Bellevue Handicap, and third in the Spokane Handicap. His season ended with an $80,000 claiming race at Longacres. Military Hawk finished third, beaten 5 1/2 lengths.
To kick off 1991, Military Hawk made three starts at Golden Gate Fields, but failed to hit the board. Returned to his native state, the Colonel Stevens gelding won two in a row, including the Renton Handicap under jockey Gary Baze, who had been a regular rider of Military Hawk until that point. Baze even credited the runner with getting both horse and rider safely around a sloppy racetrack at Playfair in 1989 when, thanks to the muddy conditions, Baze ran out of goggles too early. The jockey later broke his leg and had to watch others partner with Military Hawk for the duration of his lengthy career.
It was under Luis Jauregui that Military Hawk won the $40,650 Seattle Handicap, a ten-furlong contest marking the furthest distance the gelding had ever covered. The victory came just two weeks after he finished fourth in his first attempt at the Longacres Mile (G3), known at the time as the Rainier Mile Handicap. Military Hawk finished third in the Washington Championship Stakes to round out the season with three wins, led by two stakes wins, in 11 starts.
Champion on the Rise
1992 would prove to be the final year for Longacres, and the Rosses made the most of it, starting Military Hawk there eight times that season. Despite ten-to-one odds, Military Hawk fittingly won the Gary Baze Tribute Stakes in June, honoring his former rider during his recovery. Military Hawk finished second in both the Longacres Budweiser Breeders' Cup Handicap and the Lansdowne Handicap, butting heads with some excellent runners bred outside the state of Washington.
Although he finished seventh in his second Longacres Mile, Military Hawk rebounded to win the final stakes race in Longacres' storied history, the $46,000 Washington Championship Stakes. Gary Stevens, a Kentucky Derby-winning jockey who would eventually be named to Washington's Racing Hall of Fame, as well as the National Racing Hall of Fame's roster, was in town to pay homage to the track, and guided Military Hawk to a popular victory in the 1 1/16-mile race. Military Hawk was later voted the state's top older horse.
California Bound
While Washington horsemen awaited the arrival of a future western track, Larry Ross moved his string to Northern California while Sharon Ross stayed behind in the Evergreen State. Military Hawk won only once in nine starts in 1993, taking the Pass the Glass Stakes on the dirt at Golden Gate. He fared better in 1994, winning the Alamedan, Vallejo Day and Joseph T. Grace handicaps at the Pleasanton, Solano and Santa Rosa fair meets, respectively. He ran third in the San Matean Handicap at Bay Meadows and even tried the Phil D. Shepherd Stakes at Pomona's Fairplex Park, where he finished a disappointing eighth.
That concluded the 1994 season for Military Hawk, who would win only once in 1995. His lone victory came in the West Twelve Ranch Handicap at Bay Meadows, a 14-to-one surprise to bettors that had written him off. He finished third at 25-to-one in the William P. Kyne Handicap, losing only to the two race favorites, Grade 2 victor Lykatill Hil and Grade 1 winner Slew of Damascus.
Return to Washington with the Opening of Emerald Downs
The day Emerald Downs opened, June 20, 1996, Military Hawk was there, going to the post for the $59,000 Auburn Breeders' Cup Handicap. He finished fifth that day, but continued to compete gamely against the best the track had to offer. Military Hawk ran second in the Budweiser Emerald Handicap, fourth again in the Longacres Mile and was third in the Washington Champion-
ship Handicap, earning another $61,640 for the season. It was the only year he did not win a race.
At age ten, the seemingly ageless Military Hawk made eight more starts, winning twice. No longer able to outrun his younger rivals, Military Hawk won at the $32,000 claiming level, becoming the only horse in history to have won at all four of Washington's major tracks: Longacres, Playfair, Yakima Meadows and Emerald Downs.
The veteran runner then made three more starts at the $40,000 claiming level. On August 17, jockey Gary Stevens was in town to pilot Hesabull in the Longacres Mile. He also picked up the mount on Military Hawk, who he had not ridden in seven years. Military Hawk dug in gamely, winning his final start by a head to the adoration of the crowd and announcer Robert Geller, who shouted, "The Hawk has won it!"
After the stirring victory, Military Hawk had officially earned his retirement. His record reads 86 starts, 18 wins, 15 seconds and 19 thirds for earnings of $686,128 and a 7.52 SSI. He left the track following an emotional retirement ceremony during which George Sedlock spoke praise for not only the horse and the 21 jockeys that had ridden him, but also the fans who loved him.
Military Hawk, who ranks second only to Saratoga Passage among Washington-bred earners, lived out his days at the Rosses' Sunfall Farm in Auburn, cozying up to classy pasture mates such as fellow Hall of Famer Chum Salmon and stakes winner Passing Game. Colic claimed Military Hawk's life in December 2011, when the gelding was 24.
As the winner of 12 stakes who ran at a dozen different racetracks in his spectacular career, Military Hawk is an exemplary addition to the Washington Racing Hall of Fame.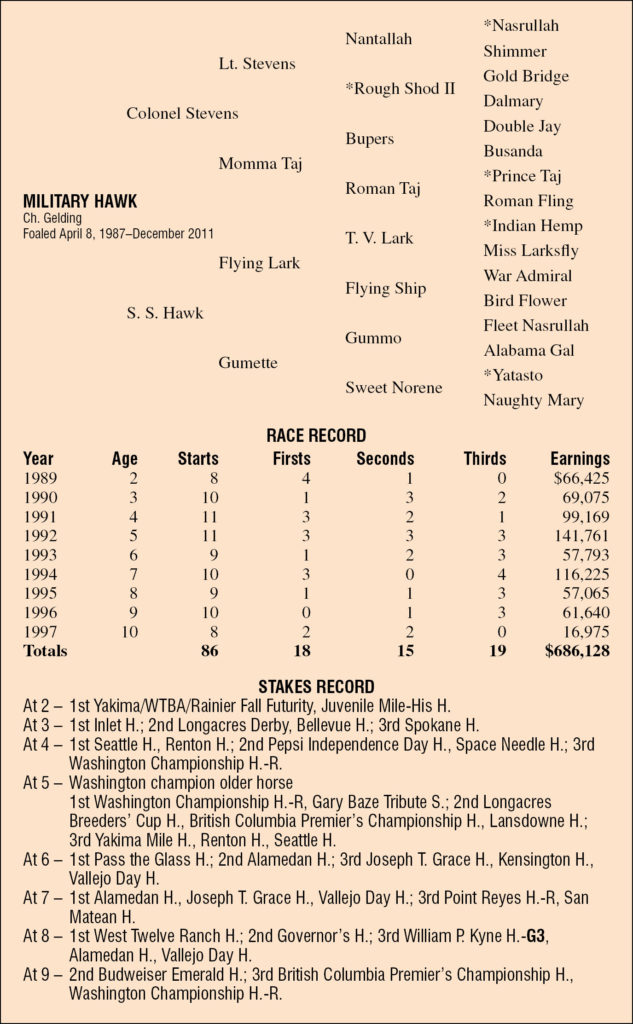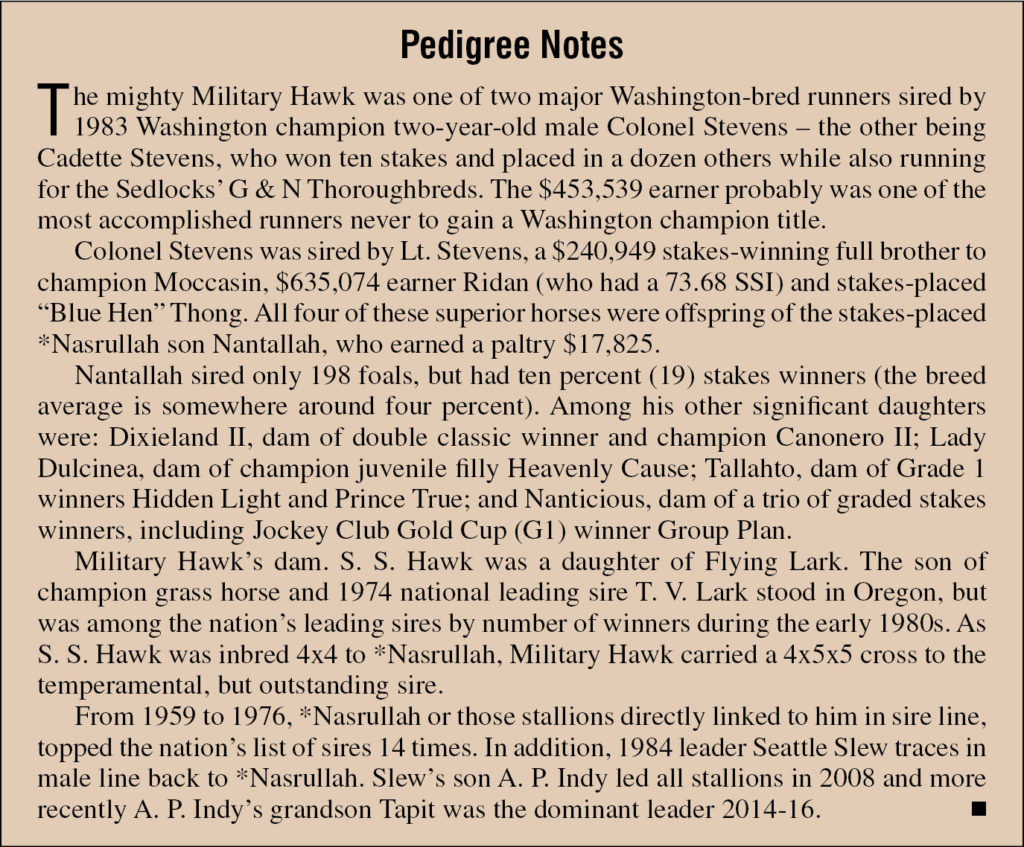 Emily Shields is a freelance writer based in Southern California. She has been covering horse racing since 2006.