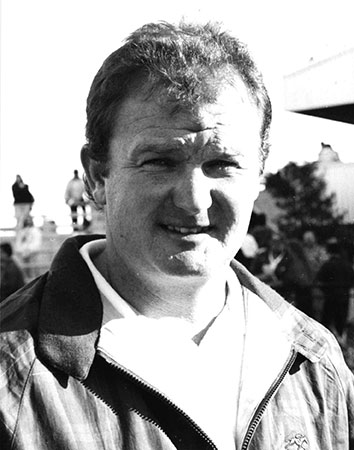 Although trainer Tim McCanna seldom chooses a road less traveled, when he and his horses pass on a major highway, they're usually headed to a West Coast winner's circle.
Whether it was a boyhood commute to Spokane's Playfair Race Course, a jaunt to lay-up quarters from Longacres or Emerald Downs or a more-recent overland haul from the San Francisco Bay area to his Yakima farm, McCanna and horses have covered a lot of miles.
The 2011 member of the Washington Horse Racing Hall of Fame has completed more than four decades of a career that still stretches toward the future. He has become one of the profession's top all-time winners. And with 2021 in the books, he had set several personal records and had others within his grasp.
Family Ties
Love of horses runs in the McCanna family. For almost a century, life has revolved around horses, education and deep-seated relationships. The acorns have not fallen far from the tree.
His father, Dan, set high standards as an educator and Thoroughbred trainer. His mother, Marilyn, spent 30 years as a school secretary. Of their four children, the oldest, Ray and Tim, became trainers, daughter Kerri established herself as a Spokane County school administrator, and the youngest, Daniel, forever identified as Boone, became a top West Coast jockey agent.
Raised in a Spokane Valley dairy family, Dan McCanna tagged along when his father William campaigned a couple horses at regional county fair meets. Usually known by his nickname, Pappy McCanna had had a few stalls when Playfair made its debut in 1935.
Years later, almost simultaneously, Dan collected a Gonzaga University diploma and his own first winner's circle photo. He had paid $135 for a horse named Big Return and had rehabilitated him into a winner. Then he launched his education career as East Valley High School's vice principal and, in tandem, expanded his racing stable.
Once settled into his dual careers, Dan, Marilyn and their children moved 40 miles north to rural Deer Park. There, he built a training track and, in the barn, created a sling-equipped, variable-speed overhead walking machine he called "The Jogger." It limited stress on aching legs and laid the groundwork for methods his second son employs today.
Before the end of the decade, Dan had his first durable success, a sprinter named Tres Oro's. The horse won 17 times in 50 starts, and the McCanna name began inching toward a spot in Playfair's annual standings.
The kids continued attending school in the Spokane Valley, shared in the chores, mucked stalls, fed and sometimes galloped the horses. And in the summer, they helped harvest the 100 acres of hay. "Part of the year, we'd get up and train horses before school," Tim McCanna said.
In the early 1970s, as a fourth grader, Tim had conditioned a Quarter Horse that became a winner for a family friend. At 15, he drove the younger children to school. He'd drop off them off and detour to the track before heading to his own classes. "Dad was there every day, helping me out," he said. "I'd smell like liniment when I got to school."
In the mid-1970s, with Ray McCanna off to play college football – aiming for an oil-industry career – their father put Tim, 16, and Boone, 13, in charge of rehabilitating a sprinter named for a jockey agent. "I worked on Stew the Dude all morning long," Boone said. "I would rub his legs, run cold water over his ankles and stand him in my dad's home-made turbulator."
With Playfair's first precocious conditioner, 23-year-old Tom Roberts, listed as the trainer, the Washington-bred gelding by Hitter won a career high six races in 1978 and retired later with a total of 22 wins.
The Playfair Years
Less than two years later, in the fall of 1980, with Playfair's race meet in full swing, Tim himself was on his way to college, enrolled at Washington State University. "I always wanted to be a vet," he admitted, "but (soon) I couldn't see being in school for eight or nine years while I was running back and forth to be with the horses. By mid-term, I just decided I didn't want to be there. So, I dropped out, and me and a couple buddies flew to Maui."
That was a nonstarter. Education came first. Dad was not happy. Mom was unhappy. Hawaii was not an option.
"So," Tim said, "my dad called and told me to get my butt home, and I could take over the barn." And he did.
Tim McCanna, age 19, was an instant success. With the help of his father, he saddled 15 winners during Playfair's 1981 meet. Owner-trainer Joe Rizzuto, and Jim Etter, his mother's brother, then gave him a leg up.
"The next year," he said, "we claimed four horses the first week, and we were on our way." He was. McCanna led Playfair trainers in 1982 with 42 wins. By then, he and Roberts were good friends. Roberts, on the way to the Longacres championship, sent McCanna a horse or two. "He'd van 'em over one day," McCanna said. "I'd run 'em the next and send 'em back."
McCanna finished first at Playfair again in 1983, 1984 and 1985. In 1984, he saddled owner-breeder Harold Krupke's Reardan's Gray to win the River City Handicap. Less than two years later, on March 1, 1986, he married Krupke's daughter, Jan.
"The Playfair years . . . were a lot of fun," McCanna said. "It was a close group of horsemen, there was a softball team, I was young, and we were having pretty good success."
And he was ready for his first important decision as a trainer.
"The first couple years I trained, all Dad had was [older] horses. So, I started buying yearlings and developing my own." Almost everything that has followed, came out of that.
McCanna, 24, wound up second at Playfair in 1986. But having supplemented those 44 winners – 237 in six years – with 11 at Longacres, he looked westward in earnest.
The following year was a big one. Dan McCanna returned to prominence with 55 winners that brought him the Playfair championship. Ray, faced with an oil industry slump, came home, took over Tim's barn, and finished sixth in the first of four good seasons.
Spreading His Wings
Tim won 16 races in his first full Longacres campaign and 21 more in 1988 with the hard-hitting mare Sucess Formula (voted Washington's most improved plater) a multiple winner both years. By the end of the decade, her part-owner, Al Hodge, had become a longtime client.
Now a title contender, McCanna finished seventh in 1989 and vaulted into third place in 1990. The wins, stable earnings, and the miles had begun to mount. McCanna-trained horses had raced at Longacres, Playfair and Yakima Meadows, Portland Meadows and Salem, Oregon, Billings and Great Falls, Montana, and, in the late-1980s, Northern California.
By the time Longacres closed in 1992 and construction began on its replacement, Emerald Downs, he had emerged as one of the state's top conditioners. Young horses began to fill his stalls. In 1994, the second of Emerald (Racing Association)'s introductory meets at Yakima Meadows, he topped the standings.
With the state racing industry in transition and survival becoming an issue in Spokane and Yakima, Tim and Jan McCanna decided it was time to develop a home and training facility of their own. They had been living on restaurateur Jim Eagle's Yakima ranch. When Eagle told them the 45 acres next door were available, they snapped them up.
Dan McCanna helped with planning and development. Soon there was housing, a big barn and plenty of fencing. The five-furlong track had Playfair's former two-stall auxiliary gate. The barn sported a version of Dad's overhead jogging machine.
After Tim finished fifth at Emerald's inaugural meet in Auburn, he led the standings a record ten times in the next 14 years. He took the 1997 title, won four straight, 2000-03, claimed another in 2005, and then won four more in a row, 2007-10.
He set the track's record with 55 winners in one season, then broke it with 66. Only his friendly rival, Frank Lucarelli, who won three of the four titles McCanna hadn't (1997-2010), has come close. McCanna set Emerald's career records for victories and purse earnings. Although Lucarelli has since surpassed him, McCanna remains second in wins and fourth in earnings.
McCanna holds eighth place with 31 stakes wins, seven of them in 2005, when Queenledo [one of ten state champions sired by Slewdledo], and Alexandersrun were the season's top three-year-olds. Two of his longtime clients, Charlie Dunn's Dunn Bar Ranch and Quadrun Farm, rank high among Emerald Downs owners. Dunn Bar stands seventh in career victories and ninth in earnings. Quadrun, 16th in wins and tenth in earnings.
On July 8, 2010, McCanna had one of the track's five five-win days, a feat that included winning races two through five in succession. Queenledo's younger brother, Kingledo, began the streak. Stablemates A Black Thorn and Vicky's Fast Boy dead-heated in the fourth. Previously, he had four-win days in 2002, 2008 and 2009.
Cocktails Anyone, owned by longtime client Guy Roberts, provided McCanna with his first Washington-bred championship when she claimed the 1997 filly and mare title. Two-year-old champions Devil's Enemy (2001) and No Constraints (2007) followed with McCanna's biggest stars, handicap runner Poker Brad and Queenledo, in between.
"Poker Brad wasn't perfectly correct," McCanna said, "but he looked like a good athlete and he had great bloodlines (Go for Gin—Gild, by Mr. Prospector). The mare had produced five foals, and none of them had done any good. I thought how could she produce a sixth one who couldn't run?"
He paid $13,000 at Keeneland on behalf of Quadrun Farm. Racing for the partnership that included himself, former Playfair owner Jack Pring, the car dealer's son, Brad, and Pring's property manager, John Peterson, Poker Brad would earn $437,354. His nine victories included the 2003 Portland Meadows Mile and consecutive renewals of the Mt. Rainier Breeders' Cup Handicap.
Queenledo
Queenledo also was the product of low expectations. McCanna had trained a winning filly named Tenderness. After she turned out to be an unimpressive broodmare, he paid only $400 to become her owner and gave her to his wife's father. Harold Krupke bred her to Slewdledo, an unraced son of Seattle Slew. She bore a filly.
Racing for the Kings and Queens Stables, a partnership that including his father-in-law, himself, his brother, Ray, as well as Stu Clifford and Jerry Ferry, Queenledo won the Northwest Stallion Knights Choice Stakes and earned the division's 2004 two-year-old championship. She opened her three-year-old campaign with three consecutive stakes wins, finished second in her other three starts and took another title.
Then, as a four-year-old, she made seven starts, all for added money, and romped to victory in the $100,000 Emerald Breeders' Cup Distaff Handicap. Then, although she stumbled at the start, she staged her usual rally to win the Belle Roberts Stakes. That concluded her career and led to the last of her unprecedented three Washington championships. She had run first or second seven times each in 18 career starts and earned $242,824.
Other Top Emerald Runners
Queenledo usually got the better of her stablemate, Gins Majesty. But Gins Majesty, running for Quadrun Farm, rewarded McCanna with his first graded stakes win. Heading north to Vancouver, British Columbia, she captured the 2006 renewal of the Grade 3 Ballerina Breeders' Cup Stakes at Hastings Racecourse.
McCanna's other top runners at the Auburn track included Emerald Derby winner Saratoga Boot (2010) and the two-year-old Positive Prize, whose seven wins in 17 starts included a Gottstein Futurity victory that made him 2004 horse of the meeting.
A Shift in Focus
McCanna's farm had become fully developed, its paddocks home to a few dozen horses, most of them bought at auction from the Keeneland, Washington and California sales. Ranch hands still break about 20 head a year. Active runners traveled to and from the track, heading back when they needed rest.
What does McCanna look for when he's shopping for yearlings? "I try to find a smart one with a good head," he said. "A few of the wilder ones, you just have your hands full trying to teach them something." And he is among the growing number of trainers who become partners with their clients. "I own pieces of a lot of the horses I run," he said, "quarters, half or a little bit. But if I'm a partner, I call all the shots."
Once his children were grown, McCanna began to shift his racing operations southward to California and the Bay Area.
California not only has larger purses, but generous bonuses available to in-state owners and state-bred horses. Now a regular at Golden Gate Fields, McCanna also starts a few at Santa Anita, Del Mar and, during the summer, remnants of the Northern California fair circuit.
McCanna freely admits there's an attraction.
"I love racing in California," he said. "The weather's good. I love turf racing. Now I wish my ranch were here."
But he hasn't abandoned Emerald Downs. He won 14 out of 30 starts there last year and increased his career total there to 957.
McCanna collected his 1,000th career win at Emerald early this century. Victory No. 2,000 came April 8, 2016, at Golden Gate. Hard-knocking claimer Whiskey Prince won it for Bellevue attorney Pat LePley, a former state racing commissioner.
Several weeks later, on June 11, McCanna hoisted Washington native Russell Baze aboard Vow to Be Tops for a victory that completed Baze's career as the world leader in lifetime wins. Top Harbor and Rebalation, the horse's younger siblings, are now among McCanna's best runners.
2021 and Beyond
McCanna's most successful horse since the move to California has been Terry's Tom Cat, a mid-career acquisition that retired last summer. The horse's multiple stakes placings and 12 wins made his various owners $347,892, almost two-thirds of it for Jethorse LLC, which represents Billings, Montana, realtor Steve Reger. The horse, Rager, was claimed at Del Mar for Jethorse on August 29, may be able to take Terry Tom Cat's place after rallying November 20 to win Golden Gate's $50,000 Oakland Stakes.
Top Harbor also finished the year on a high note. The three-year-old son of top-flight Pacific Northwest stallion Harbor the Gold sprinted to a nose victory October 31 in the $75,000 El Dorado Shooter Stakes. Usually competing in added-money events, he already has earned $187,774.
Top Harbor's dam, the 2009 Washington horse of the year Reba Is Tops, has produced five foals, all multiple winners trained by McCanna for breeder-owners Eric Schweiger, Gordon Jarnig and Kenny Marshall. Their lightly-raced five-year-old mare, Rebalation, has revived her promising career after a year off, winning four of six starts with a nose defeat. And she capped her campaign on December 11 by rallying from last of ten to win Golden Gate's $75,000 Bear Fan Stakes.
McCanna's current roster also includes Quadrun Farm's Regal Born, a seven-year-old gelding with earnings of $188,062, and Ray McCanna's Shadrack, who won three 2021 allowance races that pushed his earnings to $160,424.
At the end of his 41st season, McCanna found himself close to racing's upper statistical ranks. He just missed placing among the year's top 50 trainers, saddling 75 winners from 342 starts. His career total, 2,353, puts him near the top 70. Spurred by a October 29-31 hot streak – seven wins and losing two by a nose in 12 starts – he came close to his best 21st century win totals.
He campaigned with exceptional efficiency. While his horses were earning a career-high $1,328,914, only 79 individuals rewarded him with almost one victory and one second per horse. They won 22 percent of their starts and placed in 54 percent. Both are close to his career records. Earnings per start, $3,886, easily were his best.
Although McCanna doesn't claim to know it all, evidence suggests that he has perfected his training and operational methods.
"I just keep learning," he said. "Maybe I'm a little more patient, maybe picking my spots better, not just running to keep running. The biggest thing is entering right. I'm probably training them more days and not as hard. Fitness has a lot to do with when they get hurt. Skip a day of training and they lose a little fitness. Skip two days, and they lose a lot. My goal is getting them home before they get hurt."
He firmly believes that neither racetrack operations nor the farm would run smoothly without a lot of help. "My wife is a rock in that whole deal," he said. "Without her, I'd be lost."
Jan McCanna helps out at the track, keeps up with the payroll and the dizzying cashflow, and when she's at home, takes care of the farm. And when Tim's away from the track, he counts on assistant trainer Mary Ellen Silva, who's been with him for a dozen years.
Some key farm workers have been with them even longer. Alphonso Velador broke more than 400 head in two-plus decades before cancer took its toll. Antonio Martinez, Javier Ochoa and John Gonsalves, who plays a key role when Tim and Jan are not around, also have been around from the start.
"We're more like buddies and teammates," McCanna told a Seattle Times writer in 2007."
Their three children, now adults, two daughters and son, grew up and worked around the barn. Although Tim and Jan call the Yakima Valley home, they maintain an apartment in El Cerrito, not far from Golden Gate Fields.
---
A Pacific Northwest sports journalist for more than half a century, Jim Price spent 14 seasons as track announcer and publicist at Spokane's Playfair Race Course with tenures at Portland Meadows and tracks in Arizona and California. The Spokane resident retired as a Spokesman-Review copy editor and writer in 2003 and received the Mark Kaufman Media Award in 2014. He remains active as a newspaper correspondent and periodic contributor to this magazine.