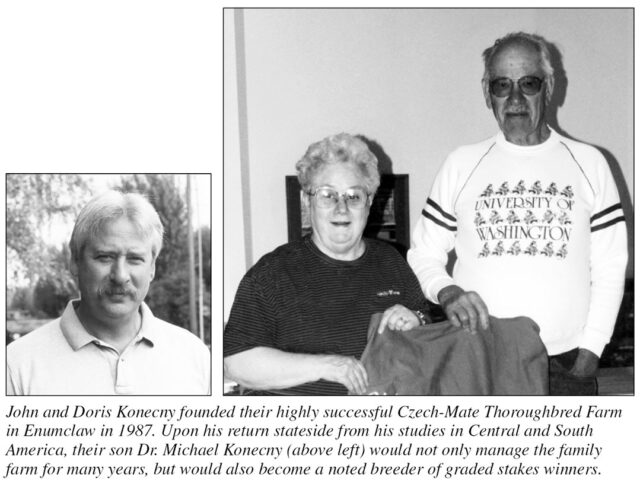 The Konecny family's interest in Thoroughbred racing began in the late 1970s when Doris Konecny got involved with five fun-loving ladies – several of whom were ex-nuns – who enjoyed going to the races at Longacres. Doris soon had her husband John enthralled with the sport as well, and the six women and John formed Chuckle Stable. The stable lasted about four years and during that time they filled their stalls by means of the claiming box and by purchasing two-year-olds at the sales.
Shortly afterwards, the Konecnys acquired their first small (five-acre) farm in Kent, but in 1987 expanded to a 30-acre parcel in Enumclaw, which they named Czech-Mate Farm after John's Czechoslovakian heritage and his love of chess.
The couple – who first met in Iowa at the Veteran's Administration Hospital where John was recovering from injuries after being shot down off the coast of west Italy during World War II – married in 1945 and had two children, Susan and Michael, who both would later share their parents' passion for Thoroughbreds.
Flame McGoon
Flame McGoon was the name bestowed on a famous B-24 D "Liberator" war plane flown during World War II. The legendary airship flew "an undisputed world record 75 consecutive missions without turnback." First Lieutenant and lead navigator John Konecny was among those who served aboard the "champion" aircraft that was christened after the Lil' Abner comic strip character of the same name.
The equine Flame McGoon was foaled in 1986 and won three of her five starts as a two-year-old, including a ten-length win in the Mercer Girls Stakes and a 2 1/2-length tally in the Longacres Lassie Stakes en route to giving the Konecnys, not only their first stakes winner, but their first homebred champion. At three, Flame McGoon would add three stakes thirds at Golden Gate Fields.
Among Flame McGoon's seven winners was Konecny-bred stakes winner and state older filly or mare champion Infernal McGoon, a 1999 mare by Wekiva Springs who would help make it three generations of Washington champions when her daughter Talk to My Lawyer was honored as state champion juvenile distaffer in 2011. Infernal McGoon is also the dam of 2018-19 and 2021 Emerald Downs stakes winner Ima Happy Cat.
Talk to My Lawyer unfortunately died at six, but gave owner/breeder Jody Peetz her 2018-19 stakes winner No Talking Back. Peetz, who races under her One Horse Will Do Corporation (with partner Steve Shimizu), also raced Infernal McGoon and Talk to My Lawyer. In 2019, No Talking Back continued the family tradition as a fourth generation Washington champion (older filly or mare).
Flame McGoon's unplaced half-sister Apalachee Music produced stakes winner Little Eva and stakes-placed Just Diet, who was voted Washington's most improved plater in 1997.
Whimsical Aire and Mahaska
Flame McGoon was not the only multiple generation champion producer for the Konencys. In 1983, John and Doris attended the then-WTBA Summer Yearling Sale where they purchased (in partnership with M. K. Richards) the first foal out of the small, but determined multiple stakes winner and Washington champion Silky Steel, a daughter of 1968 Longacres Mile winner Steel Blade. Sired by multiple graded Southern California stakes winner and Golden State champion Messenger of Song, Whimsical Aire never made it to the races after she suffered a broken sesamoid.
But just two years after the Enumclaw couple had had their first homebred champion with Flame McGoon, along came Whimsical Aire's daughter Mahaska. The filly was named in honor of the Iowa county where son Michael was born. The county had been named after Chief Mahaska of the Iowa tribe in 1843.
The second foal out of Whimsical Aire, Mahaska began her 28-race career with a victory in a $32,000 maiden claiming race at Santa Anita as a two-year-old. The speedy daughter of Just the Time would go on to win one stakes each at Exhibition Park, Los Alamitos, Fairplex Park, Santa Anita and Longacres and place in stakes at Santa Anita (Grade 3), Hollywood Park and Golden Gate Fields. Mahaska was honored as Washington's champion three-year-old of 1990.
As a broodmare, Mahaska would produce ten winners, led by 2012 Washington champion three-year-old filly Quizzical, British Columbia stakes winner West Walker, stakes-placed Indian Paintbrush and winner Seattle Seamstress, the dam of Doris Konecny's 2008 state champion three-year-old Enumclaw Girl.
Whimsical Aire also produced the stakes-winning full sisters Zashrany (1989) and Taj Aire (1991), daughters of the stakes-winning Seattle Slew son Taj Alriyadh.
Zashrany would win a stakes at each of Washington's major three tracks of the day: Longacres, Playfair and Yakima Meadows. She won a third of her 24 races and placed in an additional five, garnering $101,469 in earnings and a 3.62 SSI for the Konecnys. She only produced two foals before her untimely death, but both the gelding Alert and Ready, by Clever Trick, and the Skywalker filly Zatim were stakes winners at California's Bay Area tracks. Alert and Ready would win ten races and over $190,000, with a 3.44 SSI. Zatim also earned a higher than average SSI (3.00) and had four stakes placements in her six starts while never finishing further back than third. Neither, unfortunately, left behind any offspring.
Whimsical Aire would produce 18 foals during her long life and her 12 winners would decorate winner's enclosures a total of 78 times. In addition to her trio of stakes winners, she also produced stakes-placed, 18-race winner Aire of Speed, by Leroy S., and 24-race winner Vaihingen, also by Taj Alriyadh. Whimsical Aire was named Washington broodmare of the year in 1990.
Taj Aire
Though Taj Aire wasn't as successful on the track as Zashrany, with her only stakes win coming in the $20,000 Miss Yakima Stakes at a mile as a four-year-old in 1995 – a race she won by 5 1/2 lengths as "much the best" – she would provide the next gold link in the chain of the Czech-Mate broodmare dynasty.
Taj Aire produced her first foal at age seven, a Kentucky-bred colt by Chimes Band named R. Baggio who would win two stakes at Turf Paradise and place in three other stakes in Arizona and California en route to $314,895 in earnings and a 3.59 SSI.
Handyman Bill followed in 1999 and the son of Skywalker won the Foster City Handicap over the Bay Meadows grass and was named Washington's champion turf horse.
In 2001, Taj Aire foaled her first graded stakes winner, the Elusive Quality filly Elusive Diva, who would win four stakes (led by a trio of Grade 3 races) and place in seven more, including the Grade 1 La Brea Stakes and Grade 2 Hollywood Breeders' Cup Oaks, during her 17-race career in which she earned $484,510 (11.06 SSI), while racing for John and Doris in partnership with their daughter Susan and her husband Allen Branch.
At the end of her racing career Elusive Diva was bred to Distorted Humor and sold at the 2006 Keeneland November Breeding Stock Sale for $1.6-million. She has since changed hands twice more, but not before producing two-time Eclipse Award-winning sprinter and double Breeders' Cup Sprint (G1) winner Roy H, a 2012 gelding by More Than Ready, for breeder Ramona Bass. Elusive Diva now resides at Calumet Farm, for whom she produced 2019 Gulfstream Park maiden special weight winner Vinca. Though barren in 2019 and 2021, Elusive Diva produced a full brother to Roy H in 2020 who has been granted the name Devils Red.
Elusive Diva produced only three daughters, all in production, but only one, Hollywood Queen, by Giant's Causeway, who has foals born before 2019.
A little side note – Robin Mason of Carnation Racing Stables gave Elusive Diva her early training. She said the talented and intelligent filly is the one she compares all others to.
Taj Aire next produced 2007 Hollywood Park stakes-placed fillies No Lullaby, by Brahms, and Diva's Seastar, by Broken Vow, after Elusive Diva.
In 2008, Taj Aire foaled the Speightstown colt Tropics. Tropics had been a $280,000 Keeneland weanling sale for the Konencys before being pinhooked the following year for $700,000. Sent to England, he failed to show much early on and was sold at the 2011 Tattersalls Horses of Racing Age Sale for $4,185. At five, Tropics blossomed and the majority of his $923,196 earnings came under the care of owner-trainer Dean Ivory for whom the runner won the Group 3 Bengough Stakes, Hopeful Stakes (twice) and Leisure Stakes and had three Group placements, including being runner-up in the July Cup Stakes (G1) in both 2014 and 2015.
Taj Aire's twelfth and final foal and ninth winner was the 2011 More Than Ready gelding Big Air. Her foals combined earnings was $2,139,738.
Tali'sluckybusride
Three of the four stakes winners bred by Dr. Michael Konecny were sired by Washington sire Delineator, and two became graded stakes winners and state champions. The first was the talented filly with the colorful name of Tali'sluckybusride.
Michael, who earned a doctorate in philosophy and a PhD in zoology, spent time studying jaguarundis and other small cats in Central America and the Galapagos Islands. He developed his own small, select band of broodmares upon his return stateside. He named his bloodstock endeavors Sisimito, after the Belize version of the male Bigfoot or Pacific Northwest Sasquatch. The first stakes winner he bred, 2000 Auburn Stakes winner Cantil, by Delineator, was named for the venomous Cantil pitviper.
Tali'sluckybusride made a winning juvenile debut for Ronald and Susie Anson, taking a 5 1/2-furlong Del Mar maiden special weight race by 2 1/2 lengths.
In her second start, some seven weeks later, Tali'sluckybusride drew away to win the mile $200,000 Oak Leaf Stakes by
4 1/2 lengths on September 30 at Santa Anita, becoming only the sixth Washington-bred to score in a Grade 1 race.
Her third and final start of the season came in the $200,000 Hollywood Starlet Stakes, a Grade 1 event run at 1 1/16 miles. After stalking the early pace, the Washington-bred filly finished third behind two-time Grade 1-winning juvenile Habibti and future six-time Grade 1 winner and $2-million earner You (whose dam Our Dani was also a Washington-bred).
For her meteoric season, Tali'slucky-busride was named Washington horse of the year and champion two-year-old. She also was the sixth highest ranked filly – at 116 pounds – on that year's national Experimental Free Handicap.
The Ansons had purchased "Tali" for $23,000 out of the 2000 WTBOA Summer Sale. They named her after their Akita, who Susie had rescued after he had been thrown off a Los Angles bus as a puppy. The Ansons also purchased the runner's dam, Springhurst, from Michael prior to Tali'sbusride's first stakes start. The $135,936 earner by Lord At War (Arg) was carrying a full sister to the champion at the time of her private sale. Named Washington broodmare of the year for 2001, Springhurst would go on to produce Natalma Stakes (G3) winner Sprung for later owners.
Tali'sluckybusride came back at three to place third in the $200,000 Las Virgenes Stakes (G1), with You and Habibti switching places. In what would be her final start, the ill-fated filly ran sixth in the $75,000 Cascapedia Stakes on Halloween, but would succumb to pneumonia the following July at age four. Her final record showed 2-0-2 from five starts with $245,160 in earnings and a 16.24 SSI.
Fast, Fast Parade
The well-traveled Fast Parade also had an abbreviated career at the track, but in his 11 starts, he won six races, led by five stakes wins.
The 2003-foaled son of Delineator—Parade of Gold, by Prospectors Gamble, made his debut at Pleasanton in July of his juvenile season in a $25,000 maiden claiming race, drawing clear to take that initial outing by four lengths for owners Nick Barbaccia and MCR Stable. Next sent to Santa Rosa, the Manuel Calvario trainee finished second by two lengths behind Cause to Believe in the 5 1/2-furlong Cavonnier Juvenile Stakes. After another second in a starter allowance test at Bay Meadows, Fast Parade made the most of his one and only start at Emerald Downs, taking the six-panel Captain Condo Stakes by a then record 13 lengths.
It was no surprise when Fast Parade made his sophomore debut with a new owner, James "Mattress Mac" McIngvale, and a new trainer, Peter Miller – the conditioner would later figure strongly in the career of another runner stemming from a Konecny-nurtured female line, $3.1-million earner Roy H (see under "Taj Aire" above).
Fast Parade won the 6 1/2-furlong Baldwin Stakes at Santa Anita by 2 1/4 lengths on March 4. A trip to Keeneland followed with less than stellar results, as Fast Parade finished seventh of ten in the $325,000 Coolmore Lexington Stakes (G2), a 1 1/16-mile race held during the spring meet.
Fast Parade next appeared under the colors of brothers Gary and Cecil Barber, but still trained by Miller, in the August Green Flash Stakes at Del Mar, a five-furlong turf race against older horses, which he won by four lengths and set a new course record. His prowess in turf races came as no surprise, as his sire, the Storm Cat stallion Delineator, had won the mile Generous Stakes (G3) over Hollywood Park's turf course for Ron Crockett. At the time Miller considered Fast Parade "the fastest horse I've ever been around."
Next on Fast Parade's ambitious schedule was a trip to Woodbine for the October 22 Nearctic Stakes (G2). Valued at $500,000 Canadian, the six-panel turf sprint drew a field of 12 three-and-up runners. After stalking the lead, Patrick Valenzuela had Fast Parade make his bid at the top of the stretch and he held on to defeat future Grade 1 winner In Summation by three-quarters of a length.
Invited to run in the Cathay Pacific Hong Kong Sprint (G1) in December, Fast Parade and his entourage made the long journey across the Pacific, but after not travelling or eating well, the runner was scratched before the race.
With a trio of stakes win, a 5-2-0 record from his eight starts and with $387,513 in year-end earnings, Fast Parade was named Washington's best three-year-old and champion turf horse.
Fast Parade returned to the track in January to take the Impressive Luck Handicap at Santa Anita in his first start as a four-year-old, but later faltered in the final two starts of his 11-race career. His final SSI was 13.69.
Final tallies
Michael served on both the WTBOA Board of Directors and WTBOA Sales Committee, where he was sales chairman from 1999-2001.
From 1990 to 2015 the Konecny name was listed 24 times among the top 50 breeders in Washington on the year-end standings and on four occasions both Doris and John and son Michael were listed during the same year. John and Doris's names appeared in the top ten by money earned six times, led by a trio of sixth place finishes with nearly identical monies in 2003 ($254,745) and 1997 ($254,627). Son Michael's name appeared among the top five breeders on two occasions, led by his second place assignment in 2006 when horses he bred earned $423,007. Those placements came with anywhere from two to 16 starters for John and Doris (with less than ten on average) and three to nine runners for Michael (and an average under four). It was a case of quality versus quantity throughout those 26 years.
John Konecny, 89, passed away in February 2008 and Doris, 93, in January 2016. Michael, 73, followed them this past February. His older sister Susan and her husband Allen have bred a few good horses in Kentucky in the name of their Branch Family Trust, including 2018 Grade 3 winner Switzerland, who added a win in the Dubawi Stakes (G3) in January 2021.