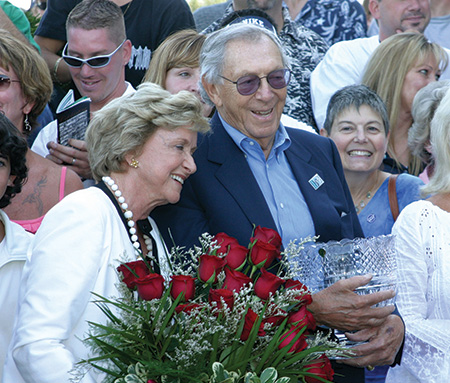 At the half-mile pole, not one person in attendance at Emerald Downs, including his owner/breeder Herman Sarkowsky, would have entertained even the faintest fantasy that No Giveaway would be in the winner's circle subsequent to the conclusion of the 70th edition of the Grade 3 Longacres Mile. The four-year-old son of He's Tops, however, had every intention of defying those that held so little faith in his abilities.
Conditioned by Grant Forster and steered by Juan Gutierrez, the gelding's opportunity to reign victorious in Washington's premier racing event was dismissed long before he ever reached that point on the track. In fact, he was sent off at 60-to-one by the wagering public, but with 50 percent of the contest still to be performed, No Giveaway was about to put on a show that provided the man responsible for his birth with the most magical moment of his lifetime and etched both of their names in the history books.
More than 20 lengths in arrears to the leaders, No Giveaway began to close like an animal possessed. By the top of the stretch he was four lengths behind, then after his jockey lost his whip, he was guided merely by his pilot's hands to catch his stablemate Quiet Cash in the final strides of the contest to win by a scant head.
"I've been in this sport a very long time," said Sarkowsky, who configured the mating that produced the gelding and was one of the prominant individuals responsible for the construction of Emerald Downs, in an interview reported in the Washington Thoroughbred on that day, August 21, 2005. "This is the biggest thrill I have ever experienced in racing. This is more exciting than winning the Breeders' Cup."
Inducted into the Washington Racing Hall of Fame in 2015, a year after his demise at age 89, Sarkowsky, would certainly know a thing or two about capturing an event of that stature, as his homebred filly Phone Chatter did exactly that with a triumph in the 1993 Breeders' Cup Juvenile Fillies (G1) and then brought home the hardware as the nation's elite youngster in her division.
Sarkowsky had previously finished second in the 1989 Breeders' Cup Sprint (G1) with another horse he bred, Mr. Greeley, who became a successful sire. He also had a hand in the birth and career of Grade 1 victor and top sire Dixie Union, (fifth in the 1999 Breeders' Cup Juvenile [G1], winner of the 2000 edition of the Haskell Invitational [G1]) and Dixie Chatter (winner of the 2007 Norfolk Stakes [G1]).
Although the results of his breeding enterprise made quite the splash nationally, Sarkowsky, remained a bastion of Washington racing and claimed no matter how sweet his success was outside the confines of his adopted home state, his heart would always remain loyal to its boundaries.
Seattle Businessman and Sports Leader
Born in 1925, Sarkowsky and his family, who were Jewish, relocated to the United States in 1934 as Nazi Germany began to demonstrate their horrific agenda on any individual who followed that faith. When he graduated from the University of Washington in 1949 he became the first member of his family to obtain a college degree. In high school, he had worked as a sports editor for the school newspaper. But it was in real estate and construction, rather in sports journalism, that Sarkowsky was destined to make his initial mark on the planet.
While the early facts and figures of what Sarkowsky accomplished are unavailable, the results of his endeavors are readily apparent. He was quite astute and extremely generous with the dividends he reaped from his business enterprises, as he was one of the early investors in Starbucks, as well as the Frederick & Nelson department store chain.
Sarkowsky was also responsible for developing the Seattle Municipal Tower (formerly Key Bank Tower and AT&T Gateway Tower) and was heavily involved in philanthropic ventures, including the University of Washington School of Medicine, United Way and the arts.
"I think because he was perceived as being powerful, people were sort of intimidated by him," said his daughter Cathy Sarkowsky to the Seattle Times in an interview for his obituary in November 2014. "But he was a very kind, loving, sweet man. He had a very strong sense of family and community, and he cared deeply about staying in this community and helping it grow."
When Sarkowsky's days on this earth ended, naturally his exit prompted numerous headlines, not only in his beloved Seattle, but around the world. Despite his love affair and investment in horse racing, the business mogul was most revered in mainstream media for his role in the creation of the NBA franchise, the Portland Trail Blazers, in 1970; and its professional football equivalent, the Seattle Seahawks, in 1976.
He also owned a part of the Emerald City's original professional soccer team, the Seattle Sounders, and was a member of the group that retained the Seattle Mariners major league baseball team.
"He spoke the language of a pro sports owner, which we didn't understand," John Nordstrom, whose family had entered into pratnership with Sarkowsky to form the Seahawks, said to the Seattle Times. "We didn't understand how the league worked. We didn't understand how you went out and hired a coach and general manager. We were really leaning on him to take us through that.
"For the rest of us, I wouldn't say it was unsettling, but it was a nervous time. Most of us were comfortable with our own businesses, but we just had no idea what we were jumping into."
Passion for Horse Racing
While Sarkowsky always remained a fan of any and all sports, he eventually extricated himself from his professional sporting partnerships, except horse racing.
After Longacres racetrack was purchased by The Boeing Company in 1992, Sarkowsky was not about to allow his passion to languish or become extinct in Washington. He was involved in a partnership with Northwest Racing Associates LP to construct what is now known as Emerald Downs. That facility conducted its inaugural race meet in 1996 and has been successfully running ever since.
Sarkowsky also served on the board of directors at the now demolished Hollywood Park and was one of the sponsors for the erection of the Washington Thoroughbred Breeders and Owners Association's Morris J. Alhadeff Sales Pavilion.
Despite many of his sporting achievements being associated with professional mainstream sports, Sarkowsky would surely most want to be remembered for his devotion to horse racing, as an owner, breeder and fan. His bond to the sport was as tempered as steel in all facets of the business for nearly half a century and never failed to wane.
"In the last 70 years, he was one of the icons of Seattle," said Ron Crockett, then president of Emerald Downs, to the Seattle Times. "No question about it."
Sarkowsky entered horse racing in 1960, as most people do, with a lower level claiming horse in Forin Sea, when he joined forces with fellow Washington Hall of Famer and trainer Glen Williams, but Sarkowsky did not taste true success until 1971 when his Washington-bred Crafty Patient scored in the 1971 Bay Meadows Futurity and was the runner-up in several other stakes engagements.
The first horse that placed Sarkowsky in the spotlight was Pass the Glass, a five-time graded stakes winner by Buckpasser, who was born in 1971. He partnered with Martin and Pam Wygod, a relationship that would last for decades, to campaign the future California stallion.
The Wygods and Sarkowsky hit pay dirt yet again when their homebred Pirate's Glow competed in the first edition of the Breeders' Cup Juvenile Fillies in 1991. Unfortunately, their filly was impeded during the running of the race, but the Grade 1-placed filly eventually proved much more valuable in the breeding shed than on the track.
Not to be denied, Sarkowsky claimed that very contest with the aforementioned Phone Chatter in 1993 and that filly's dam, the Pass the Glass mare Passing My Way, was a half-sibling to the 1968 Washington horse of the year, Hooplah, who was bred by Sarkowsky's longtime friend and fellow successful Seattle businessman D. E. "Ned" Skinner.
Sarkowsky also campaigned Washington's champion three-year-old colt and sprinter of 1984, Sharper One, co-owned with Skinner's Swiftsure Stable. The first Washington champion that he was responsible for breeding, however, was 1994 two-year-old colt Aponus All.
His other Washington-bred champions are: No Giveaway (2005 Washington horse of the year and handicap horse) and that runner's full sister Youcan'ttakeme (2002 Washington two-year-old filly, 2003 Washington three-year-old filly).
Sarkowsky also bred Washington stakes winners Enumerator and Head Table (in conjunction with Swiftsure Stables). His non-Washington-bred stakes contingent, including those solely or in partnership, number more than 16.
He's Tops, was another notable breeding accolade Sarkowsky collected. A regally-bred son of Triple Crown champion Seattle Slew, He's Tops was retired after he was unable to recover peak form due to an earlier bout of pneumonia, which required surgical treatment, and was sent to Woodstead Farm. During his sojourn there, He's Top has sired 13 stakes winners, with five state champions and three Washington horses of the year.
Inducted into the Hall of Fame as a breeder, Sarkowsky also was responsible breeding 2005 Washington broodmare of the year, Takeaway, who would produce No Giveaway, Youcan'ttakeme and stakes-placed Miss Ballard for the Seattle business icon. The daughter of Fly So Free would later produce $184,721 stakes winner Hail to the Nike and three-time graded stakes-placed Melissa Jo for other owners.
Sarkowsky was also ranked on the list of leading state breeders on seven different occasions from 1994 to 2009.
For nearly 40 years, Sarkowsky retained national Hall of Fame member Richard Mandella to condition his horses outside of Washington and his notable pupils on the North American stage, such as Phone Chatter, Dixie Union and Dixie Chatter, all resided in Mandella's shed row.
"This (horse's) family has raised my family," the trainer told The Blood-Horse with his typical tongue-in-cheek humor shortly before Dixie Chatter's triumph in the Norfolk Stakes. "Phone Trick, Phone Chatter, Dixie Union . . . this one's mother (Mini Chat, by Deputy Minister) couldn't run much, but she produced this horse, so it goes back a long way and it's raised my kids and kept my wife (Randi) in the fashion she's accustomed to, thank God."
A Lesson Learned
Sarkowsky's role in the development of not only the City of Seattle, but of some of the Pacific Northwest's most influential sporting and philanthropic entities, may be unparalleled. He is an absolute legend in that urban center's, as well as the state's, affiliation with and cultivation of horse racing.
"I think that you learn some great lessons in this business," he told the Washington Thoroughbred after winning the Longacres Mile that he so fervently sought. "And one of them is to accept the disappointments as part of the game. I think I've learned that over the years very well. One thing I learned about this sport is that the highs are extremely high. If you can learn to go with the lows, you'll have a ball in this game and get some real satisfaction out of it. I'm really passionate about racing and have been for a long time. I probably spend more of my time . . . being involved in racing than anything else that I do."
Another item that should forever be remembered about Sarkowsky, and most certainly contributed to his fondness for the sport, was relayed to the Seattle PI in 2009.
"I'm a risk taker by nature," he said. "The greater the risk, the better I liked it, really."
Kimberly French is an award-winning journalist and feature writer specializing in horse racing, as well as horse health. She also participates in various televised horse racing broadcasts and has worked for NBC, ESPN and CBS Sports. Currently, she resides in Columbus, Ohio, were she is employed as the Internet News Editor for the United States Trotting Association.