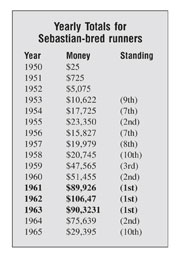 All it took was one man with a vision, and one big trip to Kentucky, to create a legacy of genuine horse class. His name was Christian J. Sebastian and he paved his own way into the realm of the Thoroughbred industry, keeping his dignity and earning the respect of others.
The Future is Born
C. J. Sebastian was born in 1885 in Wheaton, Illinois. The future entrepreneur graduated from the Chicago-based Northwestern University School of Law, which had been founded only nine years before his birth, before heading west to Seattle in 1908 to open a law practice. Nine years later, he switched from practicing the law to marketing fish with the formation of the Sebastian-Stuart Fish Company. The company, which grew to have branches in Anacortes, Washington; Tyee, Alaska; and Astoria, Oregon, specialized in curing and canning salmon and marketing fresh fish. Among their brands was Old Pals Salmon.
"My grandfather was a tough business man. He built a seafood empire from the bottom up. He was a big time guy," said Steve Sebastian, who was very close with his grandfather growing up. "He was tough when it came to business and was very disciplined and smart. But he was also a very warm, charasmatic and loving guy."
Sebastian's original office sat on Pier 24 in Seattle before he later moved to a building in the downtown area. Many of the boats from his fleet are still active in the Northwest. Steve recently found an old photograph of the fishing boat "Robert S," named after Steve's father. Steve had never seen the boat in person, even though he had fished on most of them as a teenager. Earlier this year, Steve finally spotted the "Robert S" at the Fisherman's Terminal; proof that his grandfather's legacy lives on, years after he has passed.The Sebastian-Stuart Fish Company was sold in the early 1960s, a few years before Sebastian passed away, but much of the operation had been liquidated cannery by cannery, fleet by fleet, before that time.
Family Ties
Sebastian's wife Evelyn moved to Seattle from her native England in 1918. The two had a son, Robert B. Sebastian, and a daughter, Margaret.
"He was very devoted to my grandmother," Steve Sebastian said. "He was a very doting husband, always respectful of her. They were always very respectful of each other. "
Sebastian's son Robert passed away in the early 1970s, and daughter Margaret moved across the country and later lost touch with the family. Steve believes his aunt has passed away, and he has not been able to locate his cousins. Sebastian's other grandchildren – Steve's two siblings – Rob Sebastian, who currently lives in Ohio but is moving to Florida, and Judi Johnson, who lives in Everett.
In the early 1930s, Seb, as he was known to many of his friends, had a few saddlebreds that he and his daughter loved to ride. While his fish company may have been his first duty, his first love was always animals. "I love horses and dogs. I'm happy just to watch them and pet them," the elder Sebastian said in 1964.
"Anyone who knew Seb had the utmost respect for him. He was a very special and distinguished man. I never heard him raise his voice, and he always conducted himself with great dignity," said Ralph Vacca, retired general manager for the WTBA and co-owner of Doo Dah Stables. "All the times I saw him he always had on a starch white shirt, a tie, jacket and his hat. He was proper, polite, quiet and generous."
When Sebastian first got started in the Thoroughbred business, he claims he didn't really study bloodlines and bought three cheap Washington-bred weanlings. A year or two of trying to win races with those choices was enough, and he decided it was time to either get some real good ones, or get out of the racing business all together.
"I remember going to the farm with my grandfather … he would always talk to the horses and had a true affection for them. He had a personal relationship with each one of them," Steve Sebastian commented. "Everything he did, he had a passion for. He would read and read and read. He really educated himself about horses."
A Trip to Keeneland
Seb entered the racing scene on a large scale in 1944 when he went to the Keeneland sales and purchased 14 yearlings. He was really the first Washington breeder to go out and acquire high quality horses at the Kentucky sales. It was often said that his foresight and success was a shining example of a breeder who looked ahead to ensure his production would meet the requirements of the future. He had originally bought only 13 at Keeneland, but was encouraged not to go home with an "unlucky 13." The 14th yearling, which he purchased for $1,200, was Galla Damion, who, ironically put the Kirkland breeder on the racing map. As a three-year-old, the son of Sir Damion set a new world record for seven furlongs and was considered one of the early favorites for the 1946 Kentucky Derby and was the oustanding prospect for the $100,000 Santa Anita Derby. He was a three-time stakes winner of $69,790 and later would become a significant sire in Washington.
"Galla Damion was my grandfather's favorite. He turned out to be quite a horse for him. My grandfather even had a set of drinking glasses made with etchings of Galla Damion on them, which I still have," Steve Sebastian said.
In May 1964 Sebastian told the story of his purchase of Galla Damion to this publication, then called The Washington Horse. As he told the story, it was the last night of the sale and he was seated in the audience at Keeneland. His companion, Fred Veysey (manager of the Olympic Riding and Driving Club of which Seb was a member), returned to their hotel tired from a long day at the auction. "I saw the last one and he looked like a big, overgrown horse," Seb said. "He wasn't much on looks. The bidding on him started at $1,000. When I raised two fingers, the auctioneer asked if I meant $2,000. I said, 'No – $1,200.' No one else bid." The next day, Seb took Fred to see his new purchase. Veysey took one look and began shaking his head, "Pretty plain-looking horse. He sure doesn't have quality, but he has quantity!"
Six months later, Veysey called on the phone from Santa Anita and told Sebastian, "You've got a stakes winner." Sebastian knew right away he meant Galla Damion, the overgrown horse he bought on a whim to round up his yearling purchashes. The entire 14 head cost Sebastian $26,200, which Galla Damion practically paid off with his first stakes win at Santa Anita.
"Somebody has to start something, somewhere. Making that trip to Keeneland was a novel, cutting-edge move at that time," Vacca informed.
Galla Damion continued to improve and it wasn't long before offers were being made to purchase the young horse. But Sebastian turned a deaf ear and refused to sell him, no matter how large the offers got.
When Galla Damion was injured in a freak accident in California, everyone, veterinarians included, advised Seb that he would never race again and should be put down. But Sebastian would have no part of that either. Attempts to heal the torn flesh of the young stallion were in vain, as he kept re-opening his own wounds, so Sebastian turned his efforts over to an Army veterinarian at Fort Lewis who used a kangaroo thong and large buttons to close the wound. Galla Damion was laced up and on the road to recovery. The giant stallion never got the opportunity to demonstrate his promised racing potential, and since he was never able to race again at the same level, he began his stud career at Sebastian Farm. It was no secret that some very flattering offers were made to Sebastian to stand Galla Damion in other states, but the Washington horseman stood his ground and continued to embark on a program that would bring fame to the Thoroughbred industry in the Pacific Northwest.
"My memory as a 12-year-old was that my grandmother Evelyn always held a resentment against the other horse that injured Galla Damion at Santa Anita," Steve Sebastian said.
When Sebastian turned to breeding in 1950, Galla Damion became the strength of the farm. Sebastian had offers from mare owners as high as $2,000 a season for the stud's services. Student Prince was another 17-hand stud at the Sebastian Farm, bought at the same sale as Galla Damion, but Sebastian sold him in 1952 to I.V. Chelin, a Seattle broker.
The Other Claims to Fame
"Sebastian's stable was a great one to work for," said John Chatalas, who started working for the Kirkland breeder in 1952 as a hotwalker when he was 15 years old. Chatalas later progressed to a groom before getting a job as a flagman at Longacres. " I was so grateful to be able to work for Sebastian. I was the only kid they ever hired and I learned alot."
Another significant member of the yearlings purchased at Keeneland turned out to be Dusky Chance, Washington's 1962 broodmare of the year and dam of four stakes winners, two of which went on to become state champions. Her leading earner, Dusky Damion, a son of Galla Damion, won or placed in 18 stakes races in Washington and California and earned $171,650. Dusky Damion was horse of the year in 1962 and was the leading money earner in 1963. In 1964 the horse was titled the "king" of Washington-bred money winners when he ran third to Inclusive and Mr. Consistency in the $50,000-added San Luis Rey Handicap at Santa Anita.
"Sebastian was a good loser, and a gracious winner. His stable raced a lot of really, really great horses," Vacca said.
Dusky Chance's second champion, Dr. John H., was bred by Sebastian and named after his cardiologist, but was raced through most of his career by Ned Skinner and Melville "Jack" McKinstry. Dr. John H. is the only horse that ever came close to sweeping Longacres top three events in one year, as he won the Washington Futurity, the Longacres Derby and finished second in the Longacres Mile at age three.
Dr. John H.'s sire, Stage Glitter, another of the 14 yearlings purchased at Keeneland, was a stakes winner. Although his career only covered 24 races over a period of three years, it included a stakes win and a stakes placing against the best of the 1948 western three-year-olds, in which he won $20,465. Chatalas remembers Stage Glitter as an onery horse who had steel bars on his stall that he was able to bend.
Another horse in that group of 14, was Blue Tiger, who drew zero interest at the Keeneland sales, so Sebastian snatched him up for $2,000. Blue Tiger, trained by Rhodes Donnell, won the 1949 Longacres Mile in Sebastian's colors (Galla Damion finished fourth in the $18,200 race). A winner of 20 other races, including the Seattle Handicap and Independence Day Handicap, the gelded son of Tiger earned $64,550 for his owner. Blue Tiger was another big horse, well over 17 hands tall, and often needed to be backed in and out of his stall because of his large size.
In 1949, Sebastian had two more Kentucky juveniles in his barn at Longacres. Don Dean and Don Shamrock, both sired by the Cup horse Challedon. That same season, Rhodes Donnell stated, "Racing is a whole mess of 'maybies.' Maybe one of these babies will run to the moon. Maybe …" 
C. J. Sebastian was asked once if he would have done it any differently, and his response was "No. I've never paid a big price for a horse. I've always looked for their conformation and breeding. There are just as many good yearlings that are bought cheap as there are $40,000 horses which never get to the races. I like a mare with guts too. Not one that had won a lot of races, but one that showed she had heart."
Donnell became Sebastian's farm manager and helped raise and train Cold Bay, Mr. Seb, Dusky Night, Miss Seb, Tarnada, Dusky Spark, Dusky Damion, Galla Alla, and Stage Actress, among others at the farm.
Donnell passed away at age 56 in 1959, only days after he had been hurt transporting a horse from Longacres to the Sebastian farm. The horse he was hauling escaped the trailer and Donnel was injured in the incident. Complaining of chest pains before entering the hospital, he would die several hours later as a result of pneumonia.
"Everything had to be in perfect shape when Sebastian came to the track. It was a big deal when he was there," Chatalas said. "He was a very kindly man. He left a lot of things for Rhodes Donnell to run. I'm sure the two of them saw eye-to-eye. Nothing was ever too good for the horses. They were well-kept and well-cared for."
Sebastian was among the top 10 breeders in Washington beginning in 1953, ascending to third in 1959 and second in 1960. Seb was named 1963 Washington turfman of the year and was the leading Washington breeder by earnings three times in 1961, 1962 and 1963 (also by races in 1963). As of the year 1963, Sebastian's total lifetime earnings as a breeder had reached $499,812. 1963 was also the year that Sebastian-bred Thoroughbreds earned more purse monies than the 346 other Washington breeders when he amassed $90,321. To top it all off, Sebastian's homebred Dusky Damion was at the top of his game.
"I remember how respected he was at the track. There was always a stream of people coming to talk to him and say hi," Steve Sebastian said. " Everybody knew him … he was a real presence."
Through 1966, C. J. Sebastian was the second leading breeder of all time with $623,465, behind only Herb Armstrong's $1,038,422. The following year he dropped to third place with $631,234, behind Armstrong's $1,058,152, and narrowly behind T90 Ranch's $633,304. He served nine years on the Washington Horse Breeders board of trustees and was the association's president in 1957.
"It takes good sportsmanship on the part of all people in breeding and racing to make it the high class sport and industry that we all want it to be," Sebastian noted in an interview in 1963. "Be friendly, respect the other fellow's position and feelings, deal fairly with your help, track management, the officials and the public, negotiate differences, and work for improvement by bargaining. I don't believe in strikes or violence, threats or abuses."
Leaving It All Behind
Sebastian sold his farm and breeding stock to Skinner and McKinstry in 1961 after he had suffered from some bouts of serious illness. Included in the transaction to Swiftsure Stable were 33 Thoroughbreds and his 40-acre ranch and breeding farm located near Kirkland. The amount of money involved in the purchase was never disclosed, but it was believed to be the largest single expenditure made at that time for Thoroughbred holdings in the history of the state of Washington. Today, Evergreen Hospital stands in the location where Sebastian Farm once stood.
Ironically, the first year in which Sebastian finally topped the breeders' list was also the year in which he sold the farm.
Sebastian's love for the Thoroughbred couldn't keep him away, and he again entered the yearling market in 1963, this time in Washington. In 1964, his horse Alation won the Washington Futurity, earning the biggest purse ever garnered by a two-year-old in the Pacific Northwest at that time ($21,620).
Sebastian continued to race on a modest scale up until his death on Saturday, November 25, 1967, at age 82. His wife, Evelyn, had preceded him in death just five months earlier.
Today, making a quick jaunt across country to purchase yearlings is no big deal, but back in those days, the trip was no small feat. When Sebastian decided to travel to Keeneland, his idea was to improve the breed and contribute in a positive way to the Thoroughbred industry. He was a great leader and pioneer of his time, and was a very large part of the growth of the industry in post World War II Washington. It may not be so obvious today, but his actions and decisions certainly have trickled down into today's world of racing.
It's incredible to think about what one person can accomplish with a vision for the future and a will to see something suceeed. C. J. Sebastian left behind the kind of legacy that not every man could have left, and he did the things that not every man would have done.