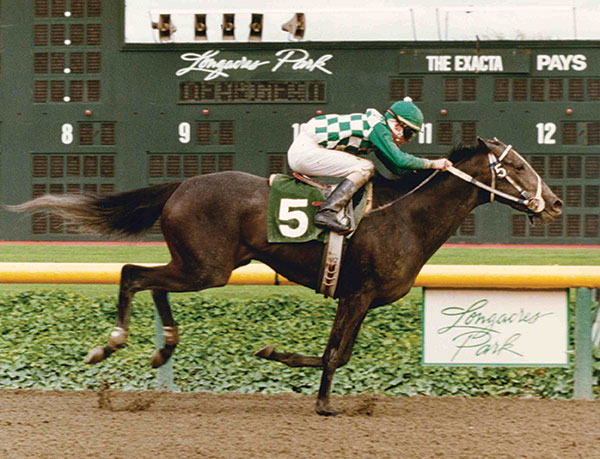 A stakes winner in each of her five seasons of racing, Peterhof's Patea was the epitome of class and endurance.
She was foaled on May 1, 1988, one of four Washington champions and two horses of the year bred by Jack and Theresa Hodge at their Enumclaw-based Oak Crest Farm.
Peterhof's Patea was offered as a yearling in the 1989 WTBOA Summer Sale through Halvorson Bloodstock, as agent, where she was purchased by Roger L. Williams for $11,500, just below the $12,692 average that the 164 yearlings brought at that summer venue. Five years later an oil painting of the champion filly would grace the cover of the 1994 WTBOA August sale catalog. The lovely portrait had been painted by noted Pacific Northwest artist Pam Parker before the small, but striking debutante had made her first start, so highly was she thought of by her connections.
Here Comes Patea
The silver-tinged comet first streaked across the Pacific Northwest racing scene at two, flying the silks of Williams and his future wife Patty Strait. Williams was getting back into racing after a 12-year absence.
Strait (now Nelson), who feels that Peterhof's Patea gave her and Roger "the best years of their lives," fondly remembers her first encounters with both Roger and the filly.
"I had my first date with Roger right after he purchased the filly. He was so excited about her, so that's the first place we went, to the paddock where she was being kept. I thought she was gorgeous. I've always loved horses. Roger always teased that I fell in love with the horse, he just happened to be her owner. Partly true, I loved them both. He did give me a half-interest in her for Christmas that year. Best Christmas present I ever got! Every time she raced it became a family affair, as our kids all loved her too and tried to make every race they could.
"Peterhof's Patea [pronounced Pat-TEE] was an exceptional filly; very intelligent. She was also very gentle and patient and stayed that way until she won her first race – and then she understood immediately that she was something special and we (or I) should pay attention."
Sent to master trainer Bud Klokstad, who was inducted into the Washington Racing Hall of Fame in 2005, Peterhof's Patea made her debut on June 17 at Longacres and finished third in a maiden special weight race. A second place finish in another maiden allowance followed a month later.
Klokstad wasn't hesitant to send Peterhof's Patea (who he would later nickname "Iron Legs") forward in the Green River Valley Stakes for her next outing and she duly broke her maiden by a half-length. Thirteen days later she returned to post an easy three-length win in the Mary Broderick Stakes. "Peterhof's Patea was already developing a nasty closing kick," wrote Vince Bruun in the "Longacres Report" for the Washington Thoroughbred.
"Patea didn't just have a closing kick," said Nelson. "She gave a signature salute with her tail when going to the lead. She'd flick and twirl her tail every time, and of course we got a big kick out of it."
Her rider Gary Boulanger (also a Washington Hall of Fame inductee) was quoted as saying after her second stakes win, "I still don't know how good this filly is, but she's obviously very, very talented."
Peterhof's Patea ran a disappointing fourth in the Mercer Girls Stakes, which was excused when it was found she had been shin-sore.
In the richest race of the meet for her age and gender, Peterhof's Patea went off at six-to-one in the $100,000 Longacres Lassie Stakes, which she rebounded to win by 1 1/2 lengths with a "rousing drive to the wire."
She finished the season with a second to her stablemate Time to Pass in the Gottstein Futurity. The two Klokstad-trained runners were voted best juveniles of the 1990 Longacres meet and later took the state titles as well.
In seven starts, the filly with the powerful closing kick had a 3-2-1 record and had grossed earnings of $172,187.
Sophomore Campaign
Peterhof's Patea made her 1991 debut at Yakima Meadows, where she finished second in the Yakima Debutante Stakes. An allowance win at her Longacres' home-base followed in May. Her fourth stakes tally came in the Ingenue Handicap, where she got up in the final strides to take the victory from Sheltered View. Williams commented after her half-length score, "I know this filly so well, she's such a tiger. If she has a chance, she'll get the job done."
After a strong second to nemesis Cadette Stevens in the Bellingham Handicap, Bruun wrote in his "Longacres Report" recap, Peterhof's Patea "continues to fire bullets in every race she wins."
The champion filly followed with a two-length score in the Belle of Rainier Handicap, but would then finish her season with four consecutive stakes fourths, the final three at Bay Meadows.
The state sophomore filly title had basically been decided in July after the speedy Zama Hummer won the Grade 2 Prioress Stakes in New York.
Twice Crowned
Williams and Strait's talent-laden distaffer made her four-year-old debut in a 5 1/2-furlong allowance at Longacres on April 1 and scored a last-to-first win by 3 1/2 lengths.
After two punchless fourth-place efforts in the Fashion and Rhododendron handicaps, the petite filly found her way back to the winner's circle with a 2 1/2-length rally in the mile Everett Handicap. "All she really needed, it turned out, was simply more ground," wrote Bruun.
Next on her calendar was the 1 1/16-mile Prima Donna Handicap, which she won going away by another 2 1/2 lengths.
The consummate racemare was even more impressive in the Budweiser Handicap on July 26. In what many considered a "brilliant" victory – in which she became the all-time leading money earning distaffer to run at Longacres ($345,087) – the gray filly "swooped" to the lead to take the mile race by three lengths in a good time of 1:35 4/5.
When her rider Tim Doocy was questioned about his mount's desire to win, he stated, "Some horses have it and believe me, she's got it. She's just all class."
Unfortunately, a few days after the race Peterhof's Patea gave all her connections quite a scare, coming down with a severe case of pneumonia. It would be December before her name would once again be seen in the entries.
She finished her season with two solid performances at Bay Meadows. First by running second in the 1 1/16-mile Brown Bess Breeders' Cup Handicap on the grass, and then coming back 14 days later to win the Ladyhawke Ranch Handicap by a nose over fellow Washington champion Bonne Nuite.
The daughter of now Washington-based Peterhof had nine starts that yielded a
3-2-1 record, $100,730 in earnings and her second Washington champion title.
A Year in California
With Longacres now shuttered, the "Patea" team elected to keep their special distaffer on the Northern California circuit. In her most ambitious season, she ran 14 times, all in stakes, and she only missed a start in the month of June. She had begun her year in the same way she had ended the previous one, with a win in a Bay Meadows stakes, taking the 1 1/16-mile Cecilia deMille Harper Invitational Handicap by 1 1/4 lengths on January 1.
Peterhof's Patea next ran second in the Harvey's Handicap, also at 9 1/2-furlongs, to Fantastic Kim, who had finished third behind her in the previous January stakes. Another stakes second followed at the same distance, but this time at Golden Gate Fields where she was runner-up in the Campanile Invitational Handicap.
The gray mare's next three outings all came in Grade 3 races at Golden Gate. With her third place earnings in the first, the Miss America Handicap, she surpassed Belle of Rainier to become Washington's leading distaff performer. She next finished third in the Golden Poppy Handicap. Both of those races were also run at the 1 1/16-mile distance. When they tried to stretch her out to nine furlongs on the turf for the Countess Fager Handicap, Peterhof's Patea could only manage to run fifth, though beaten less than four lengths for it all.
A month later, and back at 1 1/16 miles, the game mare added her twelfth stakes win in the Pacific Heights Handicap, taking the turf race by two lengths. Among the other distaffers in the field of eight were Washington champions Runaway Stevie and Bonne Nuite and Colonel Steven's topnotch daughter Cadette Stevens. In fact, between those four superlative Washington-bred distaff runners, they won 40 stakes and earned $1,921,334!
Cadette Stevens and Peterhof's Patea met three weeks later in the Alameda County Handicap, where the G & N Thoroughbred's homebred runner soundly defeated her stellar rival.
After three consecutive thirds on the Northern California fair circuit – which included another Grade 3 placement in the Hillsborough Handicap – the gallant daughter of Peterhof returned to the winner's circle with a one-length victory in the mile Los Altos Invitational Handicap in November. Peterhof's Patea ended her long season with a second in the 1 1/16-mile Brown Bess Breeders' Cup Handicap, beaten by a half-length while giving the winner four pounds, over Bay Meadows turf course on December 4.
For her exemplary year in which she won a trio of stakes and placed in nine others, Williams and Strait's pride and joy earned the well-deserved 1993 Washington horse of the year and champion older filly or mare titles.
Still Going Strong at Six
Washington's "gray lady" went forward in a dozen races as s six-year-old, with her lone win coming at Solano in July in the mile James Wiggins Breeders' Cup Handicap. She also had three stakes seconds in the Santa Clara Invitational Handicap – to Run Away Stevie; the Alameda County Fillies and Mares Handicap – to another fellow Washington-bred Late Sailing; and the Mandysland Farm Handicap.
After two off-the-board stakes finishes in October and November, Peterhof's Patea was retired.
At the time of her resignation from racing, Peterhof's Patea was the leading Washington-bred distaffer and also top WTBOA-sold performer with $623,367. She still reigns, 26 years later, as the top Washington-bred distaffer of all-time, but two Kentucky-breds, Smiling Tiger and the mare City by City, now perch on top of the WTBOA Sales horse standings.
To the Land of the Rising Sun
The Williams decided to offer their multiple champion at the 1995 Keeneland January Horses of All Ages Sale, where the maiden mare was sold on a $100,000 bid to Zenya Yoshida's Fontainebleau Farm. She was then bred to 1992 Horse of the Year A. P. Indy and exported to Japan.
The Washington champion would only produce four foals: the fillies Take the Dream, by A. P. Indy, and Raptured, by Dr Devious, both who failed to enter the winner's circle; minor winner Country Pater, a colt by Timber Country; and finally Jolly Dance, a 2001 filly by Dance in the Dark, a champion son of Japan's powerhouse stallion Sunday Silence. Her Japanese owners had thought so highly of Peterhof's Patea that they bred her to Sunday Silence in 1996, but unfortunately no live foal was produced.
Peterhof's Patea had saved her best until last, as her gray daughter Jolly Dance was a multiple stakes winner, Grade 2 winner and Grade 1-placed earner of $2.7-million.
Jolly Dance also has a rather light production record, with only four foals listed. Her only filly, Terme de Caracalla, a 2012 daughter of the British stallion Harbinger, won four of her 23 starts, but earned $734,447. Jolly Dance's final foal, Swag (Jpn), a 2014 colt by Empire Maker, was a winner of one race with $15,085 in earnings while racing in the US. His lone victory came in 2018 at Delaware Park.