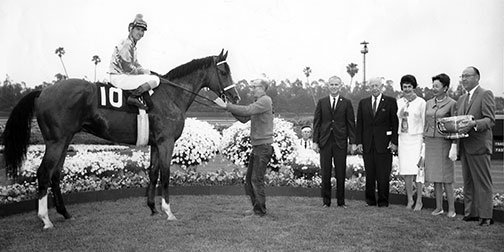 He Conquered the Great Kelso
Foaled in 1959, Mustard Plaster, in 1964, would be the first in a trio of Washington-breds (now all Hall of Fame inductees) to win the $100,000 Californian Stakes at Hollywood Park in the 1960s.
Bred by former Scott Paper Mill executive John Carlson and his wife Mary at their Pilchuck Farm just north of Snohomish, Mustard Plaster was from the first crop (as was stakes winner and future Washington sire Blue Serenade) sired by Mr. Mustard, a winning son of the unraced, but very prominent sire *Alibhai. A half-brother to a trio of stakes winners – including the British Columbia Derby winning filly Liege – Mr. Mustard had placed in both the San Felipe Handicap and San Gabriel Stakes as a three-year-old (behind future Kentucky Derby winner Determine, who was also a son of *Alibhai) for noted Hollywood actor George Brent. The stallion originally stood for a $100 fee.
Carlson exchanged the future racing star to fellow lumberman W. Fraser Morrison for the broodmare Idle Arms, giving the Anacortes resident his choice of a half a dozen of the Carlson yearlings that year.
Though unplaced in his only two starts at two, Mustard Plaster turned out to be one of the better sophomore runners plying his trade at Longacres where he won both the British Columbia and Tacoma handicaps and finished third to older champion Dusky Damion in the Washington Championship.
At four, Mustard Plaster was the leading Washington-bred of the year ($34,785) after his tallies in the Bay Meadows and Governor's (at Longacres) handicaps and seconds in the Longacres Mile (to Full Regalia) and Washington Championship.
By the spring of 1964 Mustard Plaster was gaining the reputation of being a force to reckon with on the California circuit. He began the year with four straight victories, including tallies in the Sacramento Handicap and San Francisco Mile, which led to his being named champion sprinter at the Golden Gate Fields meet. Note: By the time he won the April 11 Sacramento Handicap (over California icon Native Diver), Mustard Plaster had ten starts to his credit with a 5-1-1 record (which would have been six wins if he hadn't been disqualified to last in a grass sprint) while racing at Santa Anita as well.
After another trio of stakes races, including a second place finish behind top runner Sledge in the Premiere Handicap at Hollywood Park. Mustard Plaster went off at 14-to-one odds in the $100,000 Californian Stakes. He was among ten entered in the
1 1/16-mile stakes run on June 6. Among his foes that day was the great Kelso (the seven-to-five favorite who was in the midst of his fifth and final season as national Horse of the Year).
According to the Daily Racing Form chart of Mustard Plaster's most pivotal victory, "Mustard Plaster raced on the outside going down the backstretch, advanced steadily, was bothered midway in the stretch . . . finished strongly under strong handling to win going away."
When Mustard Plaster entered the beautiful infield winner's circle at Hollywood Park after his 1 1/2-length win in the Californian (a site used only for winners of the Californian and Hollywood Gold Cup), he was represented by many of his Washington connections, including owner Morrison, winning jockey Jack Leonard of Renton, winning trainer W. A. "Bill" Peterson of Renton and Peterson's wife, who was the daughter of prominent Washington trainer Cecil Jolly. Bill Peterson had been the groom for fellow Hall of Famer Sir William when the Jolly-trained runner won the 1957 Santa Anita Derby.
Mustard Plaster then ran three consecutive seconds in Hollywood Park stakes that summer. After finishing behind Native Diver in the Inglewood Handicap, he was behind only the speedy *Colorado King in the American Handicap (where the South African import equaled the world record for nine furlongs) and $100,000 Hollywood Gold Cup, at ten furlongs.
With his heady accomplishments in 1964, Mustard Plaster gained titles as richest Washington-bred of all time and with his $166,725 in earnings and 6-5-1 record in 20 starts, was named a well-earned state horse of the year. His victory in the Californian had netted his owners a $70,500 prize. Mustard Plaster was rated at 122 pounds, co-ninth place with Olden Times, on the Free Handicap for runners four and up. Kelso topped the list with a hefty 136.
Unraced in 1965 after being injured that spring working over a muddy Golden Gate surface, Mustard Plaster returned to the race wars at seven. He managed to win four of his 17 outings and place in the Sierra Madre, Coronado and Cortez handicaps.
Morrison, 76, had passed away in the spring 1967 and Mustard Plaster finished his race career in the name of his wife Blanche. While the eight-year-old runner could do no better than three seconds from his eight outings, the durable racehorse finished his career with a record of 17-15-6 from his 75 starts, $256,010 in earnings and a 10.59 SSI.
Mustard Plaster was retired from racing after suffering a fractured sesamoid and entered stud in California at Here Tis Ranch, but was later moved to J. K. Houssels Thoroughbred Farm. After standing in California for five years, Mustard Plaster returned to Washington in the fall of 1974 to Evelyn Dreitzler's Raflyn Farm in Snohomish, where he and fellow Thoroughbred stallion Comic joined her band of Lipizzaners. Mustard Plaster, who was the wealthiest racehorse ever to stand in Washington at the time of his return, would sire four stakes winners (five percent) among his 75 foals (in nine crops), with 47 winners from his 62 starters, which included 11 juvenile winners (15 percent). His first stakes winner was Billy Club, who set a new track record when he won the Aprisa Stakes at Pomona. Among his other stakes winners was the Claudia Canouse-bred and -raced Khalico, who won the 1978 Washington Lassie Stakes at Yakima Meadows.