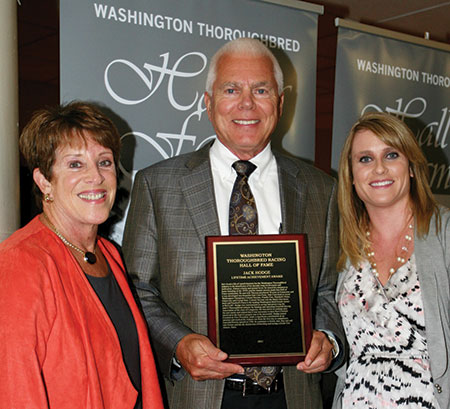 Jack Hodge Jr. (pictured above with wife Theresa and daughter Stephanie Burns) has touched nearly all facets of the horse industry, with his numerous achievements earning him a place among the lifetime achievement award winners in the Washington Racing Hall of Fame in 2012. Perhaps his greatest achievement is being involved in the construction of Emerald Downs, which opened in 1996.
"I think that was the most fun, possibly because my background is in real estate," Hodge said. "It's what I'm most proud of."
Now he gets to watch his own homebreds become standout runners over the racecourse he helped design, and where he works as vice president. With four Washington champions earning nine titles to his credit, Hodge has left an indelible mark on the local sport.
A native of Cleveland, Hodge wouldn't be in Washington but for the hand of fate: he met his wife Theresa in San Francisco, but her family was from Washington. "It just stuck," he said of the move to the Evergreen State.
The real estate mogul was and still is involved with the construction of multi-family homes, such as apartment complexes. "I was looking for a sideline to entertain me," Hodge said. "I had sold some major properties in Denver and thought I would take the profit and do something different."
Hodge knew how to read past performances from time spent at racetracks in Ohio as a kid, so it made sense to try when a stockbroker friend, who was claiming horses at Longacres, suggested he buy in on a new claim. That was back in 1980; since then, Hodge runners have earned over $1.8-million under his Oak Crest Farm banner.
The Horses
"I ended up getting in so deeply that I bought a farm," said Hodge, noting his rapid rise from being the owner of one claiming horse (Mostly Malarkey) to running an entire breeding operation on a 70-acre spread in Enumclaw. In the early 1980s the Hodges acquired the farm from noted Thoroughbred breeder Maurice McGrath, who had bred such stellar state runners as Koko's Pal and Crafty Native under the Takhoma Farm banner.
The stakes winners came quickly though, with the Oak Crest-bred Colonel Stevens winning three races in 1983 en route to being named Washington's champion two-year-old colt. A year later, he ran third in the Longacres Derby (G3).
In 1985, Hodge got his first stakes win as an owner with Golden Screen, who won the Miss Grillo Stakes at Santa Anita. Washington sprint champion Crystal Run was a graded stakes-placed, stakes winner that raced for Hodge in partnership from 1987 through 1992. Homebred Finally Free won seven of 27 starts and was named Washington's champion older mare in 1988, the same year that the Washington-bred won stakes races in California and Illinois.
In 1990, the Hodges were named the Thoroughbred Owners and Breeders Association's Washington breeders of the year, which was the same season a filly they bred won the first of her four state champion accolades.
Peterhof's Patea
Peterhof's Patea, a gray daughter of Peterhof out of the Hodges' homebred Drone mare Tea At Ten, was sold by the Hodges for $11,500 at the WTBOA Summer Yearling Sale in 1989. At two, she reeled off wins in the Green River Valley Stakes, Broderick Memorial and Longacres Lassie Stakes before finishing second in the Joe Gottstein Futurity against males and being named state champion two-year-old filly. She was campaigned by Roger Williams and Patty Strait and trained by Bud Klokstad, and although she won three stakes at Longacres the following year, it wasn't enough to earn a second championship title. Despite nearly dying of pneumonia, Peterhof's Patea rebounded to excel at four and five, winning five of nine starts in 1992 and a title of champion older filly or mare, and three of 14 starts in 1993. Those latter three wins all came in California, and not only earned Peterhof's Patea her second title as champion older mare title, but also Washington horse of the year status.
Peterhof's Patea's 16 wins in 52 career starts and earnings of $623,367 ultimately earned her a place in Washington's Racing Hall of Fame in 2007. She was the best Washington racehorse Oak Crest Farm has bred, but Guinevere is the best Washington-bred the Hodges campaigned themselves. The daughter of Fit to Fight won eight of 24 starts, including the Grade 3 Brown Bess Handicap at Bay Meadows and the Washington Oaks at Emerald Downs. She was a three-time Washington champion, including horse of the year in 1998. Her final foal was Guinevere's Finale, who won the 2016 Boeing Stakes at Emerald Downs in the Hodges' silks.
Although a Kentucky-bred, one of Hodge's most memorable homebreds was Sutra, who won the Grade 1 Frizette Stakes at Belmont Park. Hodge has also campaigned several horses in partnership, such as multiple graded stakes winners Upperline and millionaire Willcox Inn, who finished third in the Breeders' Cup Juvenile Turf (G2). The 75-year-old Hodge never gets tired of the game.
"The whole thing turned out to be a lifestyle change," Hodge said. "I tell my wife that if I'd never taken that turn and gone into the sideline of Thoroughbred racing and breeding, gosh knows where I would have been professionally. We've had fun."
The personal triumphs have been just as great. Hodge's children were raised at the farm, and a daughter is still living there with her husband and twin five-year-old sons.
Emerald Downs
Professionally, his greatest slam-dunk has come with the building of Emerald Downs. "I was fortunate enough to have (leading investor) Ron Crockett ask me to sit by his side as we went through the process of gaining the entitlements, zoning, permitting and fighting for the license," Hodge recalled. "I'm somewhat detail-oriented and I love the detail of construction. I had been to enough racetracks around the country that I understood what we needed, something beautiful like Santa Anita or Belmont Park, but a condensed version of that."
Hodge was elected to Emerald Downs' board of directors in 1992, and has served as the vice president since the track began. "It was a huge team effort," Hodge said, "between the folks that designed it and the people that we hired to do the work, despite all the elements they battled with one of the wettest winters we had. The employees here are some of the finest I've worked with in any endeavor. Our team here is like family to me."
Hodge also served on the board of the WTBOA from 1996-2002, including terms as first and second vice president.
With five foals on the ground in 2019, Hodge isn't planning on changing his lifestyle any time soon. "The thing that will keep me going is that I can't be idle," he said. "We'll raise these foals and see what they can do. I'll stick around."
Washington Top 50 Breeder Record
From 1983 through 2019, Jack and Theresa Hodge or their Oak Crest Farm were listed 32 times among the top 50 breeders of Washington-breds. Their runners earned them a top 20 spot on 15 occasions and their names appeared among the top ten rankings five times with their best finishes (fourth place) coming in 1990 and 1993.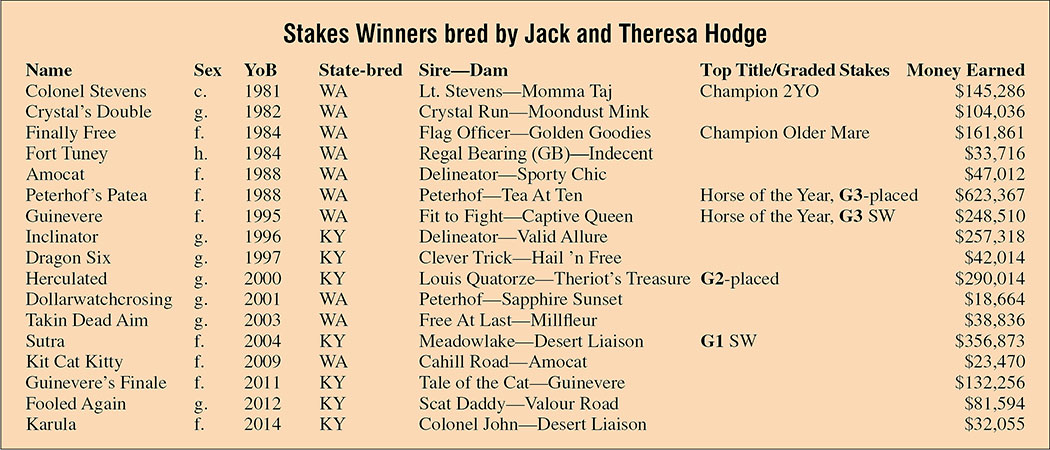 Emily Shields is a freelance writer based in Southern California. She has been covering horse racing since 2006.