Born November 8, 1935, in Seattle to Ralph A. and Rose Vacca, Ralph was the first of two sons for the first generation US-born children of Italian immigrants.
Bud, a nickname Vacca Sr. started calling the young Ralph at an early age, was raised in the Rainier Valley and graduated from Franklin High School. Both his grandparents had vegetable farms, and he loved spending time with the horses that worked those farms. His paternal grandparent's farm was located above the old Seattle Rainiers' baseball playing field and his mom used to watch the horses race at The Meadows when she was a young girl at her father Nick Isernio's farm. The farm, which was located where the Museum of Flight is now, had abutted the racetrack.
When Ralph was 14, he and his younger brother Richard discovered a riding stable in North Seattle, so on Saturdays the two boys would head north, via bus, for the chance to ride horses.
Both his parents were avid horse racing fans and often seen at Longacres. Vacca remembered his dad always "liked a little betting action" and recalls his father's daily trip to First and Yesler in Seattle to pick up the Daily Racing Form during the Longacres season. The three male members of the Vacca household would go home, handicap the races and then listen to the radio recap program of the races which featured Harry Henson and Jerry Morris, aka Morrie Alhadeff.
Ralph first attended Longacres as a small child in the company of his parents and younger brother on Sundays when his parents' cajoled the track attendants to let their underage children be admitted with the story that they were from out of town and had nowhere to leave the children.
Washington Racing Hall of Fame breeder, prominent horseman and teamster Frank Brewster and Terry McNulty would visit the Vacca family store, Pre's Garden Patch, to buy fresh produce. They offered the Vacca brothers the chance to walk horses at Longacres at 50 cents a horse. So, while still in school, Bud would get up at 5 a.m. to go to the track and walk hots alongside his brother and close lifelong friend John Chatalas, before heading to Franklin High. Once school was out for the summer, the budding horseman's favorite place was at the track.
The young Vacca, who had early hopes of being a jockey and cherished a set of riding silks he had been given – which, according to his mother, he wore until the silks fell apart – soon grew too big for that dream.
Once he got his driver's license at age 16, Vacca could stop relying on the bus and instead travel in style to the track in his 1948 Ford convertible (maroon with white wall tires).
Vacca counts his "best moment" as the first time he walked through the back gates of Longacres and trainer G. L. Martin handed him a shank attached to the filly Seattle Belle (who would go on to win a division of the Fashion Handicap in 1955) to walk, telling him to "take her to the left." ". . . walking a real racehorse was the most profound feeling I've ever experienced."
Another memorable experience, while yet a teenager, was when Vacca accompanied Newellhurst Stables' New Miracle, trained by Mel Eisen, up to Vancouver and Lansdowne Park for the 1953 British Columbia Derby. It was an exciting, but trying, trip for the young horseman, as while he slept in the barn, someone stole his wallet, ID and glasses and the horse ran fifth.
Ralph attended Washington State College (now WSU) in Pullman, where he studied animal science and was an early recipient of a WHBA scholarship. He would drop out of college – "owing to spending too much time in the [Hilltop] stables [which stood leading Washington sire Piccolo]."
Call of the Bluegrass
At 20, he married 19-year-old Dalene Underhill. After a short-lived career as an assistant manager of a Market Basket grocery in Eastgate, Vacca, with his new bride's encouragement, sent a dozen or more letters to major farms in Kentucky to apply for a job. He got two replies. One was a definite no and the other, from Stoner Creek Farm manager Charles Kenney, offered him $40 a week in a starter position, saying: "If you're not afraid of long hours and short pay, come down."
So in September, the young couple made the cross-country trip to Kentucky. His second best moment – arriving in Lexington for the very first time and being "in heaven."
A Kentucky native and well-noted all-around horseman, Kenney (co-breeder of the great Standardbred Albatross and one of three advisors who named Seth Hancock to head Claiborne Farm after the death of his father Bull Hancock) had managed Coldstream Stud (home to leading sire *Bull Dog) and later was put in charge of Stoner Creek Stud, one of three farms owned by taxicab and car rental magnate John D. Hertz. Hertz raced 1928 Kentucky Derby winner Reigh Count and his 1943 Triple Crown-winning son Count Fleet (leading sire in 1951, the year his son Count Turf won the Kentucky Derby; and leading broodmare sire in 1963 – led by maternal grandson Kelso during the fourth of his five Horse of the Year campaigns). Count Fleet's nickname was the "Count of Stoner Creek" and though small and physically unimpressive, Count Fleet was the first important horse Vacca got to know and admire. There would be many others.
Kenney became a mentor to many top farm managers, including Gus Koch (Claiborne Farm) and Lars la Cour (Clovelly Farm). La Cour was the foreman at Stoner Creek when Vacca went to work at the farm outside of Paris and the Danish-born horseman and his wife Gunvor became like second parents to the newlyweds from Washington. La Cour in turn tutored such leading horsemen as Allen Kershaw, Dan Rosenberg and Marvin "Junior" Little. Vacca remembers la Cour as "a marvelous horseman, excellent teacher and a kind and caring person."
On a visit to nearby Claiborne Farm just after his arrival in Kentucky, Vacca saw Epsom Derby winner and prominent sire *Blenheim II shortly before the stallion's death at age 31. Among the others in the great battery of Claiborne stallions that impressed him were *Nasrullah and *Princequillo.
Early on in his stay at Stoner Creek, Kenney asked the young Vacca what his career goals were and when Vacca offered that he wanted to became a farm manager, Kenney nicknamed the enthusiastic youth "Manager" and helped give him opportunities to learn the various phases of the horse business.
As Stoner Creek Farm did not have a training operation, through Kenney's efforts Vacca had the opportunity to go to the Hancock family farm's training barn in the fall where he worked with the long yearlings alongside future Claiborne Farm manager John Sosby. Among the yearlings he remembers in his care was Round Table's full sister Monarchy, who developed into a stakes winner and later produced good sires Envoy and Blade.
During his time working at Claiborne Farm, Vacca fondly remembers riding with Col. Floyd Sager, Claiborne's resident veterinarian – and one of the most respected equine veterinarians of his era – when the farm yearlings were vanned to Hialeah to the care of Claiborne's head trainer Moody Jolley. Vacca was also aboard the cross-country train which took nine Hertz-owned yearlings to future Hall of Fame trainer Buster Millerick in California in 1956. Among the bunch was Fleet Nasrullah – "a typical son of the fiery *Nasrullah" – who was originally supposed to be sold at the Keeneland Summer Yearling Sale, but had to be withdrawn after knocking his two front teeth out. Six-time stakes winner Fleet Nasrullah would later develop into a prominent stallion.
During his first winter at Stoner Creek, Kenney had Vacca compile complete statistics on Count Fleet, something that had to be done tediously by hand, but which taught the young horseman how to find his way around a horse library and to access available resources.
Back in Washington
In 1959 Vacca returned to Washington where, on April 20, he joined the WHBA staff as field secretary. WHBA president Don Porter said at the time, "We feel very fortunate that we were able to get a young man of Ralph's ability, especially since he was trained under one of America's top Thoroughbred farm managers." Vacca's other duties included being the advertising representative for The Washington Horse magazine and working with association's 4‑H program. April 1959 was an eventful time for the association as the WHBA's club headquarters in Seattle were destroyed in a fire on April 9 and Vacca spent his early days with the organization helping with the massive clean-up.
When Vacca joined the WHBA team, the small association offices were located above the Horseshoe Club – which legally featured slot machines, offered first-class dining and helped the membership roster to grow to 5,000-plus. After the fire, the WHBA board of trustees decided to move the association out of Seattle and closer to Longacres. One additional reason, besides being closer to the racing action, was that at about the same time slots were banned at private clubs. Hence, the new offices were built in Renton on Empire Way South, which has since been renamed Martin Luther King Way, where they can still be seen to this day.
Vacca's first byline appeared in the June 1959 issue of The Washington Horse with the article "Injury Saves Foal's Life," in what would be his regular "Around the Farms" column.
But as the months rolled on and while he loved being home in Washington, Vacca found all the travelling required as field secretary was not what he wanted to do with his life.
Kentucky Bound Again
Vacca returned to Kentucky in October 1961 to take a position in the advertising department of the Thoroughbred Record, which was then owned by Haden Kirkpatrick, with William Robertson as editor. Robertson wrote The History of Thoroughbred Racing in America – which Dalene was hired to type up. Vacca next worked in the Lexington office of the Daily Racing Form where he did weekly columns about what was happening around the Kentucky farms. Among his advertising accounts while at the Record and/or DRF were John Galbreath's Darby Dan Farm – where, with Olin Gentry, he discussed ad copy which led to talk about E. R. Bradley, *La Troienne and much more; Stanley "Hi" Petter's Hurricane Stud (Petter would become a lifelong friend); and A. B. "Bull" Hancock's Claiborne Farm, where Hancock offered Vacca the opportunity to be in charge of all the farm's published stallion advertising.
Vacca remembers attending a Kentucky seminar where John Finney spoke on "how to choose a yearling out of a sale." Some of Finney's advice has stayed with Vacca for over 50 years: '"Put yourself in a place where luck can run over you,' in other words," said Vacca, "make the most of it if you happen to be in the right place and at the right time and luck comes your way – seize it."
In 1964, while working at the DRF, Vacca got to tag along with senior staff writer Barney Nagler, who was assigned to follow Northern Dancer in the Kentucky Derby. When that runner won the 90th Derby, the Washingtonian was with the esteemed racing journalist when he interviewed trainer Horatio Luro, rider Bill Hartack and the other Windfields Farm connections. Vacca also traveled to Pimlico and saw the small son of Nearctic, and future sire great, take the Preakness Stakes.
The Second Return of the Wanderer
Vacca was welcomed back to the WHBA on September 1, 1964, as advertising manager for The Washington Horse and his first article on his return was "Values of Inbreeding" in his "Pedigree Notes" column.
On January 1, 1966, Vacca became the editor of The Washington Horse, with former editor Clio Hogan (who was also the man in charge of the Daily Racing Form's Seattle bureau), who had decided to cut back on some of his activities, as the associate editor. In announcing Vacca's promotion, executive secretary Ed Heinemann wrote "Ralph has, in my opinion, become one of the top men in his field in America, and much of the success of our publication is due to his sincerity, devotion to duty and ability."
Always someone who loved the horse first and its history second, Vacca wrote many articles about famous racehorses, including Man o' War (on the 50th anniversary of his birth) and his former equine pal, Triple Crown winner Count Fleet, who he considered "a Thoroughbred in every respect – in the truest sense."
In 1972 there were attempts from out of state to establish Greyhound racing in Washington, but the leaders at the WHBA were determined not to let the dogs run here. The infamous and successful "Don't let Spot die" ad campaign, which was funded by the WHBA, helped lead to a definitive defeat of Initiative 258 on the November state-wide ballot.
In May 1973, with Heinemann's resignation after 28 years at the WHBA, Vacca was appointed "interim" WHBA general manager by WHBA president Dr. Bob Penney. By the following November he was awarded the position outright.
With the growth of the organization's horse sales – summer yearling sale at Longacres and fall mixed at the Spokane Interstate Fairgrounds – a move was on to have the association be located on racetrack grounds, but which racetrack? Some wanted to have a facility closer to Longacres and others wanted to take up George Manos' offer to build a facility at Playfair. The decision came down to a single vote, which WHBA president and Spokane horseman Dr. Dale Johnson cast for the Renton location. According to Vacca, Johnson had been strongly lobbied to vote for a Spokane move, but finally felt that staying on the west side of the Cascades was more important for the growth of the industry. Vacca remembers Johnson as a man of "character and integrity," one who, like many of his day "took the high road and put the overall good of the industry before perhaps their own interests."
So in the early 1970s, Jay Mills and Penney approached Washington Jockey Club (Longacres) president Morrie Alhadeff, on behalf of the WHBA, about leasing land to build offices and a sales pavilion on the southeast corner of the Longacres. Alhadeff said if they would raise $50,000 for cancer research (which they did in one night!), he would give the WHBA a very reasonable lease on the property.
In December 1974 the WHBA ushered in a new era when they held their first auction in the new sales pavilion. Jim Plemmons and Vacca had journeyed to Kentucky to look at the plans for Keeneland's auction facility, and the new WHBA building, built by Plemmons, was modeled after the industry leader's world-class sales arena.
A few years later, The Washington Jockey Club gave the consent for the WHBA to construct a 200-stall permanent sales and training barns facility adjacent to the pavilion, which was built by Fred Foy Construction.
In January 1976, Vacca wrote in an editorial in the magazine: "The Thoroughbred industry in our state has achieved a position of prominence as we know it today because the pioneers (of the state Thoroughbred industry) were totally dedicated and committed to a cause in which they believed. More important, they maintained a unified position on issues which were in the best interest of the business, even though they may have had individual differences on many of the pressing issues."
Also from 1976, Vacca was quoted in Carrol McBride's review of Washington's breeding industry: "We are many miles from any other Thoroughbred center, so we must depend on ourselves if the state is to have a strong industry." (Washington at that point of time ranked eighth in North America in foal registrations.)
Longacres track president Morrie Alhadeff was quoted in the same article. "The key for us, for all tracks in Washington, has been our breeding industry. The key to the breeding industry has been the Washington Horse Breeders Association."
Among the many innovations Vacca fostered was the institution of phone bidding at the 1977 WHBA winter sale. He was also active in a 1981 challenge, when attempts were made to establish Standardbred racing in Auburn at the proposed Auburn Downs. The long battle would continue until September 1986 when the Washington Horse Racing Commission denied racing dates to the trotters and pacers after the group failed to meet needed criteria. In the late 1980s, Vacca was also instrumental in the development of Washington's satellite legislation.
Among the most successful stallions he helped bring to Washington were: Native Born (sire of Washington's only Eclipse Award-winning horse – Chinook Pass), through his connections at Sagamore Farm; Balance of Power, through connections at Claiborne; and Captain Courageous, through his connections with Dr. Albert Polk. Each stallion became a major influence in the state and sired many Washington champions.
Changing Times
Fifty-nine years ago, when Vacca went to work for Stoner Creek Farm, a total of 9,610 Thoroughbred foals were registered nationwide by The Jockey Club. After steady increases, the 1980s were the boom years for the Thoroughbred industry, not only in Kentucky, but Washington as well. From 1979 to 1980 Washington experienced a 15 percent growth in the number of foals being born in the Evergreen State. In 1983 Washington ranked seventh in North America in foal production with 2,147 foals and sixth in stakes winners with 19. In those heady days from 1978 to 1987, 18,794 foals were born in Washington (4.4 percent of the North American crop). 1985 was the high-water mark in Washington breeding with 2,251 foals, or 4.5 percent, of North America's 50,430 Thoroughbred foal total. The following year a record 51,296 foals were registered with The Jockey Club.*
But that bubble was soon to burst . . .
On September 27, 1990, Joe Gottstein's grandsons, Michael and Ken Alhadeff, announced to a stunned racing community that the property Longacres stood on had been sold to The Boeing Company, and on September 21, 1992, after a two-year stay, the final horse set foot on the historic track.
The closure of the popular Renton track caused much heated dissention among industry members, as horsemen scrabbled to find a way to save their livelihood and determine which entity would be the most-qualified to build a new track. Vacca played a huge part in trying to keep racing moving forward.
On June 20, 1996, the industry-lauded Emerald Downs opened its doors in Auburn and racing was once more established in Western Washington, due to years of hard work and diligence on the part of Ron Crockett and the other determined members of Northwest Racing Associates. The new and pristine track was located about 10 miles closer to Mt. Rainier than Longacres had been, so the great mountain has become even a bigger part of the visual beauty of Washington racing.
New Home for the WTBA
After the final meet at Longacres Park was run, the WTBA found itself in need of a new home. Many places were scouted, but just like when the association was looking for a site after the Seattle fire, "there were many different views and ideas put forth," said Vacca. Among the options pursued was finding land and building a separate office and sales facility close to Emerald Downs.
Ron Crockett believed the WTBA offices and sales arena should be located at Emerald Downs and worked with the WTBA to achieve the same kind of arrangement that had been fostered with Gottstein at Longacres. Crockett was extremely helpful in the process, but "we still had to come up with the money to build," remembered Vacca.
Jerry Woods was WTBA president at the time and the board consensus finally came down to raising funds under the cap of the 501(c)(3) status of the Washington Thoroughbred Foundation, which would then allow donations to be tax-deductible. Many horsemen stepped up to the plate to make the new WTBA offices/pavilion a reality.
According to Vacca, "It took many, long meetings, where sometimes tempers flared, and there were many, many differences of opinions on virtually everything," just as had been the case with the association's previous two moves. "But we got thorough them pretty much unscathed and I have always felt the hard work and sweat were worth the effort!"
In January 1998, after holding its first sale in the spanking new Morris J. Alhadeff Sales Pavilion in December, the WTBA moved into its new offices and connected sales arena on the north corner of Emerald Downs.
Unfortunately, more bad news for the industry followed as Yakima Meadows closed its door permanently in 1998 after 37 years of operation.
In Service to the Industry
In May 2002, Washington Governor Gary Locke appointed Vacca to serve on the Washington Horse Racing Commission upon the resignation of Barbara Shinpoch, who had served as WHRC chairman through the Longacres to Emerald Downs transition years. During Vacca's tenure, many tough decisions about the industry had to be made, including evaluating the integrity and viability of some who applied to run the dying Playfair Race Course. Washington's oldest track had sputtered to its final call to post on December 20, 2000, after 100 years of existence, but there were those in 2002 who were trying to open its doors again.
Vacca always strove to be an industry peacemaker. He became a successful arbitrator and tactful "politician." The passing of legislation that was important to fostering and growing the horse industry was always high on Vacca's agenda. With his leadership, connections and perseverance many important pieces of legislation were passed in Olympia, and among them: SSB 984 (1989), which allowed satellite wagering in Washington; SB 5305 (1989) Equine Activities Immunity Act; HB 2060 (1989) Industrial Insurance; HB 1120 (1989); and ESSB 6481 (2004) Advance Deposit Wagering. Equally important through the years was stopping legislation which would have a negative impact on the industry.
Through all the drastic change and down-sizing of the industry Vacca has always retained an "evergreen" enthusiasm for the sport, but more importantly the people and horses that are at its center.
"I have always maintained that the racehorse business is more of a people business than a horse business. One of its greatest assets and most significant points is that so many people, from so many different walks of life, come together owing to their love and respect for the equine animal. Few other industries and/or businesses are so diverse," stated Vacca.
"The multi-millionaire owner and the groom just scraping by to make a living can sit together and enjoy a hot cup of coffee in the track kitchen in the early morning light as they talk 'horse' – the common denominator that leads to true equality."
Retirement Days
On Vacca's retirement from WTBOA on December 31, 2007, after 47 years with the association, Keeneland President and CEO Nick Nicolson penned the following words to be read at Vacca's November retirement party: "The state of Washington maintains a respected position within the Thoroughbred community and much of it is attributable to your [Vacca's] hard work during the last four decades."
Keeneland's senior auctioneer Ryan Mahan wrote, after reading about Vacca's retirement in The Blood-Horse: "As I celebrate my 30th year at Keeneland, I am constantly reminded of the rewards of this business. The great horses we are involved with, the great races we remember, but it's really about the people, isn't it? People that offer their experience, energy and advice."
Longtime friend, mentor and fellow Hall of Famer, the late Pete Pedersen wrote: "There were a few visionaries before him, but Ralph picked up the reins early on and held a steady and progressive course.
"It is a person with the character, the foresight, the dedication and the knowledge that Ralph Vacca has demonstrated all these years that has made the Thoroughbred industry in Washington State a model which is respected at the highest level," Pedersen added. "Ralph's goal in life was to be a Thoroughbred racehorse man. Was he ever. To all our benefit."
The Blood-Horse published an article entitled "Ever Green" in their December 8, 2007, issue, written by Claire Novak, from which she summed up Vacca's career: "Through the years, Vacca helped shape the Washington racing scene into what it is today by serving as a member of the Washington Horse Racing Commission, editing Washington Thoroughbred magazine, facilitating arrangements for sales pavilions at Emerald Downs [and Longacres], directing WTBA sales operations of the association, working as the association's liaison to the WHBPA and Emerald Downs [and before that Longacres, Yakima Meadows and Playfair Racecourse] management, and serving as a member of Washington State University's Equine Advisory Board, among numerous other tasks."
Ken Alhadeff stated in that same article: "Ralph Vacca has become the voice and face of the breeding and sales industry in Washington State. He has been consistent, reliable, articulate, and credible – a true champion of the sport."
Among the other tributes Vacca received was from longtime industry leader Dr. A. L. "Bud" Hallowell, who said, "Problems were taken care of in typical Ralph style. He could take on a tough job and make it look easy."
Friend Hallowell also commented on Vacca's strong people skills. "Ralph was constantly in the position of arbitrating and trying to get everyone together, to get a harmonious agreement between all of these factors, and he could walk that line and keep both sides happy – and that was the key to his success, his strong suit, if you will. He's always been able to find the middle ground and get the best out of each party."
His former boss, Ed Heinemann was also interviewed for the article and stated: "Over the years I observed the growth of the Thoroughbred industry in the state of Washington, and was quite proud of how Ralph developed."
Vacca reflected at the time: "I've been so blessed to have this marvelous career doing something I thoroughly love – working with horses and horse people. Statesman and horseman Sir Winston Churchill's wonderful quote, 'The outside of the horse is good for the inside of a man,' is simple, straight forward and true. It has always been that way for me as long as I can remember, as a boy, a teenager, through young adulthood and to this day. . ."
Even after his retirement he continues to be involved with Thoroughbreds, first as a first-time horse owner racing the filly Dah Gift, a 2006 filly (Polish Gift—Poker Knight). In 2008 he chronicled his journey as a neophyte horse owner in the Washington Thoroughbred with a charming three-part article titled "Diary of a New Horse Owner" – which earned him a second place award in the Feature Article category of the American Horse Publication's annual competition.
He has continued to serve on industry committees, such as the Washington Thoroughbred Foundation. In 2011 and 2012 he helped longtime friend Dr. Mark Dedomenico put on two successful two-year-old sales at Dedomenico's first-class Pegasus Thoroughbreds Training and Rehabilitation Center. And in addition to being a presence both on the backstretch in the morning and frontside in the afternoons, he continues as an ambassador for the sport he loves so dearly. His most recent occupation involved administering the MOJO Fund, an industry-related charitable fund created by Ken Alhadeff, named in honor of his parents Morrie and Joan Alhadeff and Ken's grandfather Joe Gottstein.
"Horses are in my blood. I'll always be involved in some way," concluded horseman Vacca.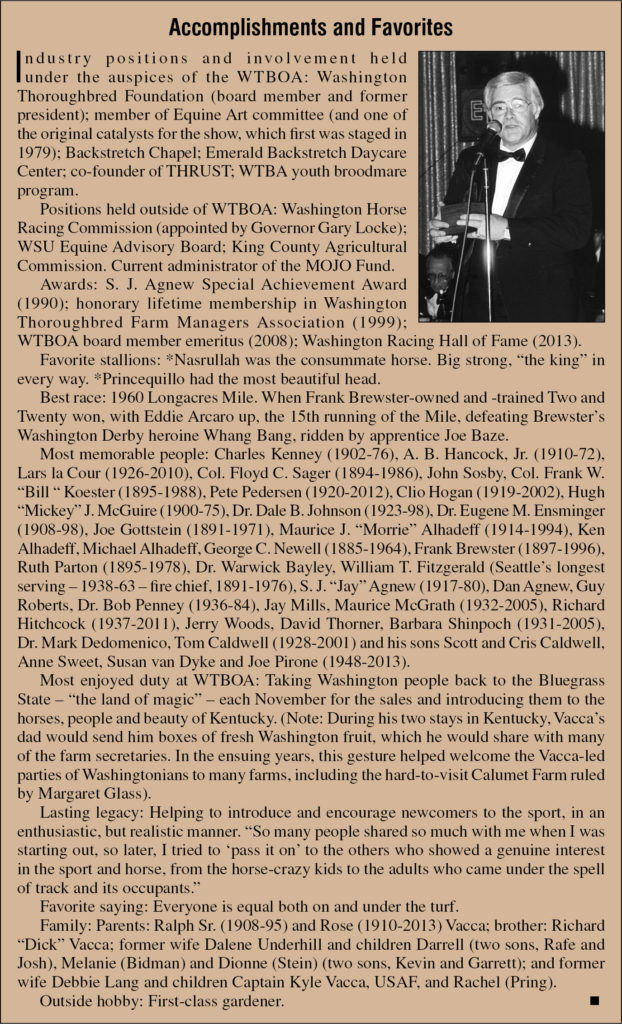 *For 2012, the most current year The Jockey Club has mostly complete figures, there were 304 foals born in Washington, or 1.3 percent of the North American estimated foal crop of 23,150 foals, ranking Washington 14th.