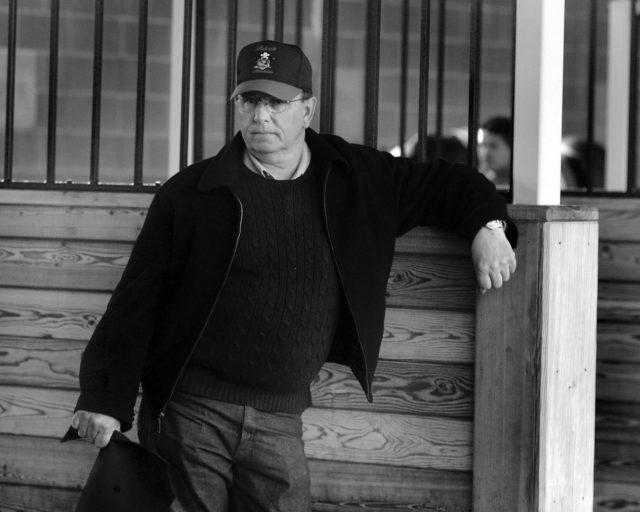 Trainer Howard Belvoir is that rare breed of trainer, a true horseman with decades of hands-on success to back up his legend. With nearly 2,100 wins and over $19.7-million in purses earned, Belvoir was inducted into the Washington Racing Hall of Fame in 2013. His work is on display through the racehorses that have run under his care. Belvoir's 2,000th win came at Emerald Downs on August 14, 2015, with John Parker's Vistarella.
Born in Iola, Kansas on May 13, 1944, Belvoir's family moved to Payette, Idaho, when he was young.
Long before the likes of Red Eye Express, Wasserman and Elliott Bay graced the racetrack, Belvoir was a 13-year-old working with horses over the summer.
"My folks are good folks, but I left home to start work for the Taylor brothers, Troy, Roy and J. D. I jumped on a truck at 13 and went with them to Portland. I never knew who the driver was. And my parents, they let me do it. These days they would have been outlawed!"
Without cell phones, Belvoir simply did his job, then in the fall caught a train back to school in Idaho. As soon as he turned 19 in 1963, Belvoir took out his trainer's license at Exhibition Park (now Hastings Racecourse) in British Columbia and soon afterwards began conditioning horses at Longacres.
"He always talks about being a trainer for over 50 years," said longtime partner Vicki Potter. "He got his real start at Longacres, then went through time at Yakima Meadows. When racing here closed (at Longacres in 1992) we shipped to California. He spends the winters in Portland, too."
Owner Harley Hoppe started to fill Belvoir's barn, launching his career. It was Hoppe's wife Teresa who delivered Belvoir's first big break with Red Eye Express.
Belvoir said, "There's been so many good horses, but the one I always remember is Red Eye Express. He was the first good horse I had."
Red Eye Express, a 1969 Oregon-bred son of Philately, won a staggering 22 of 68 starts, including eight stakes in Washington. The $1,800 purchase went on to earn $160,356 and put Belvoir on the map as a trainer in Washington.
More standouts came in succession. Multiple stakes winner Table Fifteen was a Washington star in 1989 and 1990, the year he won the Independence Day Handicap. Belvoir's first state champion came with the speedy sprinter Serenity Road in 1992 and was followed by champion sophomore filly Commercial Choice the next year.
Emerald Express Stakes winner Sundance Circle was a $52,000 WTBOA sale purchase in 2002. He only started six times, winning three, but Belvoir called him, "one of the best I had. He had problems staying sound when he was young so he didn't get to race much, but he was a real runner." The son of Katowice was voted Washington's best two-year-old colt in 2003.
Belvoir owned Seattles Best Joe in partnership with Hoppe and Dan Corby. That Washington-bred earned over $150,000 on a $4,500 investment, even winning a stakes race at Santa Anita. He followed Sundance Circle as Washington's top juvenile male of 2004.
Wasserman
And then came Wasserman. The mighty Washington-bred son of Cahill Road was owned, bred and trained by Belvoir, who still has him in the barn as a stable pony. The hard-knocking gelding won his first two starts in 2005, but did not start winning stakes races until 2007.
Although a popular runner, Wasserman was ten-to-one going to the post in the 2008 Longacres Mile (G3).
Longtime Emerald Downs track announcer Robert Geller recalled, "Wasserman was the blue collar champion of Washington racing. From the beginning, his raw talent was matched by a giant heart. I believed in him strongly from the start, but endured some frustration in his early campaigns when it seemed he was a professional place-getter. But in similar vein to his die-hard trainer Howard Belvoir and his best buddy, jockey Jennifer Whitaker, the trio teamed up with dedication and racing savvy to produce a season like no other in 2008, when he swept all before him, including the state's flagship race, the Longacres Mile."
Geller called the action as it unfolded, with Wasserman unleashing a relentless drive down the stretch to collar True Metropolitan by a neck. "Nothing shall resonate as strongly with me as an announcer as the reception Wasserman received upon his return to the winner's circle. He had made a habit all season of snatching victory from the claws of defeat and his stakes assault, once fully complete, had been achieved with similar grit and determination. His is a story of perseverance, of endurance and of true racing folklore. I was truly blessed to call him every step of the way."
Wasserman's exploits as the 2008 Washington horse of the year earned Belvoir the title of National Small Breeder of the Year from the Thoroughbred Owners and Breeders Association (TOBA). Just one year later, he won the Longacres Mile yet again with Wasserman's stablemate Assessment, a graded stakes winner who raced for eight seasons. Belvoir became the first trainer at Emerald Downs to win the Longacres Mile in consecutive years.
In 2010, Belvoir was honored with the Martin Durkan Award, which exemplifies excellence as both a trainer and competitor.
More Recently
Belvoir is still actively training in Washington, and has several strong runners in his shed row, including state champion two-year-olds So Lucky (2016) and Elliott Bay (2017) and Emerald Downs champion male Barkley, now five.
"Barkley's a good horse," Belvoir said. "I've been fortunate and lucky to have a lot of good horses, but you're only as good as your help. That's the truth."
[See Longacres Mile story in the Fall 2018 issue of Washington Thoroughbred for an update on Belvoir's "good horse."]
Some of the help Belvoir used (see 2018 Longacres Mile story in this issue) to receive was from son Vann, a successful jockey (he led the rider ranks during Emerald Downs' inaugural season in 1996) turned successful trainer, who is now on his own in Southern California. The younger Belvoir has won over 550 races since taking out his license in 1996.
Another son, Heath, is a chart caller for Equibase, while son Clay works for The Boeing Company.
With his son Vann in California, the elder Belvoir is more than happy racing in Washington. "We have one of the greatest facilities there is," he said, "with the barn area being really convenient with nice barns."
Potter joked, "Ninety-five percent of his focus is on the welfare of his horses, with the other five percent being focused on his two dogs. But racing and animals are his passions. His number one focus is the sport."
"Racing is in my blood," Belvoir admitted. "Once you get it in you, you can't ever get out of it."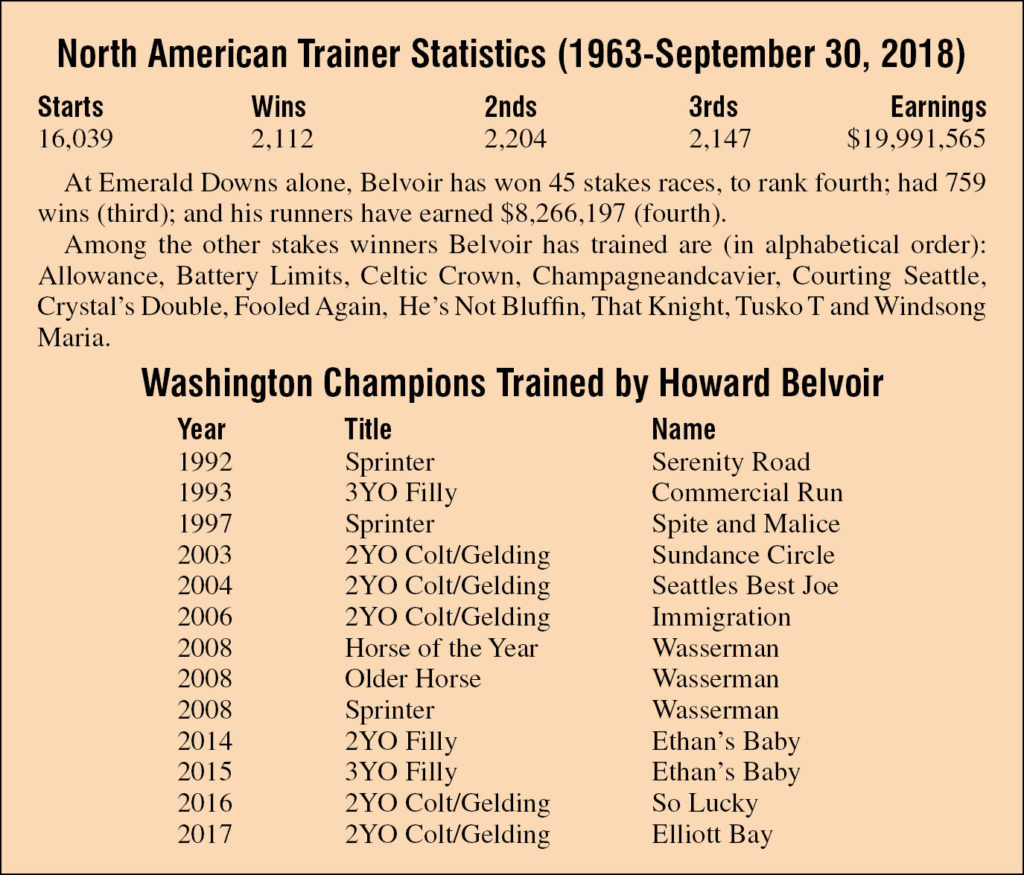 Emily Shields is a freelance writer based in Southern California. She has been covering racing since 2006.