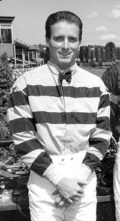 Born in Dayton Valley, Alberta, on November 19, 1967, Gary Boulanger was one of a trio of jockeys with the given name of "Gary" – along with Gary Baze and Gary Stevens – riding at the top of the standings during the final dozen years at Longacres and the third of the highly successful triumvirate to be inducted to the Washington Racing Hall of Fame.
Boulanger's involvement with horses began after his uncle introduced him to cutting horses. But it was during his senior year in high school that racehorses entered the picture, and he recorded his first win as a rider in 1987 at Tampa Bay Downs in an Arabian race.
Boulanger first led the Longacres jockey standings in 1989 with 194 winners (21.6 percent), 79 victories over the second place rider. At the time, only future double Hall of Famer Stevens had more seasonal wins at the Renton oval (232 victories, 1984). Boulanger averaged more than two winners a day during his 1989 Longacres campaign, that is, until being sidelined with a wrist injury.
His second Longacres' title came in 1990 with 196 wins (18.5 percent) from a whopping 1,059 mounts.
In 1991 Boulanger became only the second rider in Longacres history (Gary Baze was the first, 1973-75) to win three straight riding titles, and he did it with a track and state high record of 247 wins (25 percent).
During Boulanger's Longacres' career he had 30 stakes wins, including tallies with 1988 Longacres meet champions Marvelous Wonder (older filly or mare) and Chalk Box (two-year-old filly). The best of his three finishes in the Longacres Mile was a second with Crystal Run in 1989.
In total, Boulanger rode 642 winners at Longacres, ranking sixth overall.
Boulanger also rode with success in Northern California in the 1990s, including having Grade 3 wins in the California Derby and All American Handicap.
Boulanger moved his tack to Florida in 1994 where he was leading rider at Calder in 1994 and 1995 and also led at the 1994-95 Tropical Park meet. He would take over 20 stakes wins in Florida.
His lone Kentucky Derby (G1) mount, Chilito, came in 1998 (11th to Real Quiet), with whom he had won the Flamingo Stakes (G3).
Boulanger moved to Woodbine in 2000, where the Canadian-born rider would prove most successful. The highlight among his many stakes scores was his 2001 Woodbine Oaks/Queen's Plate double aboard Sam-Son Farm's Dancethruthedawn. 2001 would also mark his top money year ($4,656,376).
In January 2005, Boulanger nearly lost his life in a spill in the Mac Diarmida Handicap (G3) at Gulfstream Park when his mount fell while "making a big move" on the far turn of the 11-furlong turf race. The rider underwent several surgeries and later would suffer seizures. He was told he would never ride again.
After a long recovery, Boulanger took out his trainer's license in 2007, but was sidelined by additional injuries suffered in a tractor accident. His first winner as a trainer came with Tinkerbuck in 2009 at Calder, but in four seasons he only sent 43 starters to the post with a 3-6-1 record and only a meager $46,710 in earnings.
On February 17, 2013, Boulanger returned to the saddle with a ninth place finish aboard Spring a Latch – a horse he also trained – at Calder. Less than a month later he was in the winner's circle with Conquestor in the OBS Sprint Stakes.
Through May 24, 2016, Boulanger has a lifetime riding record of 3,299-3,094-2,982 from 22,387 mounts and earnings of $66,071,189.
Boulanger has five children, two of which have followed his footsteps, Alexa and Brandon Chance. Brandon, who took his first win at Turfway Park in March 2014, is currently riding at Santa Anita.