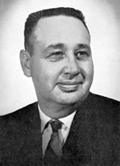 Herb Armstrong 
Valley of Champions 
Nursery of Champions 
Valley Farm 
Lord's Valley 
Harrington 
Lincoln County 
Washington
… a telling address for Herb Armstrong, Washington's leading breeder through much of the decade that comprised the booming post World War II 1950s. Armstrong was also the first breeder in our state to breed the winner of a $100,000 stakes race and the first to reach that lofty million-dollar earnings peak.
A Little Family History
George A. "Doc" Armstrong, Herb's grandfather, was born in 1857 near Belton, Texas. Named after a family friend who was a doctor, Doc Harrington led an exciting life as a young man. Driving cattle on the Chisholm Trail, seeking a homestead in Oklahoma during the big Cimmaron rush and being in town the day the Dalton Brothers robbed the bank in Baxter Springs, Kansas, were some of the highlights. He and his wife, the Kentucky-born Mary Eliza Goodwin, and their seven children boarded a train and moved from Kansas to Harrington in February 1901. Among their children were George, who became the first Harrington World War I casualty when he died of pneumonia at Camp (now Ft.) Lewis in 1918, Edgar A. "Sleepy" Armstrong (1887-1975), who was an early WHBA officer and prominent Washington trainer (more on the colorful Sleepy later) and their first born William "Bill" Buriage Armstrong (1882-1938), father of Herb.
Bill Armstrong was just shy of 19 when his family uprooted and moved to semi-arid Lincoln County. The "steady and reliable" young man married Maude Turner, then 17, in 1905 and the two of them engaged in farming and raising their two sons and three daughters. Bill was a noted promoter of mule shows (Harrington held "Mule Day" celebrations from 1925-1930, where Bill presented his 20-mule team hitched to five wagons) and was active in civic, fraternal and church affairs, including stints as mayor, councilman and school board commissioner.
Herb was born in Harrington on July 27, 1913, the same year as actor Glenn Ford, who would later laud him as Washington's turfman of the year in 1960 and compliment him as the type of man he wanted to be and often tried to portray on the screen. Herb graduated from Harrington High in 1932 and went into partnership with his father in wheat farming and cattle raising in 1937. That was the same year he married Louella Zicha of Odessa, a German community 24 miles to the west. The couple's daughter Marciel was born in 1942 and son Bill followed two years later. Marciel, who later married Melvin Cronrath and raised 32 foster children before her death in 2001, chronicled her community's history in Harrington: The First 100 Years, one source of information for this article. Bill and his wife Barbara still reside on the old Armstrong ranch. Today, the family farm, under the auspices of Bill, his son Bryan and nephew Mitch, has returned to primarily wheat production, with a few cattle being raised on the side. Lincoln County, which borders Spokane County on the west, boasts attributes of "soil, sun, wheat and only four people per square mile" and Harrington's 2000 population was listed at 428.
Thoroughbreds Enter the Picture
The young Herb's first experience with Thoroughbreds came during the two years in the 1920s he spent under trainer Ed Stole, who trained for pioneer breeder George Drumheller, at the Pioneer Picnic. In each of those years, Drumheller runners won the meet's Derby, first with Run Poor and the following year with Wee Girl. In the mid-1930s, the then W.B. Armstrong Ranch, under the auspices of Herb, held rodeos.
In 1939, Herb traded a saddle horse for his first broodmare, Kaposia, and just a few weeks later purchased his second in Blackmore. Kaposia produced only one winner in five foals for the fledgling breeder, while Blackmore had three winners among her four foals, including 30-race winner Mr. Valley, a 1941 gelding by Jimmy G., who earned $26,311 in 174 starts. Valley Farm's first crop of three hit the ground in 1940 and included winners Rapid Day and Valley Day, a son of Daydue—Eleusagon who was the first Armstrong-bred runner to carry valley in his name. Except for Rapid Day, every foal bred at Valley Farm through the 1948 crop had "valley" as part of his or her name (30 in all), until The Jockey Club, as they had with other farm names, put a halt to the practice. Among the best of the horses carrying valley in their names were Lucky Valley (who was so highly acclaimed that he was buried in the Longacres infield after breaking his leg at three), Lo Valley, Super Valley, Kay Valley and Happy Valley. The last three were all futurity winners sired by farm stallion Sun Superlette. The first gray Washington-bred to come to the races was Armstrong-bred Frosty Valley, a 1947 gelded son of Piccolo. Later came such runners as Washington and Spokane Futurity winner Rover Bill, who set a new time record in each race. (A son of Valley Farm's Rover, Rover Bill's earnings, plus the stallion's three other winners, from five starters, helped the freshman stallion set a new standard of earnings of $16,160 for a first year sire in Washington in 1952.)
Among the stallions that called Valley Farm home through the years were Sun Superlette (by Sun Brier), Piccolo (Whichone), Jimmy G. (*Hand Grenade), Succession (*Beau Pere), Rover (*Bull Dog), Slot Machine (Chance Play), former Remount stallion Final Appeal (Supremus) – who had been moved north from Charles "Seabiscuit" Howard's Ridgewood Ranch in California – and finally Tavistock (War Admiral), who was transferred off the farm in late 1960. Bloodlines, conformation and performance were emphasized in stallion selection. It was noted in the March 1951 issue of the Washington Horse, that dancer/actor Fred Astaire "sent Slot Machine, Fogbound and Over Anxious to Ivan Stauffer [who was involved for many years in promotion at MGM Studios] at Herb Armstrong's Valley Farm…" The two mares were to be bred to Succession. One of Armstrong's strongly believed breeding theories was to intensify the Fair Play line, through both the sire and dam.
According to a 1954 article in this publication, "The reason for his [Armstrong's] success is basically the same, namely well-bred broodmares as a foundation. Along with it, of course, is an efficient and careful program of properly raising, training and racing of production." It went on to state: "Armstrong, a great believer in bloodlines, has more than kept pace with the improvement which has taken place in Washington breeding. He has steadily culled out poor producers and aged producers and replaced them with young, more fashionably bred stock."
"If you can outbreed them, you can outrun them," Herb once stated.
Uncle Sleepy
Herb received a good deal of assistance and encouragement from his uncle, E.A. Armstrong, better known as "Sleepy," who was an active and integral partner in Valley Farm, and who according to Herb "taught me all I know about horses."
Edgar Alan Armstrong was quite a colorful character. Born in Baxter Springs, Kansas, he moved to Harrington – where he lived off and on throughout the years – with his parents and siblings in the early years of the previous century. He was dubbed "Sleepy" after falling asleep in the hay as a young lad. According to family history: "For fun, for sport and for money Sleepy rode his heart out at the pioneer picnics on Crab Creek and there he mastered becoming a jockey; horse racing was now in his blood. He set the world championship record for relay riding during his rodeo years, a record not broken while he was alive." He rodeoed from Pendleton, to Cheyenne, to Calgary, to Madison Square Garden. He later became a noted trainer of both jockeys and racehorses and also did stints managing sugar baron Adolph Spreckles III's ranch in Eugene, Oregon, and as foreman for famed horseman C. B. "Cowboy" Irwin's large stable.
He was married three times, but the third time must have been the charm as he and Ethel Strange were man and wife until his death 40 years later. He at one time appeared in silent movies with cowboy stars Hoot Gibson (Sleepy played his comic sidekick) and Tom Mix. Sleepy remarked on his career on the silver screen: "Lucky the films were silent, cuz' they'd play Hail Columbia getting' my swear words cleared up for the kiddies." In 1960, he appeared on the television program This Is Your Life, which was honoring his friend, racing legend Johnny Longden, whom Sleepy is credited as giving him his major start in racing. Armstrong had picked up the young jockey's contract while on the Calgary circuit in the late 1920s. On several instances, Sleepy is referred to in older copies of this magazine as the "David Harum of Harrington." Further research revealed that the original David Harum was a novel written in 1896 about "a droll old rascal who practiced banking, with horse dealing on the side." It was twice made into a movie, the second time in 1935 with Will Rogers playing the savvy horsetrader.
In 1952, it was noted by Washington Horse editor Clio Hogan, that a race meeting without the cantankerous Sleepy, would not be a race meeting! Considered by many to be the "dean of this state's breeding and training gentry," Sleepy was considered a "past master at patching up has-beens and having them hold together long enough to more than pay themselves out." Among those he trained was the distaffer Egypt Lassie, a member of the first crop of the WHBA 4-H youth mares and the program's initial stakes horse. But Sleepy also saddled a much more important horse nationally, *Indian Hemp, to set a new track record in the 1953 Yerba Buena Handicap for Alberta Farms Stable. Also a stakes winner in England, the son *Nasrullah sired major winner and 1974 national leading sire T.V Lark. Sleepy trained Washington Futurity winners Prince Ernest (1941), Kay Valley (1946) and Better Wave (1950). His horses were noted to be "well-groomed and good-looking." Besides breeding and training all the young stock at Valley Farm, the accomplished and versatile Sleepy (who had outlasted many a bucking horse in his youth) broke them to ride.
Herb, in his acceptance speech as turfman of the year, credited advice he learned from his uncle. "I remember one piece of advice my Uncle Sleepy gave me. Always keep your horses in the condition you'd want them in if you were selling them. If you do that they will automatically develop into a good horse." Both Herb and Sleepy joined the WHBA in 1941, the second year of the fledgling organization's existence. Sleepy was the association's president in 1947.
Picturesque Valley Farm
The family farm consisted of four sections (2,560 acres), where they produced all the hay and grain necessary to feed their stock. Before, during and after the horses, the farm has been a prosperous wheat and cattle grower. Herb was known to cover "the wheat raising part of the business with a Piper Club airplane," and "in the late 40's and early 50's an airfield was maintained at the Herb Armstrong ranch…" An ad in a 1947 issue of the Washington Horse proclaimed: "More winners have been foaled or raised at Valley Farm in the past nine years than on any other Washington farm."
From all reports, Valley Farm was not only one of the most up-to-date agricultural facilities, but was ahead of its time in conservation concerns. Around 150 acres were devoted to raising Thoroughbreds. They dug through over 100 feet of limestone to complete a 250-foot artesian well and also offered artesian springs. They prided themselves on large, well-planned and well-managed "properly fenced" paddocks. Among the improvements through the years, noted by then field secretary Ed Heinemann, were straightening of the creek bed, leveling and renovating meadows and installing a huge sprinkler system for irrigating fields. They grew their own high quality alfalfa, timothy, clover and oats. They also advertised the use of "systematic parasite control, balanced rations, a trained staff and best veterinary and platter attention." By 1948, Herb had completely remodeled his broodmare barn into 42 "spacious and clean" box stalls, in order to expand to take boarders. In 1949, a huge dirt-filled dam with concrete spillways had been constructed which would give the farm a 51-acre lake during spring run-off to provide pure water for his and his neighbors' use. The lake, and the other small lakes and pools which were created from this work in water conservation, were stocked with fish. He also nurtured natural hedges for wildlife habitat.
In 1952, the Armstrongs sponsored their first annual field day for Washington State College animal husbandry and veterinary students. The successful event was attended by about 60 students and around 100 people over all, and centered around talks and demonstrations of farm operations, management problems and procedures, feeding, health, training and racing. The goal of the day was to "picture as clearly as possible the story of Thoroughbred production in Washington."
Armstrong traditionally offered all horses for sale off the farm, but in October of 1959 they made their initial foray into the public sales arena by offering three yearlings, two mares and a weanling in fourth annual WHBA sale. Valley Farm's yearling three-quarter sister to Sir William topped the yearling segment, as the daughter of Tavistock sold for $5,000.
Washington Turfman of 1960
In March of 1960, over 400 people, including actors Glenn Ford and Maria Schell, rider Johnny Longden, trainer Cecil Jolly and Washington Governor Albert Rosellini, gathered together to honor Herb Armstrong as the third recipient of the Washington turfman of the year. The evening also featured fully costumed dances staged by the Nez Perce tribe.
Jolly lauded the quiet demeanored Armstrong as "the kind of man we would all like to be – and few even have a chance to know…" 
Rosellini praised both Armstrong's equine accomplishments and those made as "one of the most progressive wheat farmers in the state." Among Armstrong's agricultural accomplishments was his pioneering of "grass seeding on land thought only suitable for dry-land wheat production."
Armstrong's modest and sincere response to his many tributes was to credit his uncle Sleepy, farm manager John Kindred and trainer Jolly. Always the horseman, he went on to stress the importance of proper growth and development of foals and yearlings.
About this same time, Herb was changing direction at the farm. According to Herb's grandson Bryan, his father Bill had little interest in raising and racing Thoroughbreds and so the operation turned to producing beef cattle. Another factor was the always continuing problem of finding good equine help. Added to that, Herb started to experience health problems and in July 1975 he died of a heart attack, just a month after the passing of his partner and uncle Sleepy.
The Records
Armstrong-bred runners were first recorded with the 1944 race season, ranking third statewide in earnings. In the first of the 18 of the 24 years following (he had sharply curtailed his breeding operation by the late 1950s), Armstrong stood no worse than fourth in the year end standings, leading for seven years (1952, 1954-1959) and holding the runner-up spot six additional times (four times to Allen Drumheller). In 1957, Sir William's sophomore season, his runners recorded a record $177,872 in earnings, which propelled him to lifetime earnings of $510,702 and supplanted Drumheller's lead as top Washington breeder of all time. In 1965, Herb Armstrong became the first Washington breeder to have his production hit the magic million mark ($1,014,692), with his runners winning a total of 706 races. Through 1969, Armstrong runners (in 26 years) accounted for four percent of the total state record of $27,028,008, earned over the 34 year period between 1936 to 1969. It would be 10 years before his record-setting 61 wins in a year, set in 1955, would be broken by C. F. Flower. He also held the mark for most individual winners in one year with 25. With his death in 1975, Armstrong was reported as having bred the winners of $1,139,763.
Armstrong was leading breeder in number of winners for 15 years (1944, 1946-1959), in races won for 14 years (1945, 1946-1959) and bred an astounding four Washington-bred horses of the year during the 1950s decade: Rover Bill (1952), Big Success (1955), Johnie Mike (1956) and Sir William (1957). To accomplish all this, he bred only 87 Thoroughbreds from 1940 through 1957, an average of five a year.
Author's note: A special word of thanks to Marge Womach, whose fascination with the history of Harrington pioneers helped supply many historical details for this article. Her willingness to copy, type, e-mail and mail vast amounts of news clippings and other information greatly added to this story.
Sir William
Born in the banner crop that featured such racing luminaries as Bold Ruler, Round Table, *Gallant Man, Gen. Duke, Barbizon and Nearctic, Sir William, a 1954-foaled son of Rover—Jodot, by Peace Chance, put both Herb Armstrong and the state of Washington on the racing map by recording numerous significant firsts. He became the first Washington-bred ever ranked on the Experimental Free Handicap. He was the first Washington-bred to win a $100,000 stakes. And by today's standards, he was the very first Washington-bred grade one stakes winner (graded races were first officially designated in North America in 1973).
On June 5, 1956, Sir William made his initial start in his breeders' colors and finished an unassuming ninth in a mile maiden race at Hollywood Park. After a fourth and fifth at Hollywood and Del Mar, the Cecil Jolly-trained runner won a six furlong maiden allowance race at Golden Gate Fields on September 14, which he followed up six days later with a 1 1/2 length victory in an allowance test at the same Albany track. His third September start saw him finish fourth in the North Beach Handicap. In October, the late-developing colt finished third in the mile Columbus Day Handicap and finished his juvenile season with a second in the eight-panel $50,000 Golden Gate Futurity won by Swirling Abbey. Jimmy Kilroe assigned him 111 pounds on the 1957 Experimental Free Handicap, led by Barbizon at 125.
The come-from-behind running Sir William only ran seven races at three, but they were all squished in the 11 weeks between January 5 and March 22, and with all but the final race being run at Santa Anita. He started the year with a bang, winning the six furlong Los Feliz Stakes by a head in a blanket four-horse finish. (Sir William was his sire Rover's second winner of the Los Feliz, as Armstrong's Johnie Mike, who had also taken the Debonair Stakes at Hollywood Park, had won the race the previous season.) Eleven days later Sir William was back in action in the San Miguel Stakes at the same distance, but could do no better than fourth. A fifth in the seven furlong San Vicente Handicap, though beaten less than two lengths, followed a week later. Only 16 days elapsed before the Washington-bred again saw action, finishing fourth in a 1 1/16 miles allowance. February 16 saw Sir William run strongly to run second to the *Noor colt Joe Price in the $25,000 San Felipe Handicap, also at 1 1/16 miles.
On March 2, the Kentucky Derby-nominated Sir William went into the history books as the victor in the 20th running of the $100,000 Santa Anita Derby, which he won by a head over Swirling Abbey, on a slow track. All runners in the nine furlong stakes carried 118, including Kerr Stable's future champion Round Table, who ran as part of a favored three-horse entry and finished another nose back in third place. The Thoroughbred of California, in their write-up of the race, said of Sir William: "This stretch run-ning son of a sprint-ing sire and a non-winning dam is toughness person-ified."
In reporting the race in their March 9, 1957 issue, The Blood-Horse stated "Washington-bred Sir William, short on teeth [referring to an accident where he had lost his upper front teeth in as a young horse – the Seattle Sunday Times Sports coverage of the race was captioned "Barren Gums Do Not Slow Washington-bred"], long on stamina, and [cuttingly] short on class . . ." They go on to note that into the stretch it was a three-horse race with rider Henry Moreno desperately and successfully working on Sir William to regain the lead. With the $95,900 he earned for his Derby victory, Sir William surpassed Hank H. ($130,700) to become the leading Washington-bred runner of all-time at $131,335. With three of the past five winners of the Santa Anita race going on to greater victory in its Kentucky counterpart, Sir William was now on the "Derby" trail.
Unfortunately, the colt never added another dollar to his pinnacle earnings as he broke the sesamoid bone in his left front foot in five places his very next start, a March 2 six furlong allowance prep for Bay Meadows Derby with the colorful name of the "Confucius of Oakland Purse." Also sadly, Herb and Louella never had the opportunity to see their champion compete. Sir William was later awarded 115 pounds on the Daily Racing Form and The Morning Telegraph Free Handicap, co-11th highweight with Cohoes, to horse of the year Bold Ruler's 130.
He retired to Ed Goeman's Curragh Stock Farm in Canoga Park, California. Though inbred to solid/professional chef-de-race Fair Play, he was only marginally successful at stud. In 15 crops he sired 85 foals, 60 starters and 42 winners of $639,969, with an average per runner of $10,666. He sired three stakes winners (one each in California, New Mexico and Montana) among his six stakes horses, with his best being $107,387 earner Vigilante Spirit.
Sir William will earn his own extended story in this publication with his sure-to-be future election to the Washington Racing Hall of Fame.