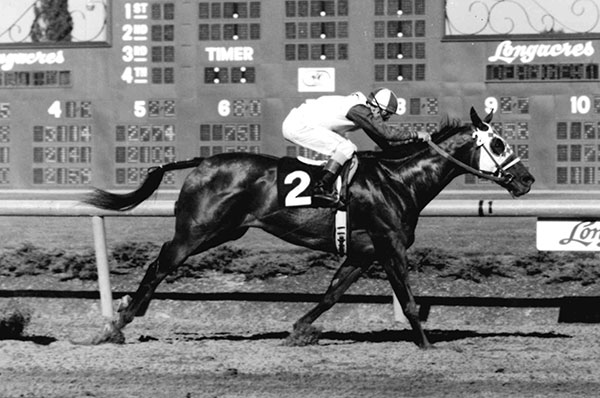 Her name is the French word for flame, and Flamme indeed set the track on fire during her six-year racing career. The Washington-bred bay mare would race 50 times, holding her form even after a failed season in the breeding shed saw her miss over a year of training.
Lawrence Brulotte bred the future Hall of Famer at his Lawrence Brulotte Ranches in Moxee. Flamme, born April 15, 1975, hailed from the first full crop of the young sire Drum Fire and was out of the multiple stakes-winning mare Jolly Pandora, who had already foaled stakes-placed Jolly Commander, by Cold Command, so expectations for this daughter were hopeful.
1970 Spokane Futurity winner Jolly Pandora, by Rameses, was a half-sister to the stakes-winning full brothers Black Cyclone (1970 Tacoma Handicap) and Black Tornado (a two-time stakes winner at Longacres), both sons of Kotzebue. Jolly Pandora's dam, the Double Reigh mare Tune-up, was a half-sister to three-time Longacres stakes winner Ambolero, who also ran second in the 1958 Longacres Mile.
Lawrence's wife Barbara gave the filly her name and turned her over to trainer Bob McMeans for conditioning.
Burning Bright at Two
Racing under the Brulottes' Wampum Stables, Flamme debuted June 4, 1977, going five furlongs over the Longacres racing strip. She finished second, but the experience helped, as she went on a tear after that. Flamme broke her maiden in her second start by five lengths, and then wheeled back in the $10,000 Broderick Memorial Stakes. She won by 8 1/2 lengths, uncontested.
In her fourth start she won the Mercer Girls Handicap by two – and in her first of many open races – finished second to future Oregon horse of the year Dutton's Pride in a six-furlong allowance. Finishing fourth in the race would be 1978 Longacres Derby winner Hoist the Silver.
Flamme also took on the boys in her next three starts, losing to Saratoga Dancer in the Joe Gottstein Futurity and missing to Dutton's Pride by a neck in the Juvenile Championship Handicap. To cap off her juvenile season, Flamme emulated her dam by winning the Spokane Futurity at Playfair, outrunning the good colts Born Alert and Phils Love by three lengths. With a superb record of four wins and three seconds in eight starts, Flamme was named Washington's champion two-year-old filly.
Sophomore Queen
Flamme made her sophomore debut in the Seafair Queen Stakes, run at Longacres over 5 1/2 furlongs on May 3, 1978. She aired by nine lengths, showing that she was not merely a precocious juvenile; but then she did not win again until October. She finished no worse than fourth in seven straight stakes, racing regularly against males, including a fourth place effort in the Longacres Derby. Just six days after the Derby, she ran second by a half-length in the Mike Donohoe Memorial Stakes.
In her final two starts of the year, Flamme returned to her dazzling form, winning the Seattle Slew Stakes and the Yakima Valley Derby, the latter by a dozen lengths. Flamme would ultimately go undefeated at Yakima Meadows, winning all six of her starts there.
Four- and Five-year-old Campaigns
Flamme made six starts in 1979, winning only once in allowance company at Longacres. She then went on another spree in 1980, winning five stakes races. After taking the Miss Yakima Handicap and the Yakima Mile Stakes, she returned to Longacres to win the Fashion, Rhododendron and Everett handicaps in succession. She was retired at the end of the season to be bred in 1981.
Later Years
When Flamme did not get in foal to leading sire Table Run, she returned to the races as a seven-year-old in 1982. Despite the lengthy layoff, she was as good as ever, adding seven more wins in a tough campaign of 15 starts. She did so well in Washington, annexing the Miss Yakima Stakes for the second time before taking the Luella G. Handicap, that she shipped to Hollywood Park in California to continue her season.
After two final starts at Santa Anita in early 1983, Flamme was retired for good with a record of 20 wins, six seconds and four thirds. She earned $211,782, which ranked her 16th all-time among Washington-breds to that point. She had won 13 stakes overall.
After earning a 10.30 Standard Starts Index (SSI) at two, her overall SSI was 6.99, nearly seven times better than the average distaffer of her era. Only five of her starts came from outside of Washington.
In the Breeding Shed
As a broodmare, Flamme was never able to reproduce herself, but was productive with five winners from six starters. Her first foal, the Somethingfabulous filly Fiery Allure, raced twice but did not hit the board. Eternal Fire, a gelded son of Meritable born in 1986, ran a hearty career of 114 races, with 17 wins and 54 top three finishes. He earned $94,284. The winner Meriflame, also by Meritable, followed, then came Golly By Jolly in 1990. That filly won six times and finished third in the Juvenile Hers Stakes at Playfair; she would be Flamme's only black-type earner. Dante a Go Go and Bound for Glory, both winners, were her final two foals. Her last three foals were all offspring of Laomedonte. In all, Flamme's progeny earned $166,009.
Unfortunately, none of the offspring of Flamme's three daughters would produce any foals.
Flamme was inducted into the Washington Hall of Fame on August 28, 2016. Her success helped propel Drum Fire's stallion career, as she was the first of his many state champions. The son of Never Bend would lead the state stallion ranks for five consecutive years (1982-86) and helped advance Jerre Paxton's Yakima-based Northwest Farms to induction in the Washington Hall of Fame on its first ticket.
Flamme's eye-catching wins and overall durability are the hallmarks of a standout Washington-bred.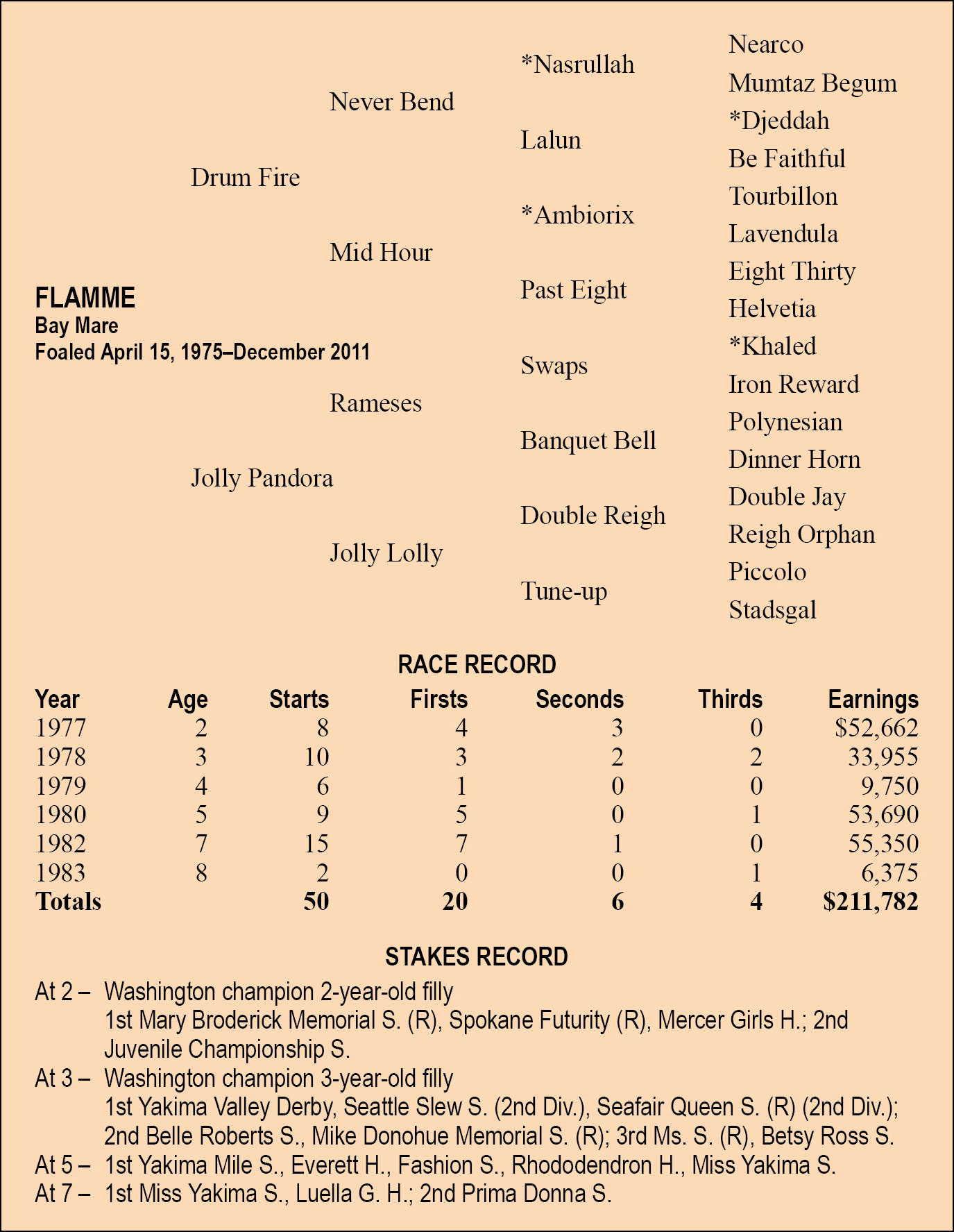 ---
Emily Shields is a freelance writer based in Southern California. She has been covering horse racing since 2006.