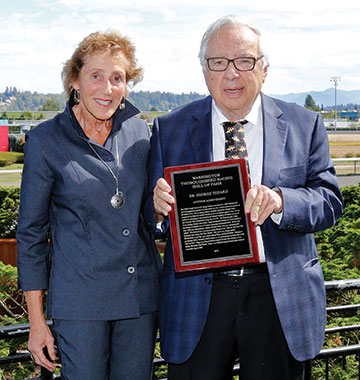 Combining Passions for Science and Racehorses
A world-renowned medical doctor and research scientist, Dr. George Todaro, 81, received his first racehorse (really only a ten percent interest) in 1991 from his wife Dr. Jane Todaro, MD, who is an enthusiastic horsewoman, as a Christmas present. To say that acorn grew into a mighty oak tree could be called an understatement.
According to a press release originating with Islet Sciences Inc. in 2012, ". . . Todaro co-authored the groundbreaking 'Oncogene Theory' while at the National Institute of Health (NIH) in 1969, which would serve as one of the foundations of future cancer research. In the early 1990s, as scientific director at Seattle-based PathoGenesis, he developed a treatment that has saved the lives of countless cystic fibrosis patients. His most recent focus is biotechnology, in which he is working to increase the world's food supply [as CEO of Targeted Growth]. "
The article went on to state that the National Academy of Science member and University of Washington Professor of Pathobiology and department head holds over 20 patents.
Todaro graduated from the New York University School of Medicine Honors Program in 1963.
At age 33, Todaro, along with President Richard Nixon's press secretary Ronald Ziegler and famed entertainer Elvis Presley, were among the ten chosen by the United States Junior Chamber of Congress (Jaycees) as "Outstanding Men of America in 1970." (In 1985 the award was updated to the Ten Outstanding Young Americans.)
The busy cancer and biotech researcher had gotten his first exposure to racing while growing up in New York City and had expanded his racetrack adventures to Pimlico and Bowie after moving to Maryland.
That 1991 Christmas present, It May Freeze, would take Todaro to the winner's circle eight times, though the Florida-bred gelding earned less than $30,000.
Todaro's first stakes winner came in 1994 when his Washington-bred Acquitted won the Leland Stanford Stakes at Bay Meadows. He also had the second place finisher, Rocky T, in the race for two-year-olds. Both runners were trained by Jerry Hollendorfer.
Todaro's first runner to make a big impression on the national scene was 1996 Kentucky Oaks (G1) winner Pike Place Dancer. The daughter of Seattle Dancer won a trio of other stakes for the Todaro-Hollendorfer partnership, including a 2 1/2-length tally over the boys in the California Derby (G3). She retired with six wins in eight starts and $578,682 in earnings.
Todaro also experienced the very highs and lows of Thoroughbred ownership with 2013 national two-year-old champion and five-time Grade 1 winner Shared Belief, who was lost from complications to colic in December of 2015.
Among the other top racehorses to carry the Todaro name are: Grade 1 winner and nearly $2.4-million earner Hystericalady, additional Grade 1 winners Lady of Fifty and Sam's Sister, Grade 2 winners Globalize and Trickey Trevor (the latter who Todaro stands at Allaire Farms in Poulsbo) and Grade 3 winner Bwana Bull.
In the summer of 2009 Todaro joined the partnership racing Dakota Phone, and he was among the joyful party that celebrated the son of Zavata's head victory (at nearly 38-to-one) over Morning Line in the 2010 Breeders' Cup Mile (G1) run at Churchill Downs.
This past September, Todaro and partners' Vasilika, who they had claimed for $40,000 last February, won the $200,000 John C. Mabee Stakes (G2) at Del Mar and then added the $300,000 Rodeo Drive Stakes (G1) at Santa Anita to her record.
One of the original investors in Emerald Downs, Todaro has won several distaff stakes at the Auburn track, starting with Washington champion Gemstone Rush in 2007, and more recently with Rivotella, Kikisoblu and Diamonds R (winner of the 2018 Irish Day Stakes).
When checking through the Equibase owners list (September 2018), Todaro is listed (outside of just himself or with his wife) as a partner in 207 other racing entities! Most include his California-based National Hall of Fame trainer Jerry Hollendorfer or the trainer and his wife Janet's Hollendorfer LLC. There are also several instances in which fellow physician and Washington Hall of Fame inductee Mark Dedomenico is on board. While there are surely a few duplicates in the mix, Todaro's influence in racing circles is without question.